Huawei Ascend P2 strikes a pose in leaked press shot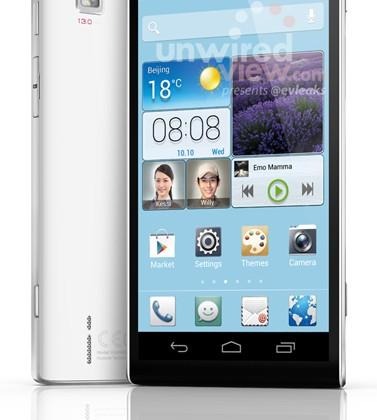 A lot of Android users took interest in the Huawei Ascend Mate P1, so the fact that its rumored follow up is pulling in a lot of attention isn't much of a surprise. Today @evleaks is stoking the fire, leaking a press shot for the Ascent P2. We have to say that the Ascend P2 looks pretty snazzy, with Huawei clearly putting a focus on design with this latest handset.
That is, of course, assuming this is legitimate. Since @evleaks is generally pretty accurate with leaks, we're tempted to believe that this is the real deal. The Ascend P2 is rumored to come with a 4.5-inch screen displaying at 1080p, which means that visuals should be nice and sharp while the screen size is kept under 5-inches.
We're also hearing that the Ascend P2 will be equipped with a quad-core processor clocked at 1.8GHz, 2GB of RAM, and a 13MP camera on the back. One of the major sticking points with the original P1 (as outlined in our review) was its 1670 mAh battery, which didn't last as long as most users wanted. The Ascend P2 will supposedly solve this problem by packing in a 3,000mAh battery, which should provide more than enough juice for that full HD display.
Now all we need is confirmation from Huawei and we'll be set. That confirmation is said to be coming at Mobile World Congress 2013, which is going down next month in Barcelona. We'll be there on the floor, so if Huawei does indeed announce the Ascend P2 during the show, you'll certainly hear about it. Stay tuned.
[via UnwiredView]