Huawei announces their Ascend Mate 2, a followup that actually impresses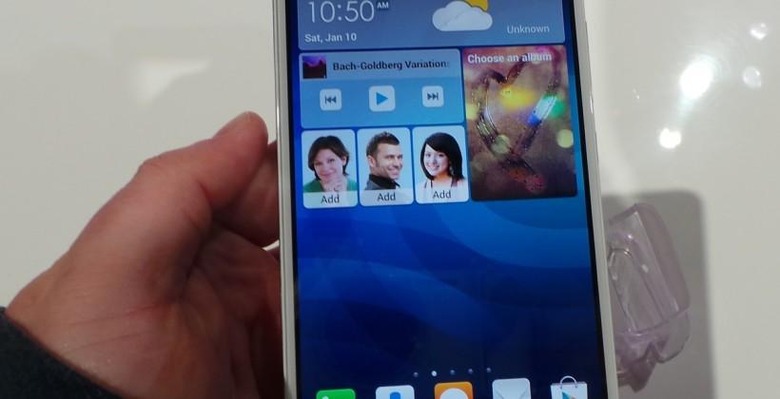 A few years ago, Huawei decided they'd go their own way. In their move from a device maker for the stars to a device maker for the people, Huawei did what they'd always done — and we liked — but put their name on it. The Ascend Mate, the phone many consider the first "phablet", helped to raise awareness to the brand, and ruffled a few feathers in the process. With the Ascend Mate 2, Huawei is at it again, and bringing the same energy and focus that made our heads turn the first time.
The Ascend Mate 2 is a natural followup to the original, an iteration that many expected. It's slimmer, and Huawei is quick to point out they have the most screen coverage on their device than many top competitors. It's keeps the same slim profile as the original, but trims the fat as needed. A smart plan, considering the new focus for Huawei, which is to mitigate the perception of larger devices.
In boasting about their new Ascend Mate, Huawei noted again and again just how easy it was to use with one hand. Like some before them, you can do things like dock the keyboard on one side, and the skinny bezels help as well. They're so focussed on one-handed use that they took a different approach to their cover. Like Samsung and LG before them, Huawei has a smart cover. Unlike the others, their review window is vertical, to further assist with one handed use. Clever, Huawei... clever.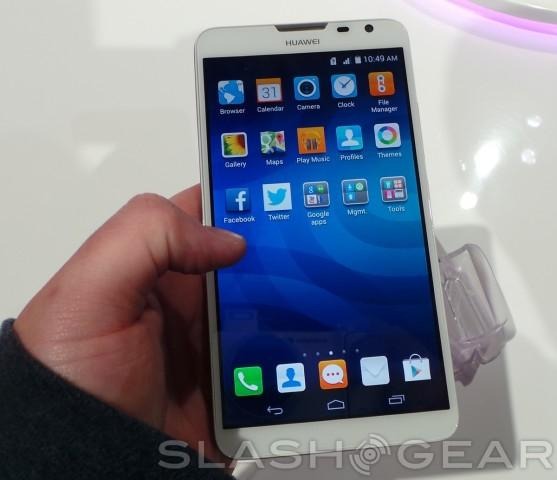 In hand, the device is snappy and responsive, bright and playful. The Emotion UI does take a bit of a learning curve for those who haven't used it before, but Huawei feels theirs is better than Android. Huawei CEO Richard Yu said rather matter-of-factly "Android is complicated" before noting how they felt their Emotion UI was simpler and easier, like iOS. That's subjective, and while we're not turned off by Emotion, we're not ready to say it's better than Android part and parcel.
The camera situation is equally impressive, with a 5MP front shooter complimented by a 13MP rear shooter. The selfie machine up front has a really impressive f2.4 aperture, beating the f2.0 on the back. The front shooter also has a preview window, so you know when you look just right. . They've gone the travelled route of bringing new camera features to the device as well, like a panoramic selfie mode and sound with pictures. There is also a macro mode, which is a neat addition. We really like the pano-selfie (our tag, not theirs), but a talking picture is a bit intrusive for our taste. Vines are silly enough, we shudder to think what a talking pic could bring to the table.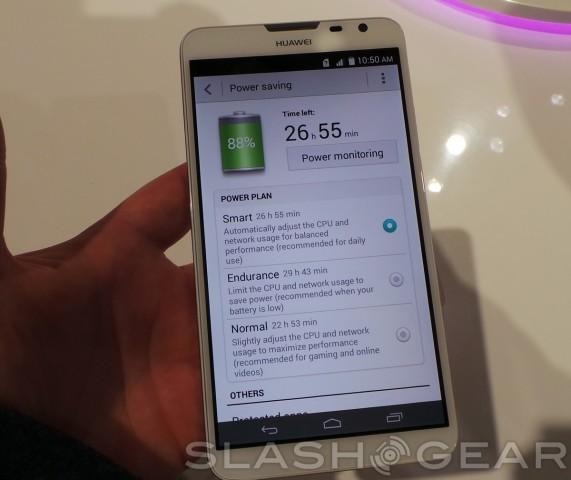 With a big phone comes one overriding concern: battery life. Huawei gets that, and spoke of that concern over and over again. To quell our fears, there is a 4,500mAh battery on board, the biggest we've seen in any phone. Huawei is quick to point out that between the massive battery and software innovations, their Ascend Mate 2 can last about 3.5 days under "normal use". With "heavy" or "business" use, they still promise nearly two days. A phone that only has to be charged twice a week? We know of smartwatches that can't do that.
In speaking of their software features to help with battery life, Huawei has done some interesting things. They allow for deeper control of background activity, and have a neat way to allow apps to launch on screen wake, and conversely choose which are allowed to run when the screen is off. Called "Permission Manager", the service allows for things like background applications to be limited, and the usual suspects like screen brightness are also there. They've made the screen from low temperature poly silicon, which they note is 20-30% more power efficient. For a 6.1-inch EHD display, power conservation is important.
The curved back felt nice in the hand, though it was a bit slippery. Overall, the device was surprisingly light, but felt solid. The screen was snappy and responsive, and Emotion UI actually feels a bit natural. If anything, we liken it to a lighter Android theme, which we've longed to see natively. Apps launched without a hitch, and color representation was true to form. One handed use? Yeah, it was actually pretty simple, even without the bells and whistle features like keyboard docking.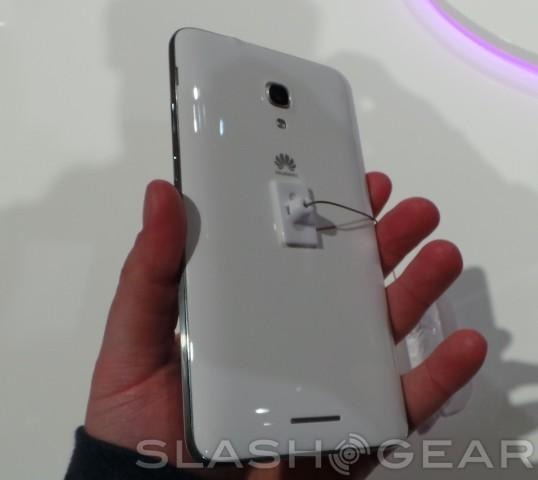 Huawei is also noting their Ascend mate 2 will work on all bands, and will be available for use in the US. Though they didn't discuss a release date, the usability stateside is a welcome addition. Though they have decided to remove themselves from the US market, they haven't forgotten it. Even more welcoming is the fact that the Huawei Ascend Mate 2 is capable of charging your current device with it's reverse charging capabilities. Take that, everyone else.