Nexus fans, do not lose hope. While the future of a Nexus smartphone is still shrouded in uncertainty thanks to the rumors about the Android Silver program, there might still be one more Nexus device in queue. A new leak has sprung up pointing to an 8.9-inch Nexus tablet that will be made by new hands and called the HTC Volantis.
No, this has no connection to Lady Gaga's flying dress, though some of the leaked details might make you feel like you're on cloud nine. The device's hardware is all quite high-end, as expected for a tablet bearing Google's favored name, but they do come with some "firsts" that make the tablet quite interesting. Most notable is the 8.9-inch screen size, just an inch above Apple's own tablet device but still not the usual 7 or 10.1 inches of Android tablets. The screen resolution is a rather strange 2048×1440, not exactly the conventional 2K resolution but most likely cut off by the navigation bars.
Another interesting feature of this HTC Volantis is the processor, noted to be a 64-bit NVIDIA Logan. "Logan" is the codename for NVIDIA's slightly new Tegra K1 chip and indeed there is a dual-core 64-bit version of the chip based on NVIDIA's Denver architecture, which isn't scheduled to appear until later this year. The choice of processor is a curious one considering NVIDIA has practically bowed out of what it considers the "commodity market" of smartphones but hasn't exactly ruled out tablets. Sadly, the device only bears 2 GB of RAM, which isn't as premium as we'd hope it to be.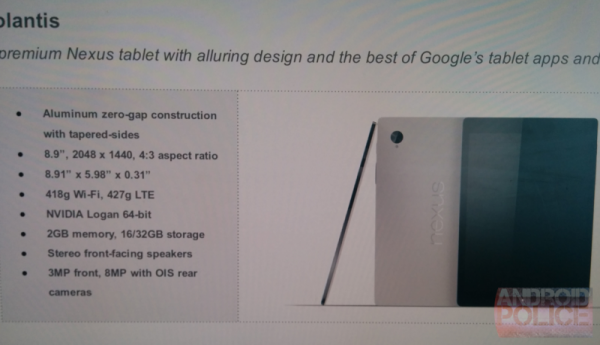 That said, the image that comes with these specs don't exactly spark confidence in the tablet's exterior design. You will find none of HTC's distinctive markings and designs, including front-facing speakers, that have adorned its recent products. Instead, you have what looks like an amalgamation of Nexus aesthetics, LG history, a bit of Samsung plasticity, and a front that looks almost like an Apple device. We will, however, just blame it on an artist's imaginative rendering rather than an actual device's design.
It is, however, too early to decide whether to pass or pick this Nexus 9 HTC Volantis tablet, as the device isn't expected to appear anytime soon. It will most likely skipping Google I/O this week and speculation holds that it will come with the next major Android version, "L" or 5.0, later this year. As for the price, it will naturally be more expensive than the current Nexus 7 tablet, starting at $399 for a 16 GB model up to $499 for 32 GB of storage, more if you factor in LTE network support.
VIA: Android Police