HTC Vive Pro starter kit hastily debuts (with one big annoyance)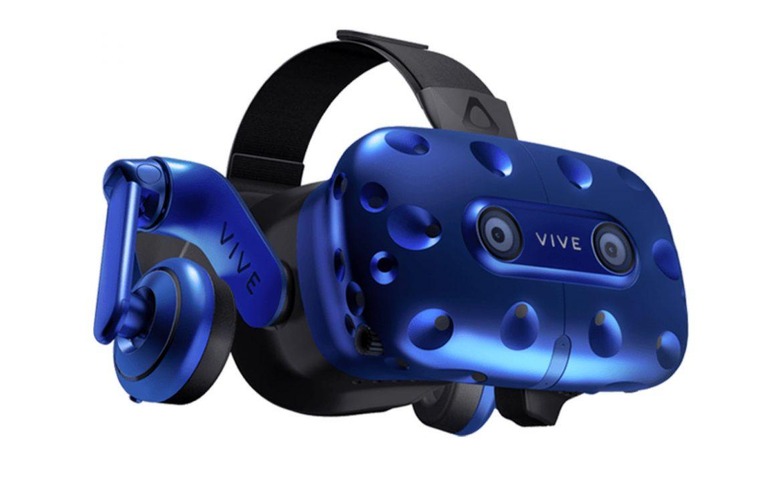 HTC faced criticism for offering the new Vive Pro as a headset-only system, with VR newbies frustrated they'd have to spend considerably more to outfit themselves with the controllers and other accessories, and now it's addressing that. A new Vive Pro Starter Kit is being added to the line-up, targeting those who aren't upgrading to the higher-resolution Vive Pro from an existing HTC Vive setup.
The original Vive Pro package came with the head-mounted display only, priced at $800. That meant gamers would have to buy the controllers separately, along with the lighthouse base stations which the VR headset uses to track its position in 3D space. In total, you'd be looking at around $1,100.
As HTC saw it, the most likely outcome was that it would be existing Vive owners that would be buying a Vive Pro. "Since Vive Pro works with both SteamVR 1.0 and 2.0 tracking," the company explained today, "we believed an HMD-only upgrade was the right option for the most demanding VR user, as well as VR arcades and enterprises that already use Vive."
For everybody else, there's the new Vive Pro Starter Kit. It includes the Vive Pro headset, of course, but also two Vive 1.0 controllers and two 1.0 base stations. It'll be $1,099.
In short, you don't actually save any money along the way, which we can imagine will frustrate quite a few would-be buyers. HTC is also "sweetening the pack-in offer" for those who already had a Vive and are upgrading to the Vive Pro headset. They'll get a $100 Viveport content credit, and a one-year long Viveport Subscription.
All Vive owners will get Front Defense, Front Defense Heroes, Super Puzzle Galaxy Lite, and Arcade Saga free, whether they have the original Vive or a new Vive Pro. They'll be available from Viveport from April 4th. The entry-level Vive has been permanently reduced to $499.
The initial Vive Pro reviews have gone live today, meanwhile, and the reports are generally good. The higher-resolution displays are the big improvement, now rising to 1440 x 1600 for each eye compared to a pair of 1080 x 1200 panels. HTC's twin cameras are still underutilized, however, though the company apparently has rudimentary hand-tracking in mind. Whether it's worth $1.1k for a new user – and the money you may have to spend to upgrade your gaming PC to drive the higher-spec screens – is the million dollar question.