HTC U12+ hands-on: 4 cameras, more squeeze, no notch
You have to give HTC its due: the new U12+ is more than enough evidence to prove the phone-maker isn't giving up on the high-end Android space. Even in a crowded marketplace, slick design and some clever hardware helps the new phone stand out, hopefully appealing to more than just the HTC-faithful in the process. And, if you want to avoid the scourge of the notch, the U12+ is one of just a small handful of flagship options for 2018.
HTC's aesthetic is a riff on last year's "Liquid Surface" theme of the U11, with 3D formed Gorilla Glass given a color treatment underneath for dreamy hues and scratch-resistance. For the US, the launch finishes will be Translucent Blue and Ceramic Black; the latter is pretty straightforward, but the blue U12+ has a transparent panel around the rear cameras through which you can see the components. It's subtle, but quite charming.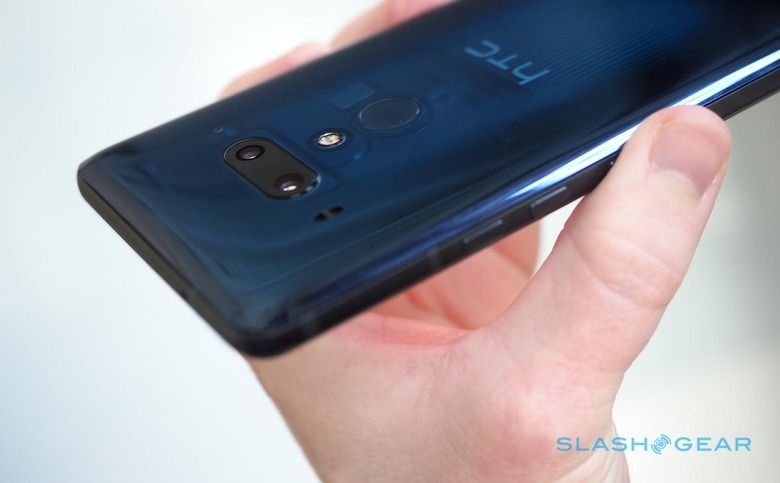 Elsewhere, there'll also be a Flame Red U12+, with a slightly different color finish to the old U11 of the same name. HTC says that won't be part of the US launch, though suggests the finish will be introduced as an option later in the year. Compared to its predecessor, the U12+ is slightly slimmer and slightly longer, and feels better in the hand as a result.
On the front there's a 6.0-inch Quad HD+ 2880 x 1440 18:9 Super LCD 6 display, with HDR 10 support, and DCI-P3 color. Despite what the name might suggest, there's no "U12" as well. Unlike the iPhone X, LG G7 ThinQ, and the OnePlus 6, meanwhile, the display is a regular rectangle – though HTC is keen to point out that, just because it hasn't followed the notch crowd, that shouldn't be seen as an anti-notch statement; it's really a supply-chain thing – although HTC has managed to keep the bezels fairly slim.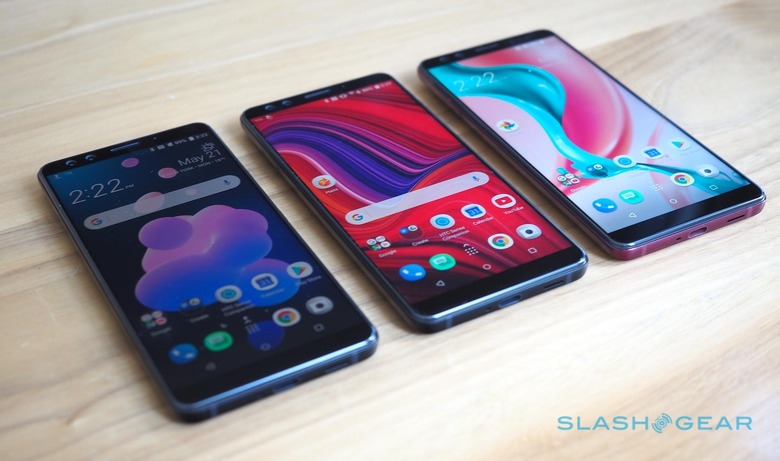 Indeed, one of the more commonly-heard criticisms of last year's U11 was that its top and bottom bezels were decidedly chunky in comparison to what the competition was offering. The U12+ still has a little more going on there than, say, a Galaxy S9 does, but shifting the fingerprint sensor to the rear of the phone makes a big difference. There, it's positioned underneath the camera, sensibly, not to the side of it.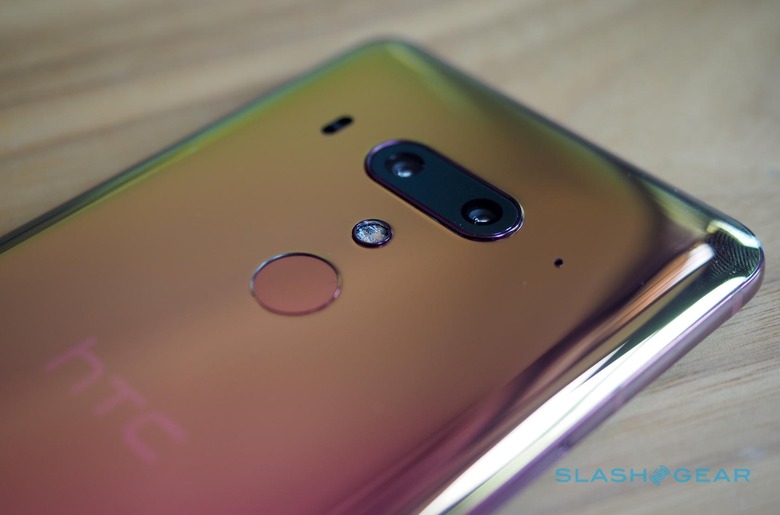 That camera – or, more accurately, those cameras – are the U12+'s special sauce. One is a 12-megapixel wide-angle with an UltraPixel 4 sensor. That has f/1.75 optics and 1.4um pixels, and gets optical image stabilization. It's alongside a 16-megapixel telephoto camera, for a 2x optical zoom. That has f/2.6 optics, but relies on digital stabilization instead of OIS. Both use a combination of phase detection and laser autofocus, which HTC is calling UltraSpeed Autofocus 2, and there's 4K video capture at 60fps and a 1080p 240 fps slow-motion mode. DxOMark, if you care about such things, scored it at 103 points.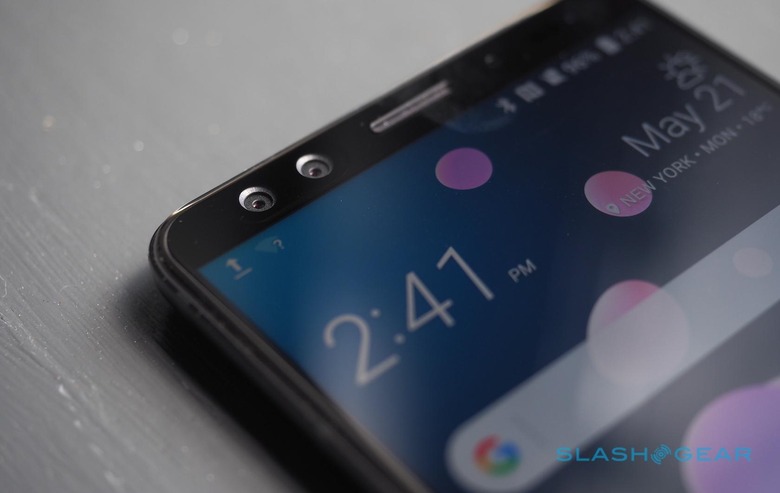 On the front, meanwhile, there are another two cameras. This time it's a pair of 8-megapixel sensors, each with f/2.0 optics and 84-degree wide-angle lenses. No optical stabilization, but each does support autofocus. It means that HTC can offer a background-blurring bokeh mode whether you're shooting with the front or the back cameras, with a slider to adjust the blur effect; you can also, post-capture, tap to refocus in the resulting image.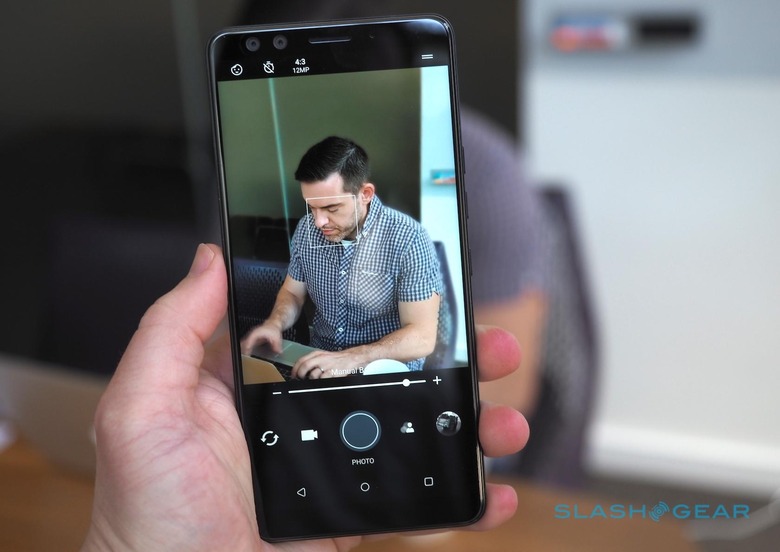 Inside there's Qualcomm's Snapdragon 845 paired with 6 GB of RAM as standard. HTC will have 64 GB and 128 GB versions of the U12+, both of which have a microSD card slot. A USB-C 3.1 port is on the bottom, and there's WiFi 802.11ac, Bluetooth 5.0, NFC, and 4G LTE support for AT&T, Verizon, and T-Mobile. Unlike the U11, which only supported one of Verizon's LTE band, the U12+ can handle both of them for better coverage.
The USB-C port works with HTC's bundled USonic headphones with their active noise cancellation. Again, there's no 3.5mm headphone jack, but you do get an adapter in the box if you have headphones you want to use instead. HTC BoomSound Hi-Fi Edition is included, too: it's not quite true stereo speakers, but the U12+ uses the earpiece predominantly for the high-end sounds and the down-firing speaker on the bottom edge for the lower frequencies, and the result in my brief audition was reasonably impressive volume without noticeable distortion.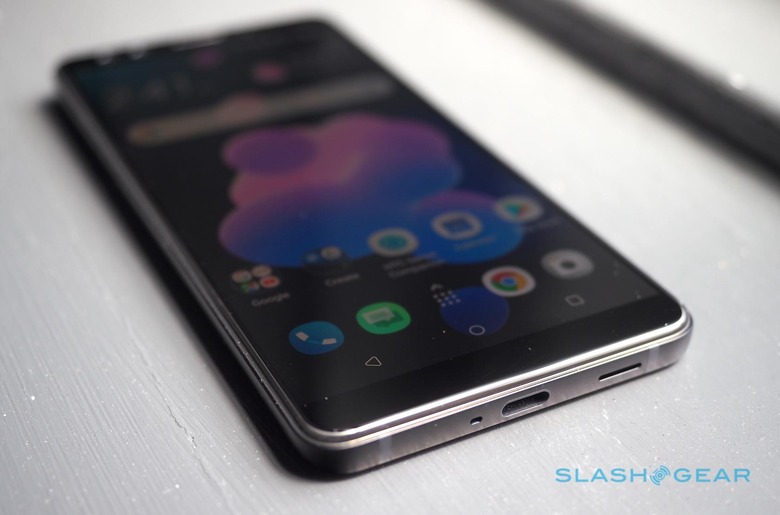 HTC introduced its squeeze-friendly Edge Sense system on the U12, and the U12+ upgrades that to Edge Sense 2. As before you can squeeze or long-squeeze to trigger apps or features like the flashlight; however, HTC has added a double-tap gesture this time. It defaults to triggering the one-handed UI, and cleverly the U12+ recognizes which hand you're holding it in and shrinks the UI down to the correct side accordingly.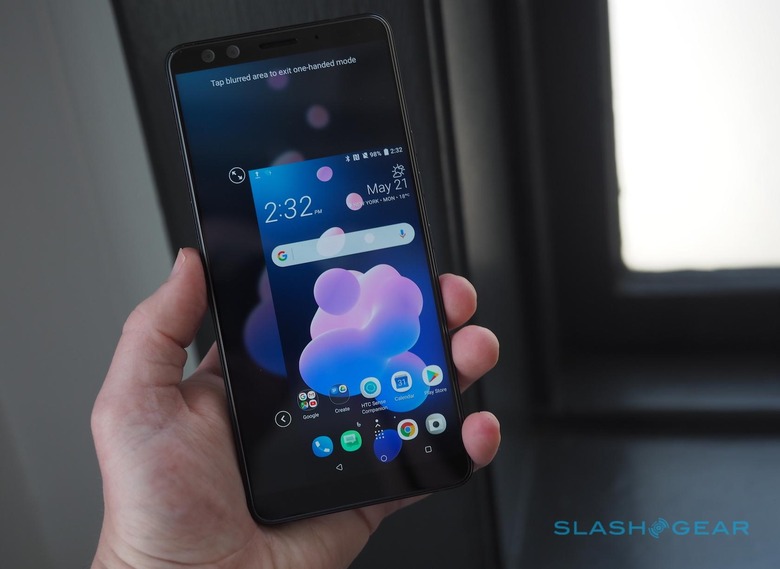 You can, if you prefer, remap it to launch something else. HTC also uses that grip-awareness to intelligently turn off auto-rotate when it thinks you probably don't want the screen to flip into landscape orientation: useful if, for instance, you're lying down in bed. The U12+'s volume and power buttons on the side aren't, in fact, buttons this time around. Instead they use the Edge Sense 2 pressure sensors, along with a buzz of haptic feedback to give your fingers the impression of movement when you squeeze them. It helps the phone achieve its IP68 water and dust certification.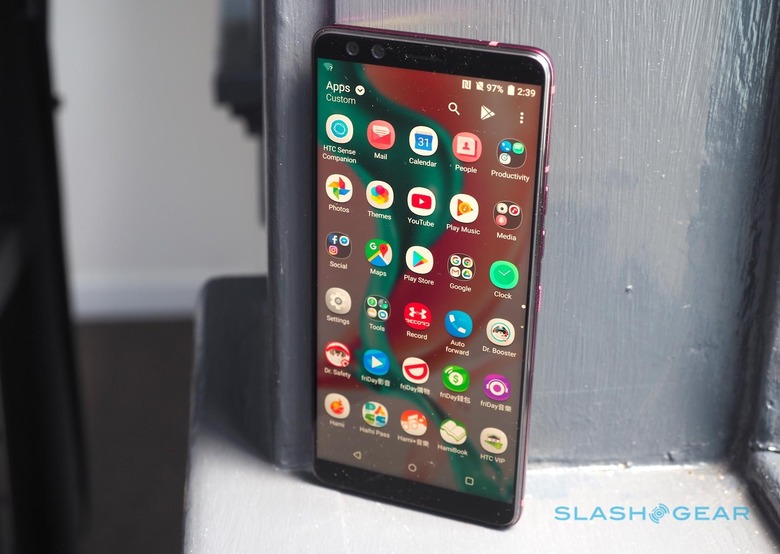 Android 8.0 Oreo will be installed out of the box, but HTC says it will update the U12+ to Android P when Google releases the new OS. You still get both the Google Assistant and Amazon's Alexa, too, each with always-listening wakeword support. HTC has baked in AirPlay, Chromecast, and Miracast streaming support, together with DisplayPort over USB-C.
As for the battery, that's 3,500 mAh. Unfortunately, even with the glass body of the phone, HTC still doesn't support Qi wireless charging. I'm told that's something the company is looking at – particularly as more and more competitors embrace the technology – but for the moment it's counting on quick charging to get people up and running more rapidly.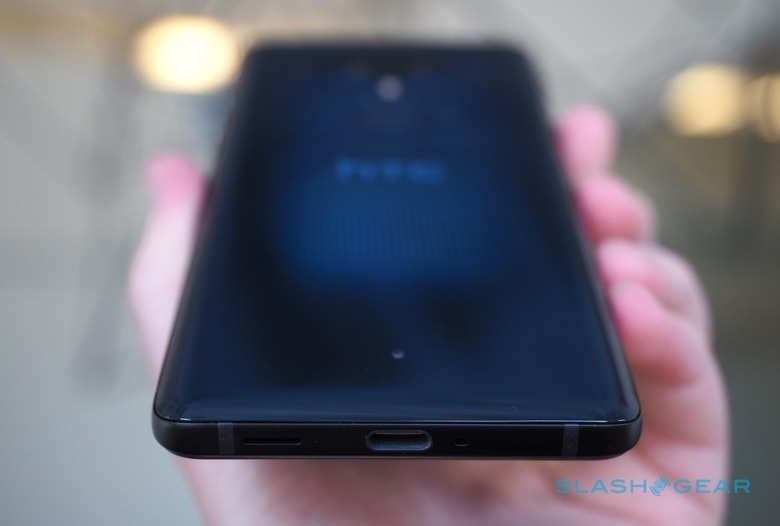 The U12+ supports Quick Charge 4, in fact, though HTC is only bundling a Quick Charge 3 AC adapter in the box. With that, you can expect roughly a 50-percent top-up on your battery in about 35 minutes.
Notably, though the U12+ will work with AT&T, Verizon, and T-Mobile, it won't be sold in-store are any of the carriers. HTC tells me that's a conscious decision: it's expensive getting shelf space at a carrier, and it just isn't convinced that it can make that money back when faced with behemoths like the iPhone and Samsung's Galaxy.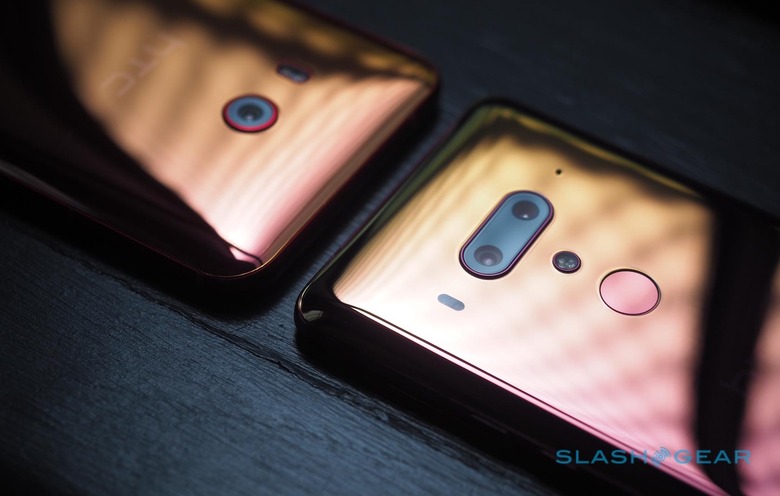 Instead, it'll be selling the phone itself and via Amazon, unlocked and SIM-free. Pre-orders open today, with the 64 GB Ceramic Black or Translucent Blue U12+ being $799 each. The 128 GB Translucent Blue U12+ will be $849. HTC will have a financing plan for those wanting to spread the cost out over two years, too, at $34 per month. Either way, you can expect to have the U12+ in your hands come mid-June.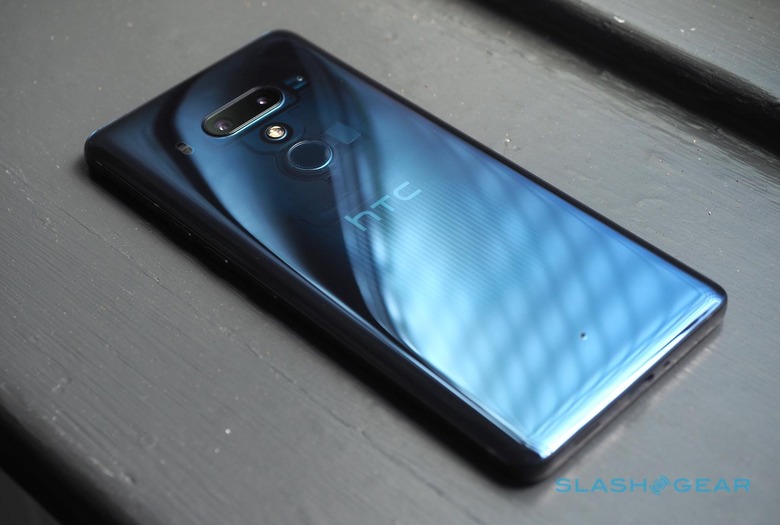 It's tough to stand out in the smartphone space right now, particularly with the new 2018 iPhone line-up on the not-too-distant horizon. Last year's U11 proved HTC still had some imagination when it came to design and functionality, though its decision to ink an exclusivity deal with Sprint seemed like a misstep from the start. I'm glad to see the U12+ double-down on its more unusual features, like Edge Sense 2, not to mention HTC pushing its design boundaries. Now it just has to figure out how to market its new flagship to an audience outside its most faithful users.