HTC U11 Alexa hands-on: What works and what needs work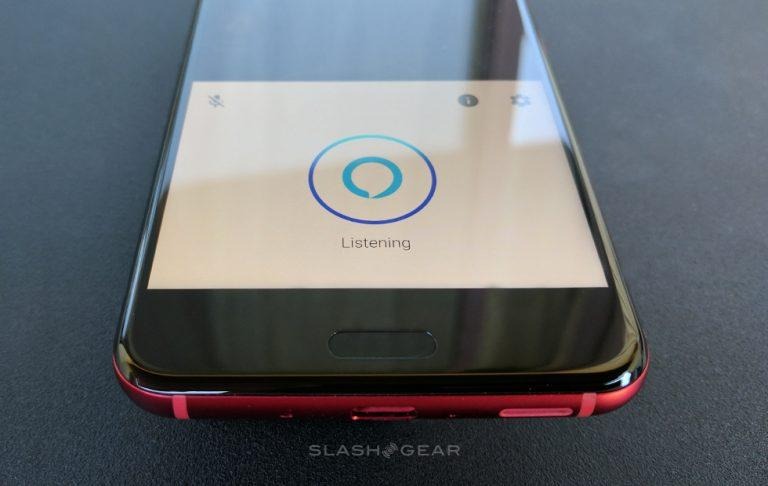 This past week we've had some time with the HTC U11's newest feature boost: HTC Alexa onboard. That's Amazon's Alexa personal assistant, but placed on the HTC U11 in a way that's unique to this device. While Alexa is available in its app form for other smartphones, here Amazon and HTC have worked together to allow Alexa to act as similar to an Echo or Echo Dot as any smartphone has been before.
This Phone
The HTC U11 was already one of HTC's best made phones of the year – perhaps in several years. It has a top-tier display, runs a processor as powerful as the best in the market, and it comes in several lovely colors. The one we've got here is Solar Red, alternating in tones between Tony Stark's top choices in Iron Man paint: hot rod red and shiny gold.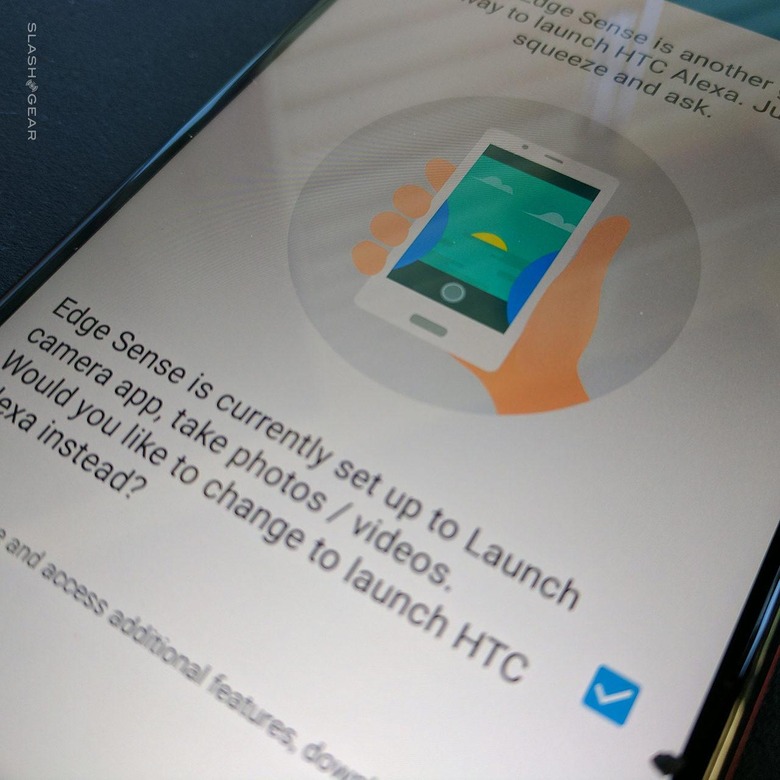 For those with an eye and and ear for more detail on this device – outside the Alexa bit – we've got a review. Have a peek at our HTC U11 Review to see what Chris Davies suggested was a device where "You won't buy this, but you should."
What's the difference with this app?
Alexa isn't so much an app on this device as it is part of the phone experience. Much like Siri was when Apple first acquired the company that made Siri and put it on the iPhone 4S, and a whole lot like the Google voice assistant on every new Android phone. I can say "Alexa" and the phone will respond, at which point I can ask a question or command it to do a task – just so long as I don't have a lockscreen set up on the phone.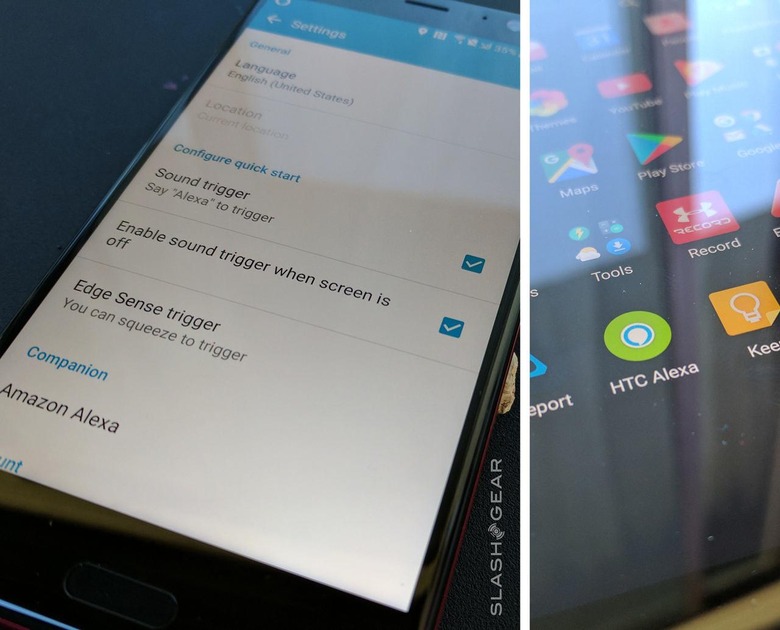 If I have the HTC U11 locked, I can still call upon Alexa, but she wont be able to do anything until I pass the lock. If I have no lock, I can proceed uninhibited – also if I've already had the phone open and it's not yet locked, I can proceed uninhibited. From that point, the experience is very similar to that of the app experience on other Android phones.
Bloop!#alexa #htcu11 @htc @alexadevs https://t.co/RmNo7iOHTJ pic.twitter.com/4CAqn9KqaC

— Chris Burns (@t_chrisburns) July 17, 2017
The BIG difference is that this Alexa can be called upon no matter what's open (or not open) on the device. With Amazon's app for Android otherwise, I need to open the app first to begin to speak with Alexa.
Can it replace my Echo?
As it is with the Alexa experience on other devices, this HTC Alexa integration does not do every single thing an Echo or Echo Dot can do. As such, it is not yet a full replacement for an Echo or Echo Dot – or any other similar Amazon device made purely for Alexa. A number of key items do not work on this HTC Alexa experience that would otherwise be enabled on an Echo.
Works on Echo, not on HTC U11
1. Send Alexa messages
2. Call other Echo devices
3. Set Alarm
4. Play Music from non-Amazon services
5. Set Timer
6. Set Reminders
The last item there is my biggest hesitation with calling this a truly helpful personal assistant. That reminder feature is the one I use most with Google's Android assistant – and is the feature I use most with Siri on iPhone.
What can this Alexa do on HTC U11?
The HTC U11 is a unique device – Alexa integration should likewise be unique. As it were, the HTC U11 makes perfect use of its most unique feature, Edge Sense. Squeezing the edges of the phone can launch Alexa just as saying "Alexa" would.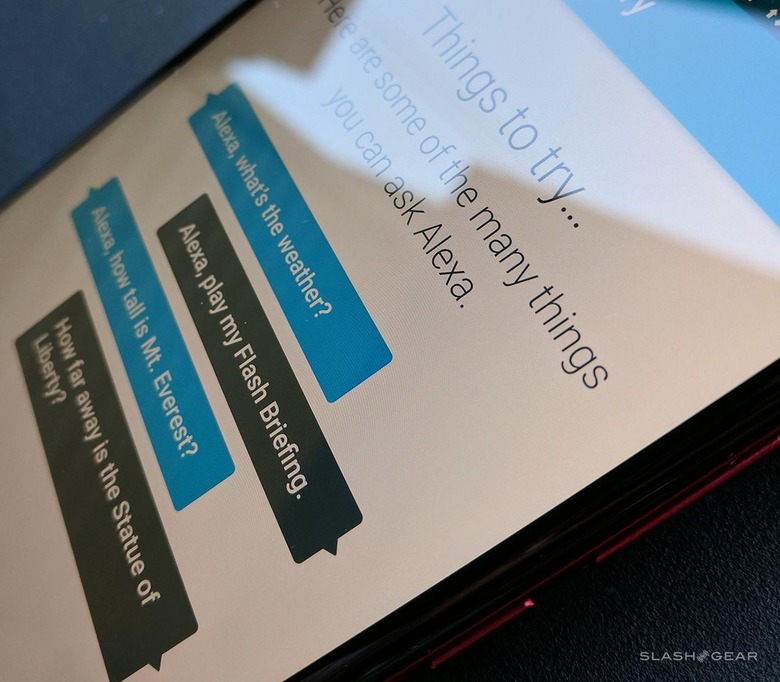 While this device's Alexa doesn't have the full Echo experience, it does have quite a few abilities. Included in HTC Alexa's ability set are the following.
HTC U11's Alexa command abilities:
1. Give sports scores
2. Control smart home devices
3. Tell jokes
4. Report the news / Play Flash News briefings
5. Play Amazon Music
6. Play Audible audiobooks (and other audio media)
7. Report the weather
8. Manage shopping / to-do lists
9. Access 15,000+ skills in the Alexa Skills Store
Alexa on the HTC U11 certainly entertaining to use and – when available at any point instead of needing to open the app – it's a real contender for smartphone-based personal assistant king. If only it had access to the full set of Alexa Skills, the set given to the Echo.
Wrap-up
It's almost as if this app was not meant to be a replacement for any Amazon-made Echo or otherwise Alexa-packed device. While the HTC U11 is on a device with a top-tier display, it does not have the same functionality of the Echo Show. Have a peek at our Echo Show Review to see what might have been – and/or what might be the next step for Amazon with Alexa on smartphones.
As it is today, HTC Alexa adds another in a surprisingly large number of positive features to the HTC U11. With Alexa onboard, this phone has a total of 3 personal assistants available: Google's, the HTC Sense Companion, and Alexa. If you can't find a software-based personal assistant you like here, you're fresh out of luck.
Owners of the HTC U11 can begin to download the app HTC Alexa starting today. This app is available through the Google Play app store right this minute.