HTC ThunderBolt Review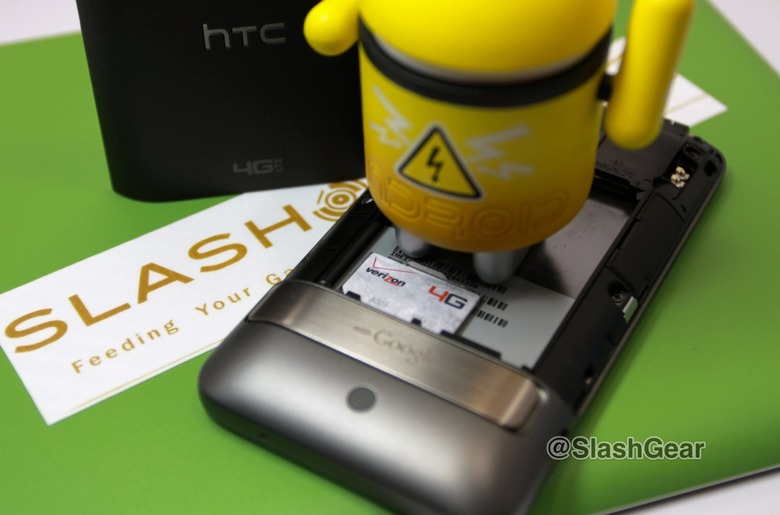 The HTC ThunderBolt is a first but not a first: the only 4G smartphone on Verizon's LTE network, but certainly not the first 4G smartphone we've seen and following a hardware pattern that dates back nine months or so to the HTC EVO 4G on Sprint and takes in AT&T's Inspire 4G on the way. With various different interpretations of what exactly 4G is, however, there's more to this than labels and branding. Check out the full SlashGear review after the cut.
Hardware
If you've used an HTC smartphone recently then the ThunderBolt's design won't surprise. Like the EVO 4G and Inspire 4G before it, there's a 4.3-inch WVGA touchscreen display in a mostly metal chassis. At 4.75 x 2.44 x 0.56 inches, Verizon's phone is narrower and shorter than its 4G counterparts, but thicker; part of that is to accommodate the sturdy metal kickstand that can prop the ThunderBolt in both portrait and landscape orientation. It's not a light phone, either, at a noticeable 6.23oz.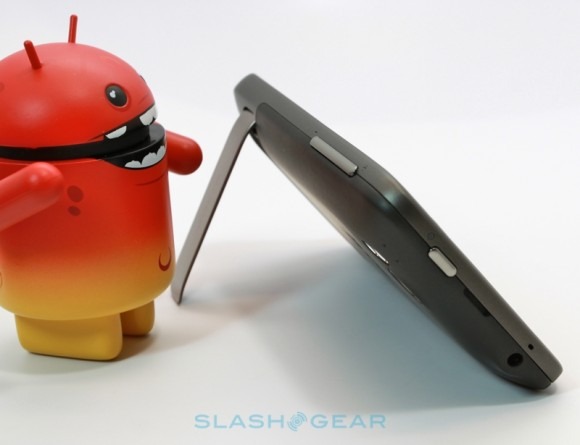 The display is a regular TFT LCD, not Super LCD or AMOLED, but it's impressive nonetheless: crisp and bright, with decent colors and touch-responsiveness. Given all that real-estate, though, we wish HTC had looked to a qHD panel like Motorola offers on the (smaller) ATRIX 4G. Above it there's a 1.3-megapixel fixed-focus camera along with the usual light and proximity sensors, while a row of touch-sensitive home, menu, back and search buttons run under the screen.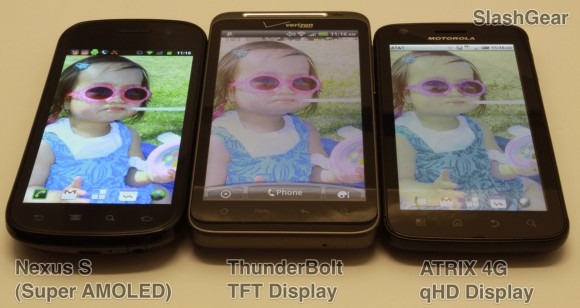 Physical controls are limited to power/lock on the top edge (next to the 3.5mm headphone socket) and a volume rocker on the right edge. The microUSB charging port is on the lower left edge, while the microSD slot is under the easily-removed battery cover (and comes pre-loaded with a 32GB card). On the back there's an 8-megapixel camera with auto-focus and a dual-LED flash, along with a speaker grille that's hidden under the kickstand.
Inside there's Qualcomm's 1GHz single-core Snapdragon MSM8655 chipset paired with 768MB Of RAM and 8GB of internal storage. That's running Android 2.2 Froyo with HTC's custom Sense interface and widgets, more on which in the Software section. Aside from the 4G LTE radio, there's CDMA/EVDO Rev.A, WiFi b/g/n and Bluetooth 2.1 though, unlike other recent high-end devices in Verizon's stable, the ThunderBolt isn't a "World Phone" and so lacks GSM connectivity for use outside of North America. GPS, an FM radio, g-sensor and a 1,400mAh battery round out the key specs.
Altogether, it's a solid – if by now over-familiar – story. Many will argue that HTC make the best Android devices around, and the company has certainly built its modern reputation on phones running Google's platform. Nonetheless, there's a sense that – 4G aside – the ThunderBolt is retreading old ground, one of the last of the single-core flagships as HTC tools up for dual-core handsets to take on Tegra 2 powered rivals.
Software
Android 2.2 Froyo dates all the way back to mid-2010, a full release behind what's running on the Google Nexus S. HTC is obviously readying Gingerbread – the Desire S is expected to ship with Android 2.4 in Europe sometime in early Q2 – but the effort involved in integrating the Sense customizations has a significant impact on timeliness. That not only means devices launch running old software, but that subsequent OS updates are delayed in comparison to "stock" phones.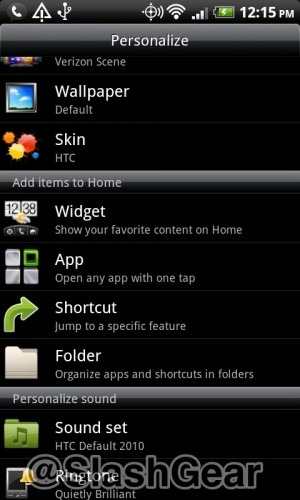 To an extent, that's the compromise you accept in opting for HTC Sense, and the combination of preloaded apps, UI reskinning and plentiful widgets continues to make HTC's devices a popular choice among first-time Android buyers together with existing users. As the native Android interface grows more polished, so HTC has upped its game to maintain the Sense value proposition: European buyers of recent HTC Android devices get access to HTCSense.com, an online portal with remote access, tracking and sync support.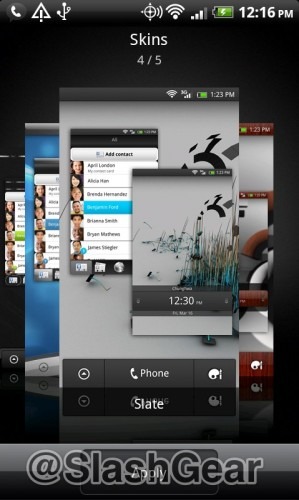 However, the ThunderBolt doesn't get that; instead, it ships with various pre-loaded Verizon apps, including VZ Navigator mapping, NHL and NCAA sports apps, the Amazon Kindle app, Visual Voice Mail, Mobile IM, Blockbuster, Slacker, Let's Golf 2, Rock Band, TuneWiki, a separate eReader app, the VCast App Store and City ID, among others. It's a whole lot of bloatware, and frankly we'd rather Verizon had simply put the titles up for access through the Android Market so we could pick and choose what takes up space on our phone.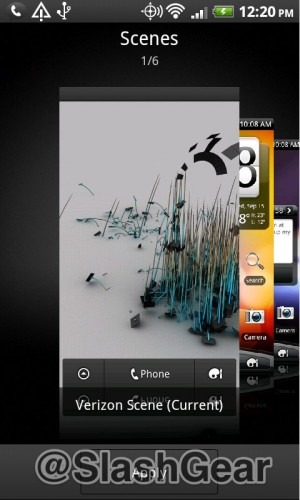 Unfortunately, the one app we'd like to have seen is Skype with video chat support, and that's currently missing. Verizon's custom version of the VoIP app won't install and simply says an update is coming, while the generic Skype app will install but won't recognize either of the cameras. In fact, there's no way out of the box to make video calls. Qik will use the rear camera for recording video but won't access the front camera, while Fring couldn't use either camera for video calls. Neither Verizon nor HTC could give us a timescale on when we might see a native video calling app, but as it stands the 1.3-megapixel front camera is basically pointless for anything other than vanity photos.
Camera and Multimedia
The ThunderBolt's main camera shoots 8-megapixel stills and 720p HD video, and is on a par with other recent HTC handsets for quality. Images are decent in daylight, with good detail and realistic color balance; though suffer from noise in low lighting situations. The dual-LED flash is bright, and works as a video light, but lacks range for nighttime shots.
Sample 720 video recorded with ThunderBolt
[vms bb65a3a4aceac37e2101]
Video, meanwhile, is very good, with accurate colors and the ThunderBolt handling transitions between bright and dim scenes without complaint. There's little motion blur or blockiness in high-contrast areas, which is an improvement over previous HTC handsets. Coupled with the speedy 4G connection, which makes on-the-go uploads far more realistic, we could see the ThunderBolt being a useful tool for mobile videographers.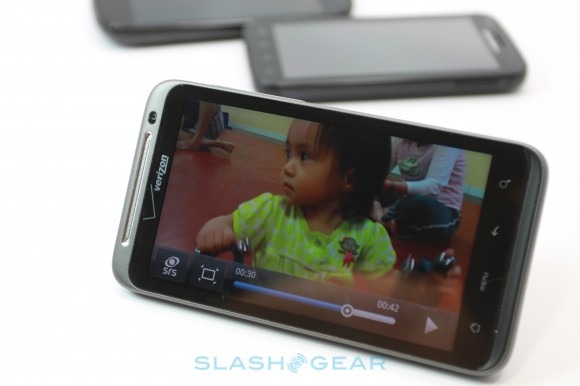 As for watching video, the ThunderBolt supports MPEG4, H.263, H.264 and WMV9 out of the box, and of course there are apps in the Android Market which will broaden that codec support. The kickstand props the phone up at a comfortable angle (ironically it would also be the ideal angle for hands-free video calls) and there's Bluetooth A2DP support for wireless stereo headphones. Streaming audio and video should have no issues with the LTE speed on offer.
Performance and 4G LTE
With a single-core processor, the ThunderBolt falls short of what rival Android some smartphones are offering. The LG Optimus 2X and Motorola ATRIX 4G both use NVIDIA's Tegra 2, but HTC's decision to stick with Qualcomm means the company has been left waiting on the first dual-core Snapdragon chipset. That leaves the Verizon phone putting in an average showing compared to flagship rivals.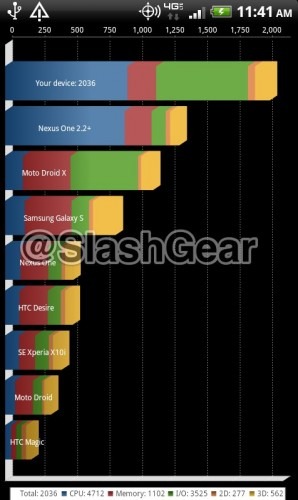 It's not slow, but neither does it offer the lightning fast responsiveness of the ATRIX. Quadrant Advance (benchmark test) brought in a score of 2036, but there's some noticeable lag at times when moving through heavier apps, and dual-core optimized games like Dungeon Defender run but without the crisp graphics and performance we've seen on Tegra 2 based handsets.
Happily LTE performance is a different matter. The Android Speedtest app suggested an unlikely 7.2 Mbps download and 27.59 Mbps upload score, so we turned instead to the ThunderBolt's Mobile Hotspot feature.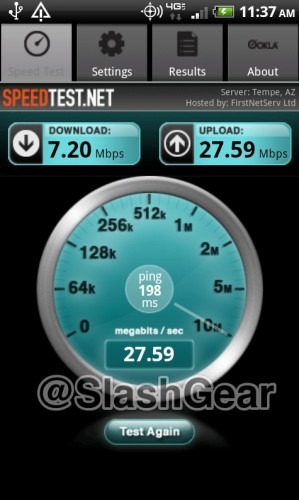 That allows you to share the smartphone's 3G/4G connection with up to eight WiFi-tethered devices (or, alternatively, opt for a USB connection with a single device); it's bundled in the $29.99 per month LTE data package until May 15, after which it will be $20 per 2GB per month. With a single WiFi connection, using the Speedtest.net app on our test notebook, we saw 17.92 Mbps downloads and 3.27 Mbps uploads. With two WiFi connections active, we saw 18.73 Mbps downloads and 4.39 Mbps uploads.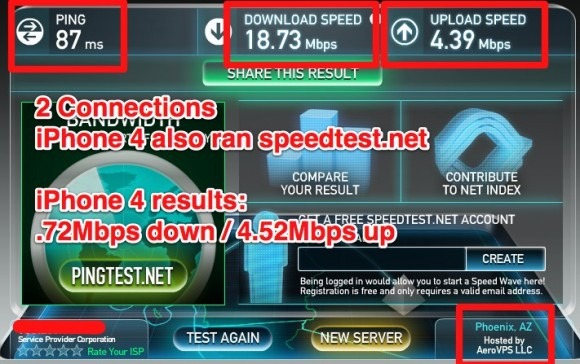 In comparison to the LG VL600 LTE modem we reviewed back in December, that's a faster download speed (in the same Phoenix, AZ, location) but a slower upload speed (we saw 6.73 Mbps uploads). Nonetheless, it was enough to upload a 13 minute long video to Qik in under a minute. Apps download from the Android Market almost instantaneously. It certainly blows away AT&T's HSPA+ service and Sprint's WiMAX.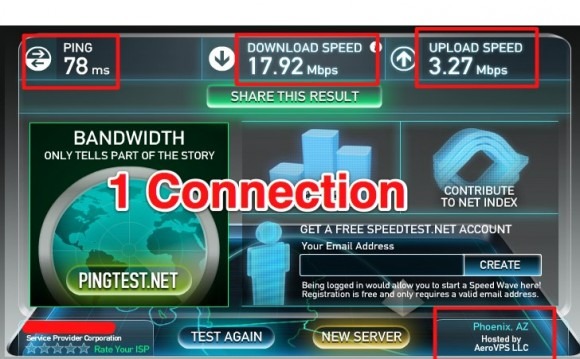 Real life usage, LTE upload speed consistently got 2.5+ times faster COX internet cable.  So a 336MB file would normally take 19-minutes takes a little over 7-minutes to upload!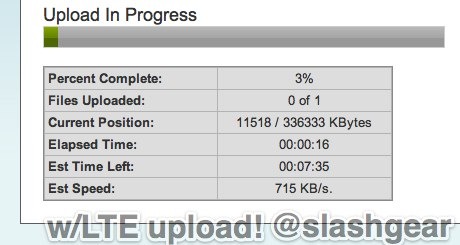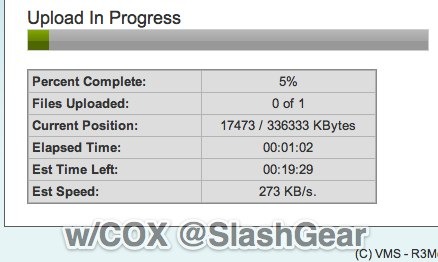 Battery and Calls
Unsurprisingly, heavy LTE use takes its toll on the ThunderBolt's 1,400 mAh battery, and in fact even moderate LTE access can see the HTC's gauge take a tumble. From a full battery, after 2 hours 45 minutes of active LTE use (3 hours 34 minutes of uptime) – downloading apps, data activities like email and Twitter, but no YouTube, calls or general video playback – the ThunderBolt was down to just 8-percent.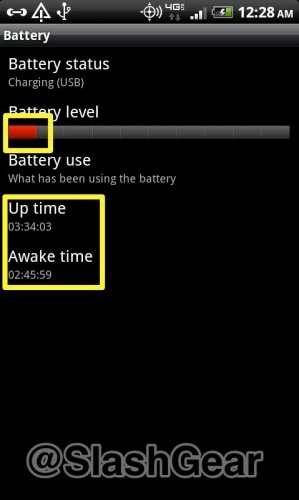 With more general use, and with WiFi turned on, things are a little better. Verizon suggests users will get 378 minutes active use from the ThunderBolt or 330 hours of standby; in reality, with push email turned on and a mixture of browsing, messaging, a few brief calls and a little camera use, we saw 182 minutes of usage before the indicator turned red.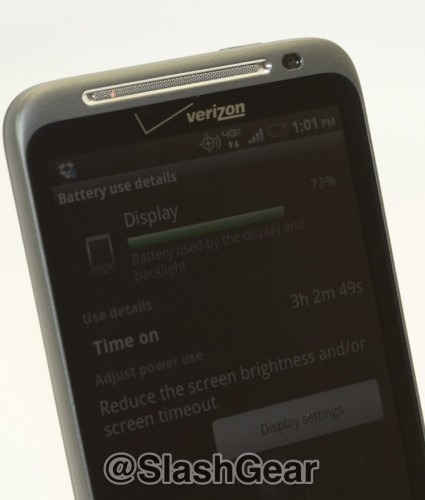 As a phone, the ThunderBolt is pretty much on a par with other recent HTC devices on Verizon's network. Audio quality is decent, and the speakerphone is loud and clear. As was the case during video playback, we didn't notice any difference in sound quality whether the kickstand was open or closed.
Wrap-Up
The HTC ThunderBolt is undoubtedly the fastest smartphone we've tested when it comes to mobile data. Verizon's LTE network is, in areas with coverage, the most impressive 4G system currently available in the US, in many cases exceeding what our regular broadband connections could manage. Things may well change as more users get online, of course; so far only USB modem owners have been enjoying the LTE speeds, but as ThunderBolt adoption picks up and Verizon pushes more 4G-capable handsets out onto the market, we're expecting to see the network settle at lower rates.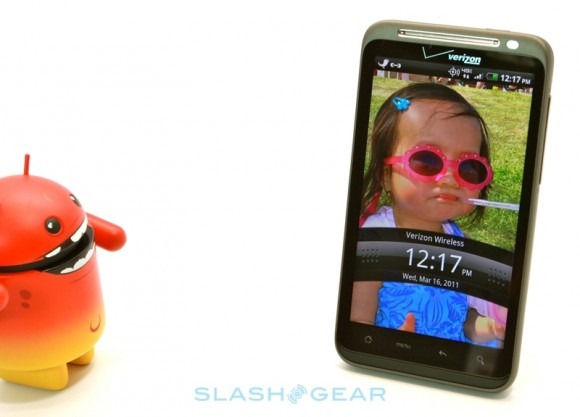 Even with that, though, the strong performance from the off leaves plenty of headroom, and right now if bandwidth is your primary concern then the ThunderBolt is the smartphone to pick. Be warned, however: it's nowhere near a fully rounded experience yet. The absence of video chat software is a significant blip, especially when HTC announced its own app at MWC 2011 last month and when Verizon has an existing deal with Skype, but the biggest drawback is battery life.
In short, the ThunderBolt's battery simply hasn't the stamina to match its data ambitions. Being able to share the LTE connection with eight other devices is admirable, but when that also sucks your smartphone dry in under three hours it's a significant compromise. Even with more casual use, the ThunderBolt's heady rush of data runs the risk of draining the handset well before the workday is through.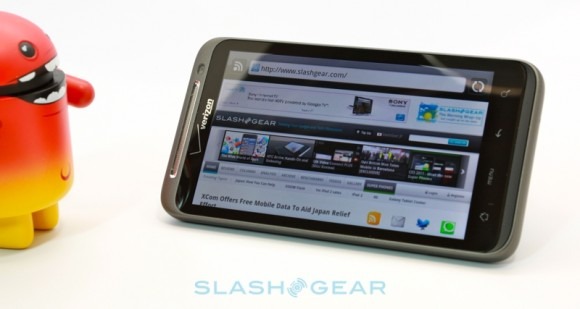 Therein lies the compromise of the early adopter, and it's a big one. If the ThunderBolt had a more modern dual-core processor and the right apps to take advantage of its hardware, it would go a long way to sweetening the deal. With dual-core HTC devices on the horizon, however, and no sign of official video chat support, the ThunderBolt's sub-par performance is tougher to swallow. Speed-addicts will find the Verizon ThunderBolt goes further than any smartphone before it, but this HTC isn't the handset to bring LTE to the mass market.  If there's anything we might have missed, feel free to drop a us a comment and we'll do our best for a rapid response.
HTC ThunderBolt Unboxing and Hands-on
[vms 976ff5986393e8767f5b]
HTC ThunderBolt FastBoot demo
[vms fc23349dd10ee68dabb6]