HTC EVO 4G Review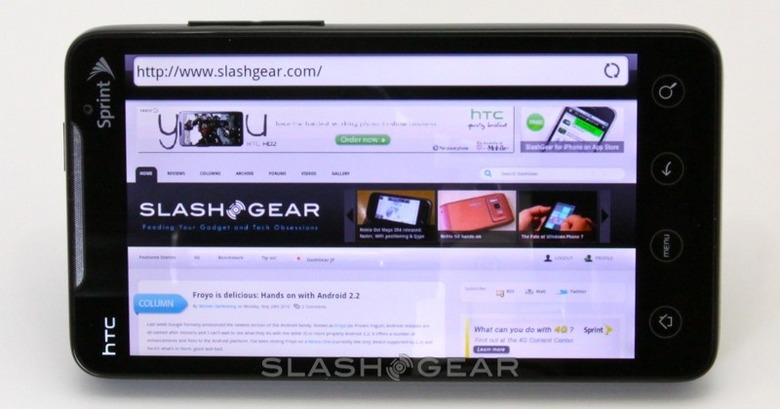 Long anticipated, hugely specified and just plain huge: there's a lot to like about the HTC EVO 4G. The first WiMAX phone in the US brings with it the promise of DSL-like mobile data access along with the flexibility of Google's Android OS, complete with HTC's now-legendary hardware quality and flexible Sense UI. On the flip side it's nowhere near cheap and WiMAX coverage is marginal. Is this new superphone faster than a speeding bullet, or is that just how quickly it drains its battery? Check out the full SlashGear review after the cut.
Physically, the HTC EVO 4G feels like a blend of the HD2 and the Droid Incredible. Dominating the front is that bright, vivid and crisp 4.3-inch WVGA 800 x 480 capacitive touchscreen, with little but a row of four touch-sensitive shortcut keys running underneath to distract you. Meanwhile the sturdy, angular case does little to disguise its functionality, though it still manages to look good if only by virtue of its obvious high-end nature. As we said of the HD2, this is smartphone-bordering-on-MID territory when it comes to usability, and while there are no extra pixels than, say, the Nexus One's 3.7-inch display, the experience is nonetheless far more user-friendly than on smaller handsets.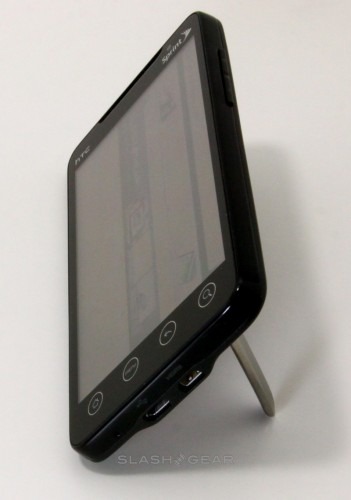 Turn on, and you're faced with Android 2.1 underneath the user-friendly gloss of HTC Sense. Now familiar from several generations of smartphones, Sense is arguably still the best way to bring new users up to speed with what their handsets are capable of. Feature-wise it's the same as on the HTC Desire or Legend: Facebook, Twitter and Flickr integration with contacts, a Friend Stream aggregated feed of all recent updates, full Exchange integration (with calendar support, rather than just mail and contacts on regular Android 2.1) and various eye-catching widgets for weather, settings and other features. There are seven homescreen panes on which to arrange them, and the EVO 4G flips between them – and indeed between all the menus and apps – without pause or lag.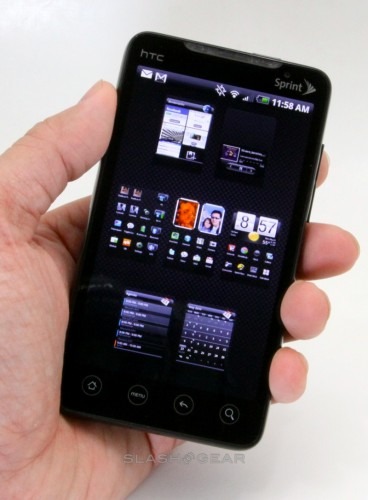 That's because under the hood are specifications we've grown to expect from high-end Android devices, with Qualcomm's 1GHz Snapdragon chipset core to that experience. Here it's paired with 512MB of RAM and 1GB ROM (the latter is – on Android 2.1 at least – the only place you can save your applications to), along with a microSD slot (there's an 8GB card preloaded, held in with an unusual little peg rather than the traditional spring-loaded slot) and 1,500mAh battery. As well as WiMAX and EVDO Rev.A there's WiFi b/g, Bluetooth 2.1+EDR and GPS, together with a G-sensor, proximity and light sensors, an FM radio and a 3.5mm headphone socket. On the bottom edge there's a microUSB port – for charging and data – together with a mini HDMI output for hooking up the EVO 4G to an HDTV; unfortunately Sprint don't supply the cable necessary to do that in the box.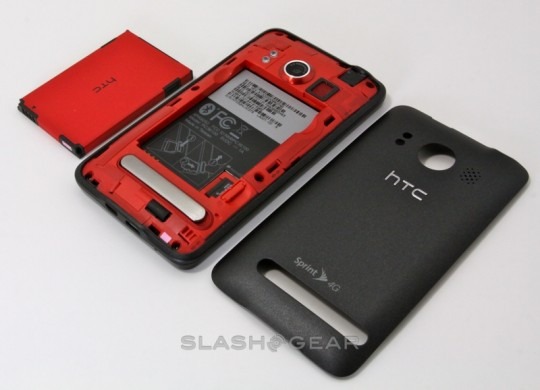 On the back there's an 8-megapixel autofocus camera with dual LED flash (on the front, meanwhile, is a 1.3-megapixel camera for video calls) together with a spring-loaded kickstand for propping the EVO 4G up while playing videos. Even packing all that in, the phone still measures a relatively thin 0.5-inches and weighs 6oz. You'll notice it in your pocket, certainly, but it doesn't protrude or bulge uncomfortably.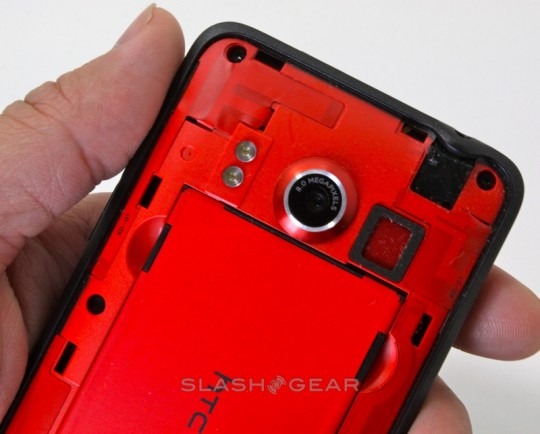 There are a fair few preloaded apps in addition to HTC Sense, and surprisingly there are some useful titles among the mixture (and a few less than useful, of course). Android 2.1 comes with Google Maps Navigation, which in its latest incarnation supports voice guidance for driving and bicycle routes as well as traffic, but Sprint also insist on loading their own Telenav-powered system (which is bundled into the Sprint Everything Plan). HTC Peep for Twitter is onboard, as is an Office document and PDF reader app, and there's the Sprint Hotspot app – to turn your EVO 4G into a MiFi-style mobile router and share its 3G/4G connection with various WiFi clients; more on that later – a YouTube HQ app and Qik for video sharing. Finally there's Sprint TV and, less useful perhaps, their NASCAR and NFL sports apps.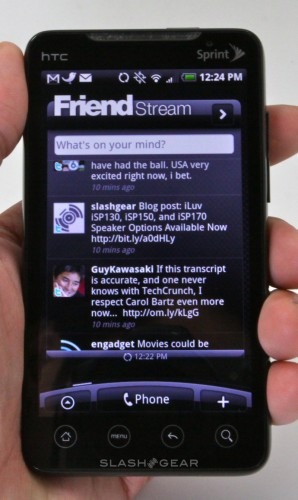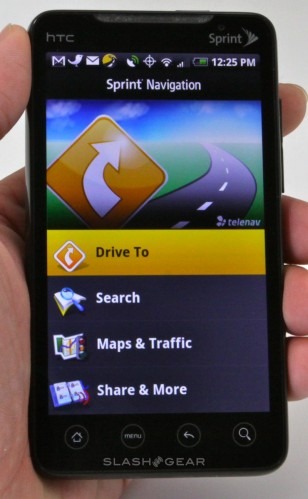 Android is, by now, reasonable familiar, but with the EVO 4G having the largest display of an Android device so far, things like web browsing and media consumption are made all the more attractive. The standard WebKit-based Android browser has, thanks to HTC's tweaking, Flash Lite 3.1 support, which means certain online animations and streaming video will work in-browser. Pages render quickly and panning/pinch-zooming is jerk- and lag-free. In fact it handles most desktop-version sites well, even if most of the time pages automatically flip to their mobile-versions. There's obviously full Android Market access, with an ever-growing number of free and paid applications to choose from; at Google IO this week they claimed over 50,000 titles.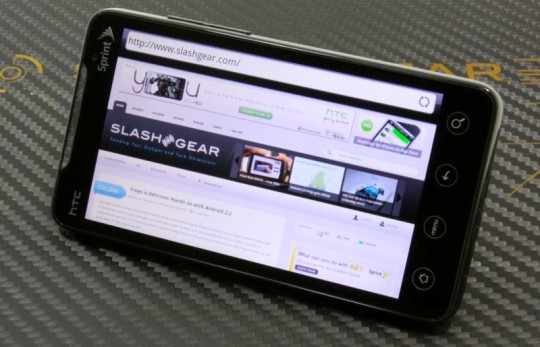 Without a physical keyboard, text entry is via an on-screen 'board using HTC's own custom layout. We're big fans of it from previous handsets, and here the extra screen space on offer makes for even speedier input. Both auto-correction and word-prediction are supported, and even the portrait orientation keyboard is large enough for pecking out an email. Flip it into landscape orientation and you can hold the EVO 4G in both hands and thumb-type at a decent pace. The only thing missing, in fact, is a joystick of some sort, without which highlighting text and making more precise corrections can be time-consuming. We imagine its omission was mainly down to an absence of physical space for the hardware.
Voice calls can, at present, only be made over the Sprint 2G/3G networks, not via WiMAX. Audio quality is reasonable, if not outstanding, though the speakerphone is loud – especially if you prop the EVO 4G up on its kickstand. Eventually Sprint will support video calls using the preloaded Qik app and the front-facing video camera, but that functionality isn't enabled yet. As it is, you can use it to stream video directly from the EVO 4G to an online account – like an instant YouTube that people can watch in real-time – from either camera. What we'd really like is Skype support for video calls, but thanks to Verizon's exclusivity deal with the VoIP company that seems unlikely to happen.
It's a shame, because we imagine the 4G connection speed would easily be sufficient for some excellent quality video calls. What users will see obviously depends on the strength of the WiMAX network they're in – assuming they're close to one of the relatively few markets where there's coverage – but we saw healthy 4Mbps downlink and 1Mbps uplink rates when we tested.
As a result, the YouTube HQ app really makes the most of the extra bandwidth and the screen real-estate on offer. Videos are full-screen and as crisp as we're used to in HD mode on the desktop, and with the kick-stand out and a set of headphones (either wired or Bluetooth A2DP) you have quite the mobile entertainment station. HQ is also supported over EVDO Rev.A, though we noticed a few more glitches in playback when on the slower network.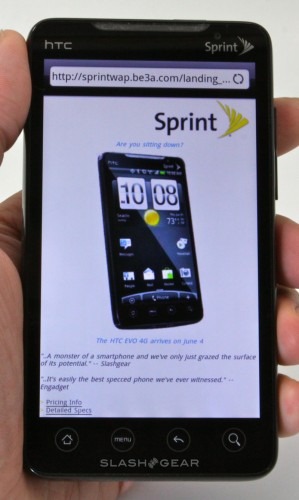 HTC's other headline feature for the EVO 4G is its 8-megapixel autofocus camera, complete with two LED flashes as we've seen on the Droid Incredible. While on paper this should rival a decent point-and-shoot, in practice results are on the disappointing side. In bright lighting there are more visual artifacts than we'd like to see, whereas low-light conditions confuse the autofocus and can lead to murky, blurry pictures. The flash, like we've found with pretty much every other LED example, has a relatively narrow sweet-spot outside of which subjects are either under- or over-exposed. Meanwhile, 720p HD video recording lags behind what you'd expect from a basic, dedicated HD camcorder, and seem to lack the frame rate to go along with the resolution. Still, with the correct HDMI cable it would be handy being able to show them straight away on a nearby HDTV or display.
Take off video from SFO using EVO 4G:
[vms 8f1206823815f6610286]
Second sample video taken with EVO 4G:
[vms 35c32e34f46a71175850]
Load up some prerecorded video content, however, and it's a much more satisfying experience; we can see frequent travelers using the EVO 4G as their portable entertainment station, bypassing pay-per-view hotel room movies and instead choosing from their own mobile catalog. Holding it back is the absence of broad codec support, admittedly not something limited to this particular device, but we'd like to have seen DivX or H.264 thrown into the mixture. When we met with HTC recently and asked them if they had any plans to include DivX or Xvid, they said it wasn't something on their immediate timeline; that feels like a missed opportunity in this case.
Battery life on a device like this is always going to be precarious, with WiMAX being particularly power hungry. We've managed 5 hours and 20 minutes talktime. Using it in hotspot mode – sharing out the 3G/4G connection via WiFi – saw that drop to more like roughly 3 hours and 30 minutes before we had to plug in the charger. HTC provide a simple homescreen toggle with which you can turn on and off WiMAX if you want to prioritize longevity instead of speed (or simply aren't in a WiMAX-covered area).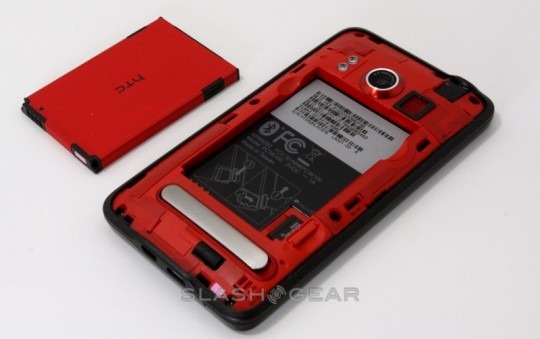 While it's handy for getting to webpages and streaming audio or TV on the EVO 4G itself, WiMAX really comes into its own when you've got a notebook, netbook or other WiFi-only device you want to get online. Sprint's Hotspot app basically does what a standalone Novatel MiFi – or, indeed, Sprint's own 3G/4G Overdrive – mobile router does: share out the smartphone's data connection with up to eight WiFi clients. Setup is straightforward, a matter of punching in your choice of SSID and encryption passcode, and then connecting with your laptop in the usual way.
In fact the irony is that the WiMAX's success underscores one of the HTC EVO 4G's key weaknesses: that so little of the US, relatively speaking, supports the network. While that's undoubtedly Sprint's fault, not HTC's or that of the smartphone itself, the problem is still shared by all three. Perhaps the technophile users who'll reach for the EVO 4G will accept its limitations and go into a two-year contract with their eyes open to WiMAX's fledgling limitations, but then paying a $10 premium every month for WiMAX access – even if you're never within sniffing-distance of a signal – could quickly prove frustrating.
That brings us to the second main weakness of the phone: Sprint's pricing. $199.99 outright for the HTC EVO 4G itself was to be expected; then of course there's the mandatory voice and data packages for the duration of a two-year agreement. Figure $70 per month for Sprint's Simply Everything plan, plus that extra $10 for the privilege of dipping into WiMAX speeds. Unfortunately, where Verizon bundle inclusive mobile hotspot functionality into the price of a Palm Pre Plus data contract, Sprint insist on charging a further $30 per month.
So, altogether that's $110 in monthly fees, or around $2,840 over the course of your agreement. While the core device is certainly impressive, we can't help but recall Sprint's boasts that WiMAX data was a relative free-for-all in comparison to traditional 3G, because the network is designed for data use. Still, given you'll most likely be on EVDO Rev.A most of the time, perhaps it's not such a great surprise that Sprint are so mean when it comes to sharing your EVO 4G's connection.
Our final concern is Android itself. Not Google's commitment to the platform, but HTC's ability to push out updates to their Sense-enabled devices. By the time the EVO 4G arrives on Sprint shelves the Google Nexus One will have already had Android 2.2 Android 2.2 Froyo for a couple of weeks, with other Android handsets likely following on in the subsequent weeks and months. As we've seen before, when you customize a device it then takes a lot more work to update the underlying OS; HTC have said they're targeting an Android 2.2 upgrade for 2010 model year phones in the second half of this year, but we've seen them miss public timescales before. Admittedly, one of the most anticipated features OS 2.2 will bring, WiFi tethering, is already supported via Sprint's Hotspot app, but that's not the only appeal of the new version and it's galling to know your shiny new smartphone may be "outdated" before you've hardly got it out of the store.
Still, as we always say, you should buy a phone because it fits your needs now, not because of what it might do however many months down the line. Out of the box, the HTC EVO 4G is comprehensive and highly capable, and there's a wealth of third-party content in the Android Market that extends its abilities even further. Equally, developers are unlikely to abandon support for previous versions of Android, knowing that HTC's devices are some of the most popular around.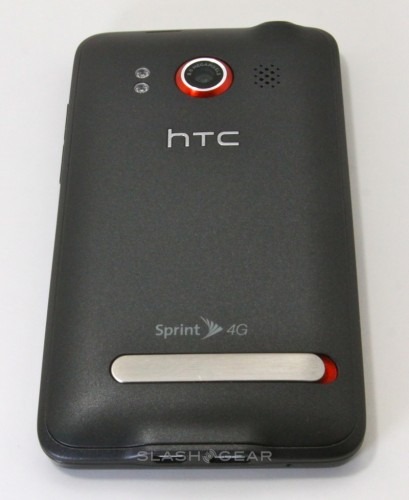 That reputation should be rightly shared by the HTC EVO 4G. Expensive it may be, scarce its high-speed network of choice and ambiguous in its upgrade timetable, but it's still one of the most capable and impressive handsets not only running Android but in the US smartphone segment altogether. We'd recommend poring over Sprint's WiMAX coverage map before you sign up to a contract, just to make sure you're getting the most from the handset, but as chicken and egg devices go, there are plenty of positives to enjoy while you wait for the network to catch up.