As we count down the days to MWC 2015, it's natural to see companies kick their marketing campaigns into high gear, sometimes with absurd results. Take for example HTC's latest "teaser", basically a fill in the blanks game with nothing much in terms of clues. Of course, that's not going to stop anyone from speculating, or wishing, what it's all about. Given how things are going, it could very well be the rumored HTC One M9 Plus. Or an HTC Tablet. Or anything for that matter.
There is very little doubt anymore that HTC will be unveiling the next One, which we're calling the One M9 for now, this coming March 1. After all, the manufacturer itself pretty much said so. Unlike the Samsung Galaxy S6, which has practically all been rumored out, there is still an air of mystery around the One M9, given some still conflicting specs. It doesn't help that there's a shadow of a doubt that HTC purposely leaked early photos in order to mislead rumor hunters.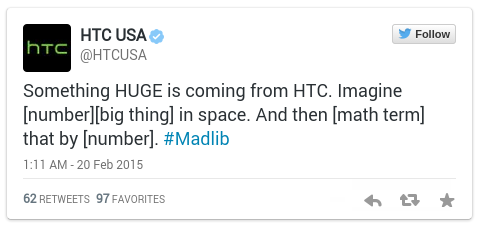 So this HUGE thing can yet be another red herring. But if we narrow things down, we might suspect it is the "Hima_Ultra", the codename of what is believed to be the One M9 Plus. The existence of this smartphone, that is supposedly not a phablet, is quite intriguing. Because if it indeed does exist as earlier leaks have said, then it will be the One M9 Plus that will posses some of the would-be interesting features of the One M9, like a DuoCamera setup or a fingerprint scanner.
There's another HUGE possibility we may have forgotten about. During the height of the Nexus 9 announcement, there were rumors, or probably wishful thinking, that HTC would once again try its luck with tablets. After all, the Nexus 9 was relatively well received even if it's not selling like pancakes. An 8.9-inch tablet is definitely a bigger thing, at least physically, than an One M9 Plus that isn't supposed to be that much bigger anyway.
Sadly, these theories might start to fall apart if you take into account the word puzzle that HTC left us. The absence of a date also makes us wonder if this HUGE thing is meant for MWC 2015 at all. With just about a week left before the event, we will likely hear about this soon. If not, see you in Barcelona!
SOURCE: @HTC