HTC "Quietly Brilliant" campaign goes global [Video]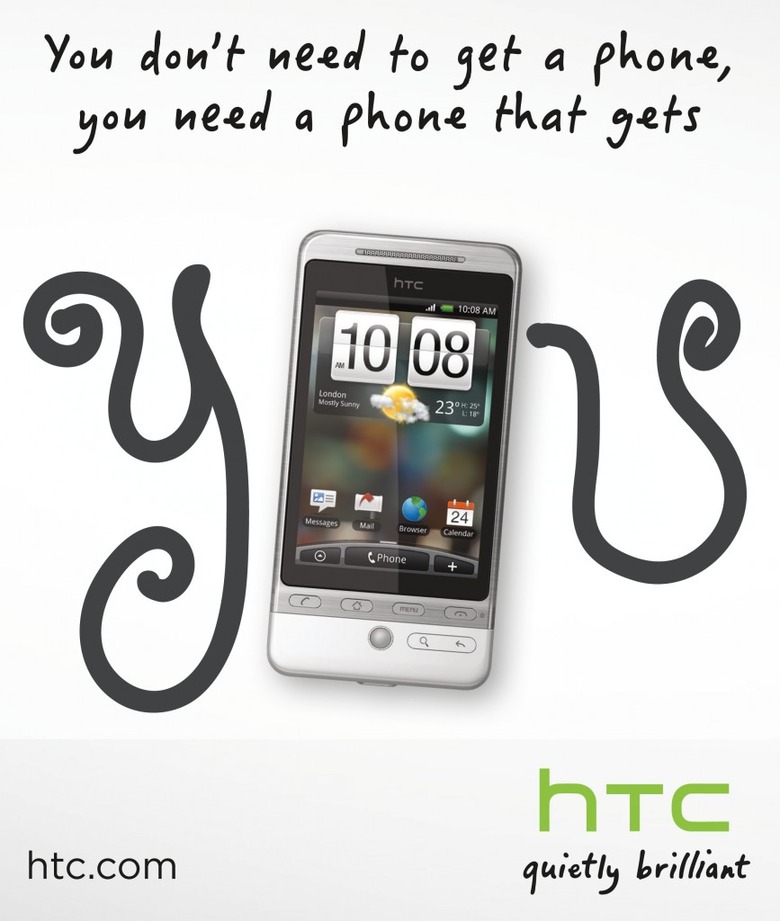 The HTC "YOU" campaign we spotted earlier this month has now gone global, and brings with it a new "Quietly Brilliant" tagline and "You don't need to get a phone. You need a phone that gets you" slogan.  Twenty countries will get the new adverts, including TV spots examples of which you can see after the cut, which all focus on the individuality of HTC's range and the flexibility of things like HTC Sense.
Unlike, say, "there's an app for that", the HTC commercials don't so much focus on the precise functionality of their handsets but the way we use them. They're also platform-agnostic; there's no mention of either Android or Windows Mobile.
Aside from sounding a lot like the theme-tune from The Thomas Crown Affair – not that it's a bad thing, mind – the adverts are at least pretty distinctive.  HTC have moved a long way from their early days of making white-label devices with pretty much zero consumer profile in the market; considering they're one of the few companies with products out – and in the pipeline – that are interesting us right now, we hope this gets them the mainstream attention we reckon they deserve.
Press Release:
HTC UNVEILS GLOBAL ADVERTISING CAMPAIGN AND NEW 'QUIETLY BRILLIANT' BRAND POSITIONING

YOU campaign brings new approach to mobile industry; represents HTC's focus on each customer

TAOYUAN, Taiwan – October 26, 2009 – HTC Corporation, a global smartphone designer, today unveiled a global advertising campaign that is based on HTC's new Quietly Brilliant brand positioning. As HTC's first global advertising campaign, the YOU campaign is being rolled out across 20 countries in the coming weeks and features the tagline, 'You don't need to get a phone. You need a phone that gets you.' This represents HTC's commitment to focus on people, their needs and how they work and live to ensure that HTC devices suit them.

"Quietly brilliant is doing great things in a humble way, with the belief that the best things in life can only be experienced, not explained," said John Wang, chief marketing officer, HTC Corporation. "The YOU campaign is the perfect embodiment of 'quietly brilliant' and is core to HTC as a company, innovator and partner."

The YOU campaign is focused on driving broad, global visibility and understanding of HTC's unique brand promise – that it's all about YOU, the consumer, and in fact not the device. HTC worked with Los Angeles-based advertising agency, Deutsch LA Inc. to create the YOU campaign that will employ an integrated-media approach to reach consumers via television, print, outdoor and online. HTC's design expertise will be echoed throughout the campaign, with commercial spots highlighting the unique functionality of HTC smartphones.

"We've come to have a very emotional relationship with our phones. Many of our key experiences in any given day come through this one device and yet most of the advertising in the category is still about utility," says Eric Hirshberg, co-CEO and chief creative officer, Deutsch LA. "HTC's whole design philosophy is very personal. They make phones where your experience is completely unique, so we think there is a connection between how people feel about their phones and how HTC makes them."

HTC worked with London-based creative consultancy, FigTree to create the quietly brilliant brand positioning. The 'quietly brilliant' positioning was inspired by HTC's culture of putting customers first, born from a heritage of creating breakthrough products and continued innovation. As part of HTC's culture, the "quietly brilliant" positioning will be rolled out in all forms of communication and brand touch points across the company.

"Some of life's most brilliant ideas started with a simple doodle on the back of a napkin," said Simon Myers, CEO of FigTree. "HTC's new look uses this visual language of doodles to explain all the quietly brilliant features and benefits of HTC devices in a simple and human way."

About HTC

HTC Corporation (HTC) is one of the fastest growing companies in the mobile phone industry. By putting people at the center of everything it does, HTC creates innovative smartphones that better serve the lives and needs of individuals. The company is listed on the Taiwan Stock Exchange under ticker 2498. For more information about HTC, please visit www.htc.com.