HTC Pyramid caught in wild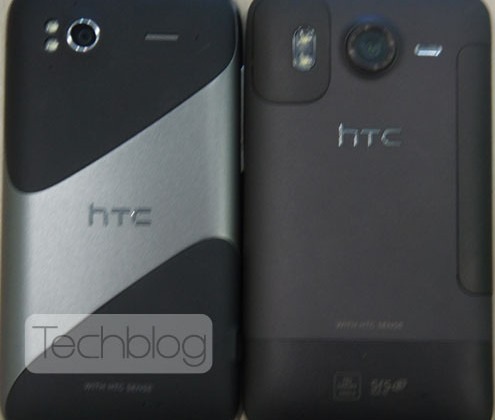 We're already expecting to see the HTC Pyramid make its official debut at CTIA 2011 later this week, but we won't say no to a sneak preview of the Android smartphone before that. Fresh from TechBlog is a somewhat blurry in-the-wild shot of the new HTC handset, matching what we've seen from previous leaked renders.
No new spec information, so we're still going on previous details. From the size of the HTC Desire HD next to it, the 4.3-inch display seems to be a lock-in (hopefully along with the 960 x 540 rumored resolution), while inside we're expecting a 1.2GHz Snapdragon processor. The camera and dual-LED flash are obviously visible, together with HTC's unibody-style construction, with the camera expected to come in at 8-megapixels (and be accompanied by a 1.3-megapixel webcam up front).
Still to be confirmed is whether the processor is a single- or dual-core chip – we're thinking the latter, making it HTC's first dual-core smartphone – and which version of the OS will be loaded. The last set of rumors suggested Android 3.0 Honeycomb, better known as Google's tablet-centric version of the platform, though with that build's fragments technology apps should be able to accommodate the smaller display size on offer.
[via Android Community]