HTC "Proto" is Desire X tip retailers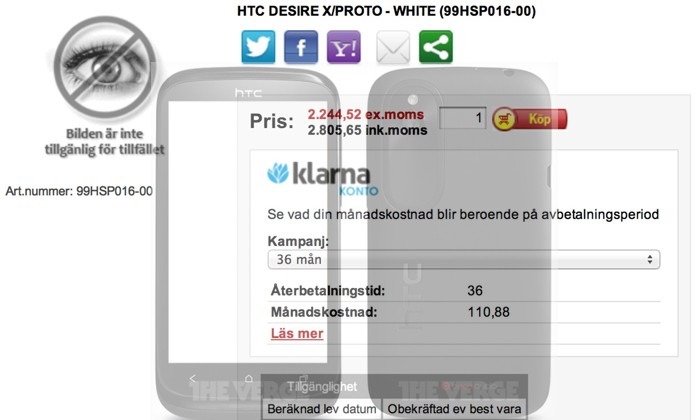 HTC's recently leaked "Proto" smartphone may well launch as the HTC Desire X, according to prematurely published retailer listings, with a debut at IFA 2012 this week increasingly likely. Several online stores have listed the Desire X, Swedish site Technytt spotted, and while specifications are still unpublished, it seems the name has been building some consensus.Multitech, ClickOK, Elkjop Business and Elgiganten Business all have sparse listings for the Desire X, which according to previous leaks is expected to slot into the middle of the One series, between the One X and the cheapest One V. Specs are believed to include a 5-megapixel camera and 4GB of internal storage, as well as a processor twice as fast as that in the One V, paired with 512MB of RAM.
It would not be the first time that HTC had used such a suffixing nomenclature to describe a new handset. The original HTC Desire was followed by the larger Desire HD, for instance; meanwhile, the "X" suffix has already been used recently in the shape of the flagship One X.
As for when we might see the rumored phone, HTC has not scheduled a press conference but we're still expecting a quiet launch sometime this week. SlashGear will be at the Berlin show to bring back all the details, so keep an eye on the IFA 2012 hub.