HTC Panache Sneaks Out - a myTouch by Any Other Name, Slightly Sweet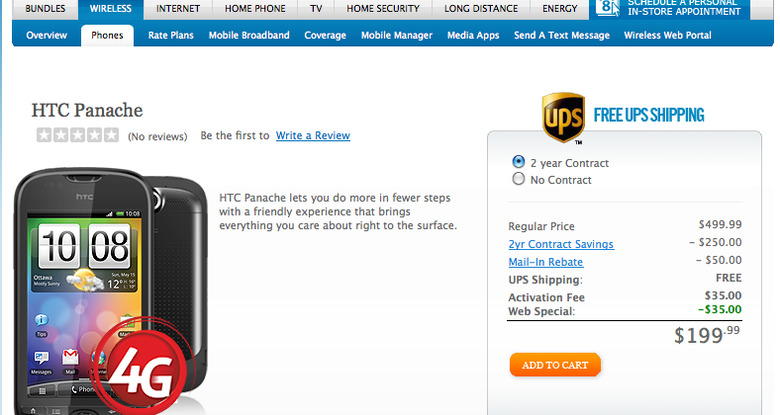 For those of you with a keen eye for codenames, you'll remember that at one point or another, the HTC Glacier, a device later called the myTouch 4G in some circles, was also going to go by another name: HTC Panache. Turns out that day has come, and it's coming to Cincinnati Bell specifically. This regional carrier will be rolling out the Panache – which is also running on a 4G connection, whatever that may end up entailing in Cincinnati – with a few specs we've got to assume have been entered in incorrectly, as everywhere else this device has been listed with the same specs while this Panache has an impossibly large Lithium ion 13400 mAh Battery (included in box). Huge!
Qualcomm has an extra b before its name as well on the listing, if that's any additional indication that some of the specs may be a bit off, but an HTC phone is an HTC phone, and we've gotta let you know what's up! Therefor here we go: this device has a 1GHz Snapdragon MSM8255 processor, a 3.8 inch WVGA capacitive touchscreen (480 x 800), and comes packed with Android 2.3 Gingerbread. You'll get 768 MB RAM, 3.7 GB ROM, and a rear-facing 5 megapixel camera on the back with a front-facing VGA staring you in the face.
This device will run you a total of $499.99 if you purchase it off-contract, or with a whole bunch of rebates and discounts on a 2-year activation, you can get it for a total of $199.99 – what a deal! You can check out our own gigantic review of the original T-Mobile myTouch 4G if you like for a better look at what you're going to be getting with the Panache if you wish, that and a bit of the ol' specs for comparison. Is this the same 4.8 x 2.44 x 0.43 inch TFT LCD toting device as we saw last year? We think so, yes.
Now we've only to wait for the myTouch 4G Slide – can't wait!
[via Cincinnati Bell]