HTC One X Jelly Bean update starts in Taiwan and Singapore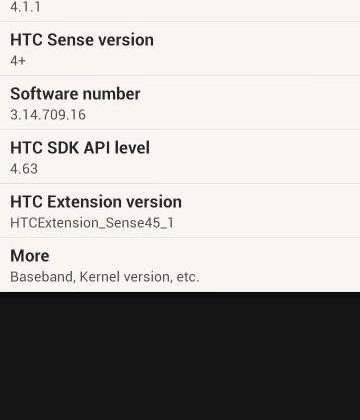 In a press release on October 2, HTC stated that the HTC One X and HTC One S would begin receiving a Jelly Bean update sometime this month. It seems the process has begun for the HTC One X, with users in Taiwan and Singapore reporting on the XDA Developers forum that they have successfully updated to Android 4.1.1 with HTC Sense 4+. According to one user, as well as the screenshot below, it's version 3.14.709.16, and is 353.87MB in size.
Jelly Bean brings users a faster and more fluid user interface, with snappier orientation changes and responses when toggling between apps. The system offers more consistent rendering, and reactive touch responses that help conserve battery life. Other features include the ability to designate certain WiFI SSIDs as mobile hotspots, more accurate Face Unlock, and the ability to swipe from the camera viewfinder to review photos.
As far as the HTC One X, it brings with it a light weight of 130g and a 4.7-inch 1280x720 display. There's a 1.3-megapixel front camera for video conferencing, and an 8-megapixel rear camera with autofocus, an LED flash, and support for recording videos in up to 1080p HD. Inside you'll find an NVIDIA 1.5GHz quad-core Tegra 3 chipset, 1GB of RAM, and 32GB of storage space.
HTC Sense 4+ is HTC's custom overlay, and includes one-touch access to the camera, bypassing the lock screen, as well as two new gallery views, Tap and Go, and Self Portrait mode, which detects faces and applies minor enhancements to the subject's eyes and skin. There's no word on when the HTC One S will see some Jelly Bean action, but assuming HTC stays in its October timeline, it is reasonable to assume that users will see the update pop up in the next couple days. You can check out our review of the HTC One S here.
[via Gotta Be Mobile]