HTC One V USA release tipped for CTIA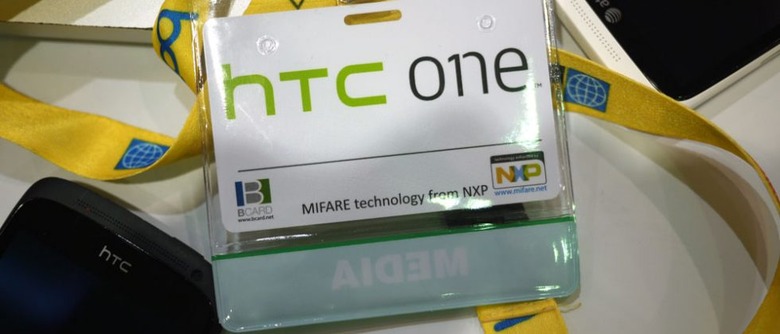 The folks at HTC have been tipped to be bringing one or more carrier-branded model of the HTC One V to CTIA this week in New Orleans, the device itself announced for a stateside release earlier today. We've heard from sources close to the matter and have gleaned through some fairly obvious-seeming clues (such as the press tag shown here) that HTC will be bringing their HTC One lineup to the show in full force, with an HTC One V USA carrier-laden device more than likely in the pipeline. We reported earlier today via HTC that the group would be releasing the device "soon" for the summer season here in the United States.
This device is tipped to be extremely similar to its international iteration with a 3.7-inch display, HTC One features galore, and a smaller processor than either of its bigger brothers. There HTC One X has been released with an NVIDIA Tegra 3 quad-core processor internationally and a dual-core Qualcomm Snapdragon S4 processor here in the USA on AT&T while the HTC One S has popped up both internationally and in the USA with that same S4. The HTC One V has been released internationally with a Qualcomm Snapdragon S3 processor at 1GHz and single-core. This device is set to attack the middle market with features that allow the device to be inexpensive but powerful in several pointed ways.
Have a peek at our review of the international version of the HTC One V and stay tuned for the full skivvy on what HTC will be bringing to the show here this week. We've got several opportunities to check out the HTC wares for the week, starting tomorrow morning, and tonight we're off with a bang for AT&T events in double. Stick with us all week with the CTIA Live portal for all of our on-site content, coming at you all hours of the day and night all week!