HTC One V Review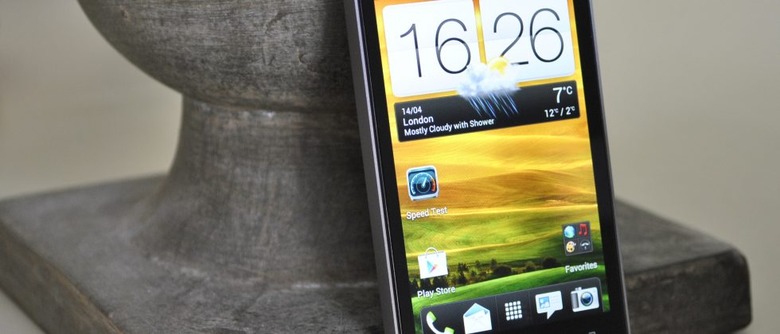 While the HTC One X and One S are hogging the limelight with their mix of raw performance and excellent build quality, there's One more phone in the series that we need to turn our attention to. The HTC One V won't impress anybody with its spec sheet, but part of HTC's 2012 strategy is a renewed focus on not just the mid- and high-end of the market, but also the initial point of entry, the affordable smartphone. That doesn't mean HTC has neglected the software: Ice Cream Sandwich and Sense 4.0 are on this budget offering just like the big brothers. Does the HTC One V strike a balance between hardware, software, and affordability? Let's find out.
Hardware
HTC One V video review:
In a refreshing change of pace, HTC has decided to grace us with a smaller handset as opposed to the behemoths we're so used to seeing. The company hasn't neglected build quality either, with the One V bearing a unibody aluminium chassis, along with a rubberized texture surrounding the camera lens and on the bottom cover. The feel is, in a word, excellent. Not only that, but the size plays an important role, and the 3.7-inch handset fits snugly in the palm of your hand. It's not too big, and it's not too small: it's just right.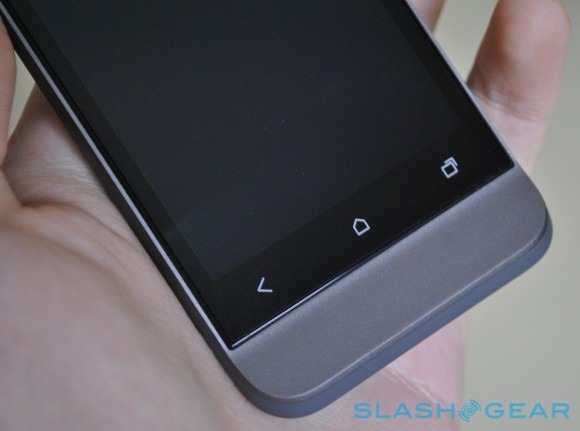 It's not a chubby device either, coming in at 9.2mm thick. That's 0.1mm thinner than the iPhone 4 and 4S, and we'd argue that the One V is by far the nicer device to hold, not to mention more durable. We left it in the same pocket as some coins and a set of keys, and the aluminum seemed fairly resistant to scratches and markings. Despite the large use of metal on the device, it's relatively light at 115 grams, and the weight distribution feels about right to us, unlike other devices often slathered in plastic.
The display on the One V has a resolution of 800x480, and HTC has used the same Super LCD 2 technology found on the HTC One X. Colors are bold and vibrant, brightness is extremely high, and viewing angles are very good. Naturally, pixel density isn't as high as on high-end devices like the One X and iPhone 4S, but it's good enough for everyday use, with very few instances of pixelation. The resolution does prevent you from reading web pages zoomed out, but in terms of overall quality, the One V's display puts other phones in this category to shame.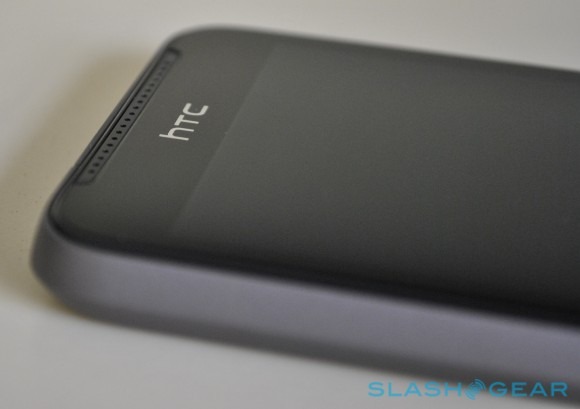 Unlike its distant cousin, the HTC Legend, the One V doesn't have the optical trackpad, instead sticking with the three capacitive Android buttons that you'll also find on the One X and One S. We didn't run into any issues with them when using the phone in everyday scenarios: they were easy to press and responsive when called upon. On top of the device is the power button, which we found difficult to press at first, since it lays at an angle unlike other phones. After repeated use over the course of an hour or two, we eventually got used to the feeling. Next to the power button is the 3.5mm headphone jack, along with the notification LED.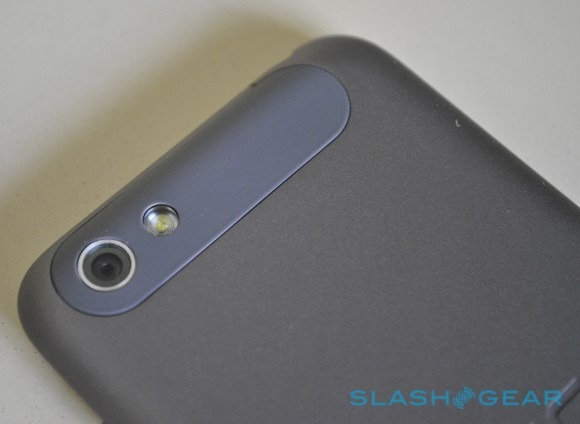 On the left side of the device you'll find the microUSB port, and on the right side the volume rocker. The five megapixel camera with f/2.0 lens and LED flash sits on the back of the device, along with the Beats Audio branding and speaker grill towards the bottom. Down there, a cover pops out which gives you access to the full-size SIM card slot, along with microSD expansion. The battery, rated at 1,500mAh, is non-removable.
The beating heart of the One V is a 1GHz single-core Qualcomm Snapdragon S2 processor and 512MB of RAM. One thing you should take note of is the storage of the device: you've only got 1GB to play with, and there's only 95MB available for phone storage. You definitely need a microSD card installed in the phone if you're going to be doing... well, anything. Radios include WiFi b/g/n, Bluetooth 4.0, with tri-band HSPA (850/900/2100) and quad-band GSM.
Software and Performance
HTC has reigned in the custom interface after criticism that Sense was out of control and becoming bloated. The One V jumps aboard the Sense 4.0 bandwagon just like the One X and One V, but on the entry-level device, it's really about what you won't find included. HTC has disabled some of the fancy 3D animations and overall graphical slickness because of the modest single-core processor found in the phone.
For instance, you only get five home screens to play with as opposed to seven on the One X and One S. If you try to pinch to get a zoomed out view of all your home screens, you'll be greeted with absolutely nothing, with HTC opting to disable the feature. Even the transition while swiping between the home screens is a basic affair, with the 3D effects having been disabled.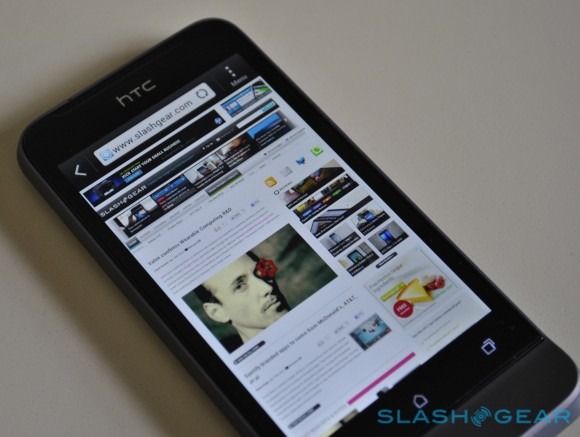 The keyboard has also been tweaked: compare what's found on the One V with the One X, and you'll see that the directional keys have been removed to preserve precious screen real estate. Speaking of the keyboard, we weren't fans at all. It feels cramped, and trying to type out even basic messages or search queries resulted in frequent misspellings and errors. At first we put it down to the resolution of the display, with only 480 lines of width to play with in portrait mode, but upon installing the stock Ice Cream Sandwich keyboard, we quickly found ourselves back up to typing speed.
Even though Sense 4.0 isn't as bad as the versions of old, we still found it intrusive and annoying rather than helpful. Admittedly, there are nice touches, such as being able to drag apps into the ring on the lock screen for quick access, but otherwise it can be a frustrating endeavor. It's made all the worse by the fact that stock Ice Cream Sandwich elements can occasionally be found lurking underneath the customizations, making us long for the experience that Google intended.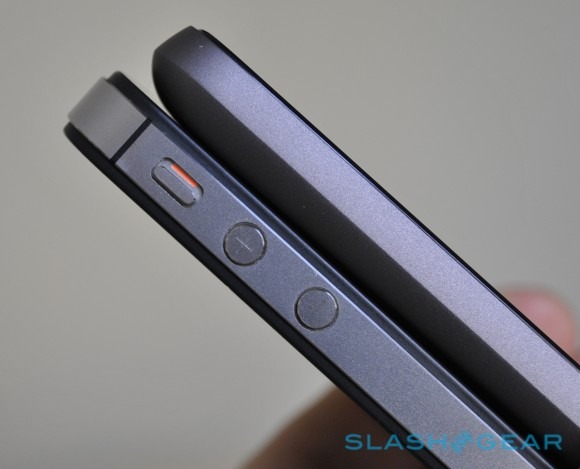 As for performance of the handset, it can be a mixed bag. You'll often find yourself smoothly flicking between home screens and apps opening fast enough, but on the flip side, we managed to make the phone grind to a halt in certain scenarios. The browser is the main culprit, and even with Flash and other plug-ins disabled, heavy sites can bring the single-core processor to its knees. On SlashGear, we found pinch-to-zoom sluggish, and scrolling wasn't as smooth as it could have been. There was even one instance upon loading the site where the phone locked up and refused to respond for around thirty seconds. That's an isolated incident, but it's an indication of the limited horsepower at your disposal. On other occasions, we found the keyboard took just a second too long to open when tapping on text fields, and downloading multiple apps while others were still installing would cause some slowdown. Even realtime search results while typing in the browser bar led to momentary pauses.
In terms of benchmarks, we managed a score of 2060 in Quadrant, and the browser achieved 3314ms with SunSpider 0.9.1. We downloaded Angry Birds Space to give it a quick spin, with the game serving up smooth framerates, although it would occasionally drop a frame or two during more frantic moments.
Camera
The HTC One X and S both came with eight megapixel cameras with f/2.0 lenses and 1080p video recording. One the One V, you'll have to make do with a five megapixel camera and 720p recording instead. The software and features that you'll find in the camera app are pretty much identical to the more powerful devices though.
You don't have to switch between photo and video modes, with both buttons offered upon starting the camera app, so you're just one tap away from whichever function you want. You get the same Instragram-esque filters, so you can play with distortion, depth-of-field, and more artistic variations to your heart's content. Burst mode is also present and accounted for, taking 20 photos in a row and allowing you to choose the best one to keep. Not only that, but you can take photos while video is recording.
The photos taken by the One V don't measure up to the One X or One S, with colors sometimes appearing off-base. The camera can shine in good lighting conditions, with solid detail and little noise to speak of with close to medium subjects, but distance shots have us scratching our heads. The problem mainly comes down to poor compression, where detail is replaced with images full of unnecessary blocking and ringing. Shots were regularly coming in between 650-800KB, which seems rather stingy on HTC's part. The One V has a good camera overall, and we'd say it's better than the vast majority of other phones in this price bracket, but it's ultimately let down by overzealous compression.
As for video recording, it's generally solid: panning is smooth, transitions between different lighting situations are quick, and the microphone is surprisingly good at picking up the surrounding audio environment. Our complaint about recordings again comes back to compression, with videos filled with blocking artifacts and any clarity and sharpness being sapped from the resulting footage.
Phone and Battery
The earpiece on the One V produced better than average results compared to other phones, although we wished it were just a smidgen louder. During phone calls, we were perplexed by what we imagine is HTC's noise cancellation implementation. When callers were speaking to us, there was the all too familiar hiss in the background that you get with GSM calls; but when they stopped speaking, the audio went completely silent, making us wonder if the call had dropped. It's a little disconcerting at first, especially if you're coming from an iPhone as a daily driver, which has a consistent (yet small) amount of noise regardless of whether or not the caller is speaking.
Otherwise, the One V held a call without any issues, and 3G speeds were good as well. We were connected to Three's network in Central London, and saw speeds between 1.1Mbit/s and 6Mbit/s down, with uploads sitting between 300Kbit/s and 3.1Mbit/s.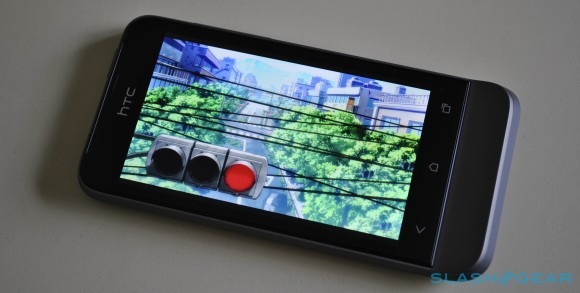 As for battery performance, we used the phone as a daily driver for a couple of days, and performed a video rundown test. While everyone's usage (and thus battery life) is different, our light usage consisting of occasional browsing, messaging, and camera usage easily got us through the day, and well into the next too. When we played a 720p video on loop with screen brightness at 100% and WiFi/3G left on, we squeezed five hours and five minutes out of the phone before it automatically turned off.
Wrap-Up
So, is the HTC One V worthy of consideration given its features? It's a good all-rounder, and we'd go as far to say that the build quality is best in class, not to mention better than some more expensive phones thanks to the high quality materials and construction. You're also getting the latest software in Ice Cream Sandwich, and while Sense 4.0 might still be a love/hate situation, we imagine those jumping into the smartphone world for the first time will get along with it swimmingly.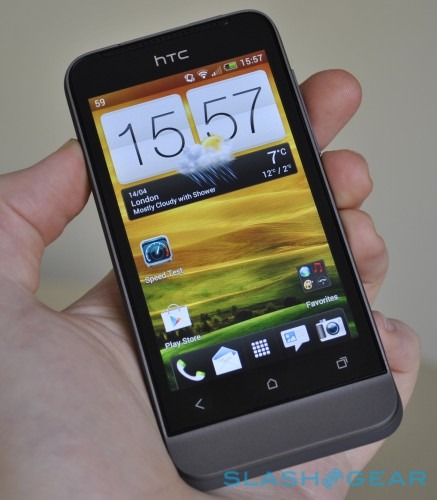 The problem, then, comes down to overall performance. The single-core processor found within the One V is now 18 months old, and it definitely rears its ugly head in certain situations, most notably in the browser. It's a frustrating issue that's simply unavoidable. The HTC One V really needed a slight boost in the processor department that would have cemented its position as one of the best entry-level Android smartphones. As it stands, it's merely a decent one, and we wouldn't feel comfortable recommending it at the prices that have been announced by the Carphone Warehouse (£20.50 a month), or the unlocked price for that matter (£225). If you're lucky enough to find one a little bit cheaper than those prices, definitely consider picking one up.