HTC One Mini Tipped For July; One Max Phablet Readies Direct Note III Attack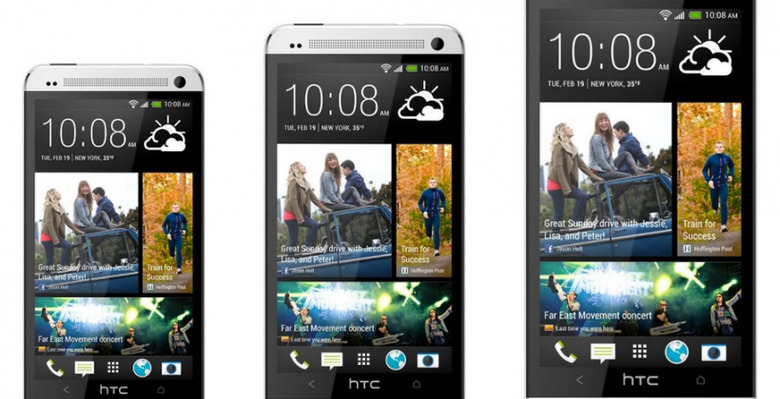 HTC's next variants on the HTC One could begin launching within the next two weeks, leaks suggest, with the HTC One Mini due imminently and a larger model shortly after. The HTC One Mini – expected to have a 4.3-inch display, versus the One's 4.7-inch panel – will be launched before July is out, MobileGeeks sources in Taiwan claim, while the HTC One Max is supposedly due before the end of Q3 2013.
The One Mini is tipped to be HTC's attempt to distill down what makes the original One special, into a more affordable and compact device. While leaked images indicate it will share the same aluminum unibody styling of the One, the specifications are generally more humble: the 4.3-inch LCD display runs at 720p, for instance, rather than 1080p, and there's a mere Qualcomm Snapdragon 400 1.4GHz dualcore at the helm.
RAM, too, is believed to have been halved versus the original One, and there's 16GB of internal memory though no expectation of a microSD card slot. Leaks earlier this month indicated a launch by the end of Q3 was on the cards, in silver and black, but these new rumors suggest HTC is working hard to get the One Mini out even more promptly, likely motivated by the company's appalling Q2 financial results.
Far more interesting, though, from a tech-lover's-perspective is the HTC One Max, the company's first attempt at the "phablet" segment. Believed to pack a 6-inch, 1080p Super LCD 3 display and Qualcomm's 2.3GHz Snapdragon 800 chipset, the Max would enlarge the One experience for those who might ordinarily opt for Samsung's Galaxy Note series.
The One Max is expected to have 2GB of RAM and a choice of either 32GB or 64GB of internal storage, along with a 3,200 mAh battery: a fair step up from the 2,300 mAh in the original One. According to MobileGeeks' source, HTC intends to launch the phablet in early September, which should put it up against Samsung's Galaxy Note III.
It's a direct challenge to Samsung we've seen HTC attempt before. What remains to be proved is whether HTC can muster its supply-chain to actually deliver it: the HTC One, for instance, was meant to have launched in around 80 countries before the Galaxy S 4 was announced, but production issues – particularly around the UltraPixel camera, which is expected to be carried over to these new One variations – meant many locations only got the phone after Samsung had revealed its attention-consuming flagship.