HTC One Max appears with new camera UI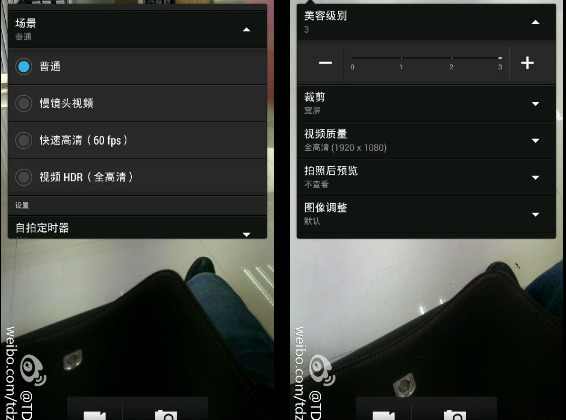 The HTC One Max has appeared in a smorgasbord of leaks, so much so that there's not much about it that hasn't been covered in some way or the other. In the latest leak, a tester rooted the handset and offered up a couple screenshots showing an updated camera user interface, in doing so confirming a couple of the anticipated photography features.
The screenshots featured above confirm that the HTC One Max will offer a beauty mode of photography, allowing blemish correction in three different levels, as well as a sport panoramic mode. Video recording will also see an anticipated feature, according to the screenshots, with HDR recording functionality. Previous leaks also suggest the handset will offer optical image stabilization, as well as the 4-ultrapixel camera of the HTC One.
The same tester who took the above screenshots also reportedly has confirmed that the previously spotted square sensor on the back of the handset — positioned below the camera — is a fingerprint sensor, as anticipated. The tester claims to have used the sensor for a few days, and says the "recognition rate is very high, there was no awkward situation."
As we noted in our rumor roundup, it is said the HTC One Max will feature a 5.9-inch display with a Full HD 1920 x 1080 resolution, and that it will be harboring a Qualcomm Snapdragon 800 quad-core chip. Such is a boost over the HTC One, which uses a Snapdragon 600. If all goes as anticipated, we'll likely be seeing this handset in an official capacity very soon.
SOURCE: Phone Arena