More HTC One Max Photos Leak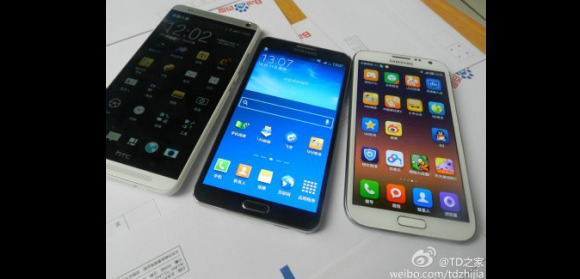 A few days ago, several images of what is claimed to be the HTC One Max smartphone leaked online. Those images were courtesy of a tipster out of China. Another Chinese tipster has laid hands on the HTC One Max and taken a new rash of photographs that were offered via Weibo.
In these new photographs, the One Max is shown alongside the Samsung Galaxy Note 3 and Note 2. Since we know how big both of the Samsung devices are it makes it easy to get an idea what size the HTC One Max will be. Clearly, the HTC device is a bit larger than both of those phablets.
One of the photographs also shows some sort of benchmarking application being run on the One Max. If anyone out there happens to read Chinese perhaps you can clue us in on what benchmark is being run. Some of the photographs also show the device with its back removed indicating that this will be a single SIM device.
That backside shot of the phablet also shows the fingerprint scanner in the form of little black square resting between the camera lens and SIM card slot. The One Max is also shown in image during bootup clearly showing the 4G symbol indicating that support TD-LTE connectivity. This device has not yet been officially confirmed by HTC we have no idea when it might launch.
SOURCE: Simonlyradar