HTC One event teases big, flat, square device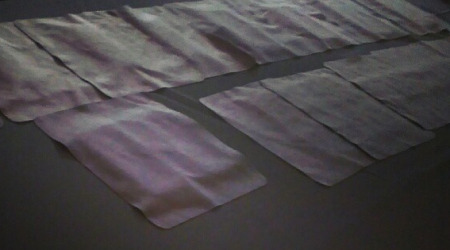 If your curiosity wasn't piqued before today for the HTC One event taking place tomorrow, it's certainly about to be. The folks behind the wheel at the HTCGlobal Twitter account have just tweeted – or Instagramed, rather, a photo of a collection of devices with sheets over them, one of these devices appearing to be rather square in shape – and much larger than a smartphone. Could it be that another HTC Jetstream is on the way?
This big event is almost certainly set to be the home for the many-times-teased HTC One – aka HTC M7 device we've been drooling about for the past week or two. After that it's all up to HTC to surprise the heck out of us from top to bottom. This photo shows what very well may be a timeline of smartphones the HTC crew has released since their inception as well, mind you, with the HTC tablets – large and small – amongst them.
Then again, there are some rather wild rumors that HTC will be releasing a tablet of some kind or another – a brand new one running something other than Android. Though such a rumor would be incredibly hard to substantiate – especially given HTC's recent talk of creating less expensive Android smartphones as their next strategy, giving no word of tablets – the possibility always lingers. It may be time for HTC to pump up their efforts in the Sense for tablets arena, too!
It could also simply be an accessory – maybe a wireless charging pad? Quite likely is the idea that this unit is something less than central to the HTC strategy – but you never know!
Have a peek at the timeline below to check out all of the most recent HTC One news to see what we're expecting tomorrow in the AM. Also follow along with HTC to see all the news up close and personal as we see it all in New York City as well as London! You can follow us right here in the main news feed or through our HTC tag portal!
[via HTCGlobal]