HTC One Android 4.2.2 update hits UK today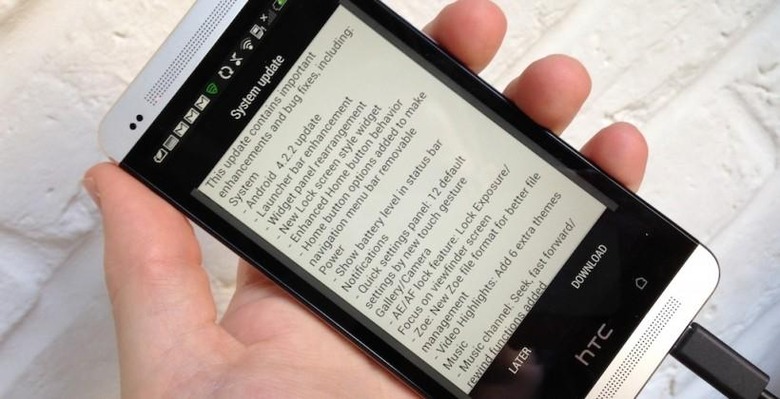 HTC has begun pushing out Android 4.2.2 for the HTC One in the UK, bringing the company's flagship up to date with the latest version of Google's OS. The update had initially been spotted elsewhere in Europe earlier this month, with HTC promising a progressive roll-out to other markets; now, the company confirmed this morning, it's the UK's turn.
As well as the core Android changes in the new version, there are several tweaks and fixes exclusive to HTC. On Google's side, there's support for Photosphere panoramic images as well as Daydream screensavers, together with lockscreen widgets or the option to put news or weather headlines there instead.
However, it's the HTC changes that are probably most welcome. The annoying menu button, which took up a full slice across the display, has been addressed, remapping the Home button so that a long-press pulls up the context menu. Since that would regularly start Google Now, that's been changed to swiping up from Home, as on Google's own Nexus 4.
The "Power Saving" option has been removed from the pull-down notifications bar, too, clearing up more room for notifications themselves, and there are now quick-toggles for things like WiFi and Bluetooth. It's also possible to show the battery level as a percentage in the status bar.
Over in the camera are where some of the biggest changes are made, however. There are six new themes for the Zoe highlight reels, complete with new music, effects, and transitions, while the Zoe file format has been changed so as to address user complaints of a frustrating number of near-identical files.
The update itself measures in at 416.46MB, so it's best to head to a WiFi connection to grab it. You'll need a preliminary 1.47MB update to pave the way, however. You can trigger a firmware check for the new software by headed to the Settings and choosing "Software Updates" from the "About" menu.