HTC M7 first real pictures leak out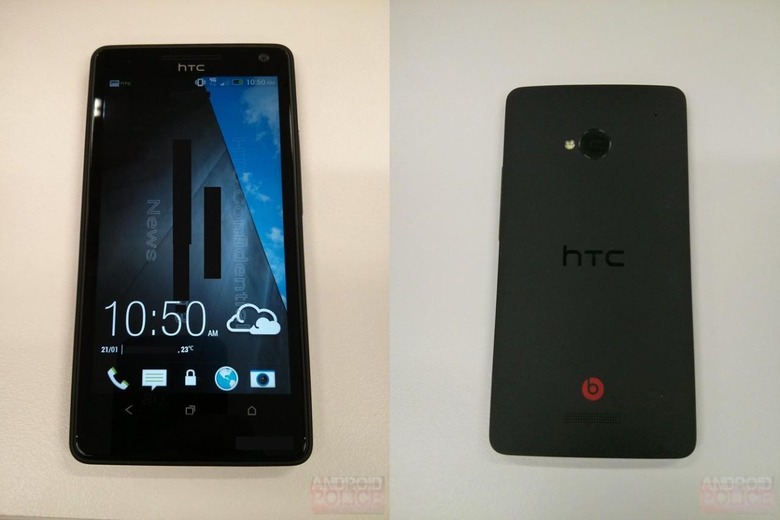 We've been hearing a lot about HTC's upcoming rumored flagship handset recently, and there's definitely no shortage of renders and images of the new device. We've already seen a couple of rendered images of the new handset, as well as some screenshots of the Sense 5.0 UI. However, today we're seeing actual, real photos of what is said to be the HTC M7.
What you see above is supposedly the HTC M7 in all its glory. It matches up fairly well with the newest renders that we saw over the weekend, save for a few minor changes between the two. And the homescreen looks to be the newest version of HTC's Sense UI, version 5.0. Since we obviously can't be certain that this is truly the M7, we'll be keeping a skeptical mind until we hear an official announcement.
While this could very well be the M7, we can't help but feel funny about the soft buttons below the display. The home button and back button are switched, and they sit particular close to the display, rather than being centered in the middle of the bezel on the bottom. The back of the device also has some minor changes from the renders we saw. The LED's position is switched, the HTC logo is gloss black rather than a chrome, and the Beats logo doesn't have the "Beats Audio" text underneath it.
Of course, this may just be an early prototype we're seeing with our eyes, so it may not be the final version that we'll hopefully see at Mobile World Congress next month in Barcelona. No other rumors have been outed as far as hardware specs go, since December. We're still looking at an Qualcomm Snapdragon S4 Pro quad-core chipset clocked at 1.7GHz with 2GB of RAM, and a 13MP camera on the back.
[via Android Police]