When the Verizon HTC One hit the same process we're seeing a new HTC One Mini (aka HTC M4) entering today with the Bluetooth Special Interest Group, it was unveiled by the carrier later that day. Today, on the other hand, it's a bit more likely that this machine will remain under cover. The HTC M4 has been rumored to be in the mix for a late summer 2013 release for some time – in some cases, appearing as an HTC One Mini before the HTC One was revealed on its own!
The HTC M4 represents a slightly smaller and slightly less powerful version of the HTC One. Though Niels Zomer – the fellow behind TechTastic and the spotter of this Bluetooth listing – seems to "know" some details about the device before it's been made official, there's still no absolute guarantee that this device will be delivered with these details:
• 4.3-inch display with 720p resolution
• Qualcomm Snapdragon 400 dual-core processor
• 2GB RAM
• 4.3 UltraPixel camera (same as HTC One)
• Android 4.2 Jelly Bean
• Sense 5.0 UI
Today's listing suggests that this machine will work with Bluetooth 4.0, which is good, since the future of Android uses this Bluetooth certification to make the "Internet of Everything" a reality with Bluetooth Smart. Stay tuned for more information on that upgrade soon here on SlashGear, mind you.
NOTE: the "leaked" images of the HTC M4 you're seeing above come from Delfee.ee, a source that suggested many of the same specifications as listed here.
The member of the Bluetooth Special Interest Group that approved this particular listing was one Jean Chin. Chin hails from Hyper Taiwan Technology Inc. (from the Bluetooth Technology division, of course) and was also responsible for the Bluetooth SIG listing of the Verizon HTC One that appeared last week.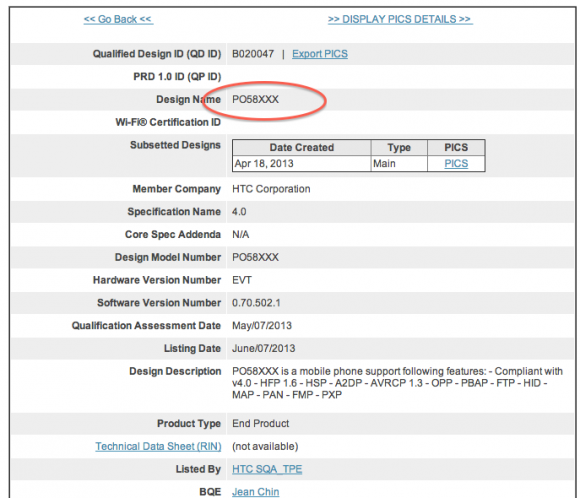 The Design Name for this product is PO58XXX, a name that has only appeared once before – earlier this year in Wi-Fi certifications. If you're interested in finding the original listing, you'll end up with a PDF – you can find this through the http://certifications.wi-fi.org/ webpage by looking for listing WFA19500 – and good luck! There you'll find the device to be listed with a couple extra X markets at its end, but it's there!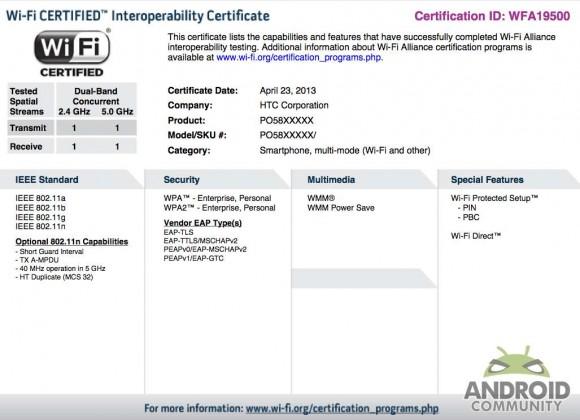 Now we've only to see this device actually appear on the market. Chances are it'll be shown after the Google Edition and Verizon edition of the HTC One arrive, both of them set for closer to the end of June than the start. The Google Edition HTC One is set for the 22nd of June, while the Verizon HTC One is still set for a more general "summer" timeframe.