HTC Leo - aka HD2 - gets second wild sighting today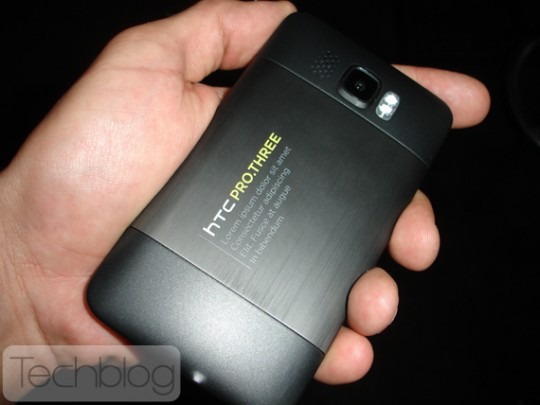 The floodgates have burst – or at least sprung far bigger leaks than before – and the in-the-wild shots of HTC's upcoming super-smartphone are proliferating.  Next up with the HTC Leo is Greek site Techblog.gr, who managed to grab some hands-on time with the 4.3-inch Qualcomm Snapdragon WinMo 6.5 handset.
According to them, the Leo will launch as the HTC HD2; at least, that's what the smartphone's Bluetooth setup screen suggests.  That would certainly fit in with the branding on the back of the handset, which reads "HTC PRO.THREE", together with earlier suggestions that the Leo would be treated as the next in the Pro line of devices.
Techblog say that, while the handset is large it's also lightweight, though they also suggest – or at least the Google translation does – that it's "delicate" which doesn't sound so good.  However the 1,200mAh battery, large capacitive touchscreen and updated TouchFLO UI all get top marks.