HTC Leo in wild: capacitive touchscreen confirmed [Update: Video]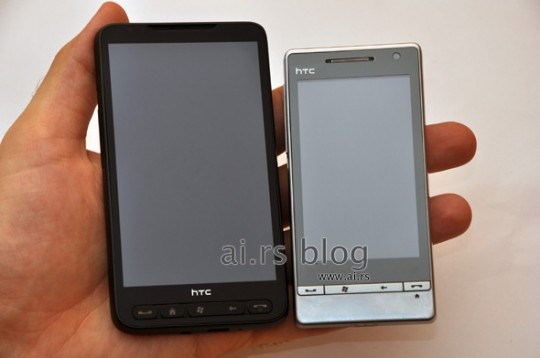 We're still not sure how they've managed it, but ai.rs have acquired a pre-production HTC Leo – the company's upcoming 1GHz Snapdragon smartphone – and have sat it down for a serious photoshoot and screengrab session.  Top of our list of questions was the Leo's screen type, and sure enough HTC have used a 4.3-inch multitouch-capable capacitive panel for the Windows Mobile 6.5 smartphone.
They've also posed it next to the HTC Touch Diamond2, and the Leo unsurprisingly dwarfs the smaller WinMo 6.1 handset.  The rear shot of the Leo also tips its potential branding, with HTC labelling it HTCPRO.Three.
ai.rs are promising more photos and a video demo soon (Update: video is below!), but for now have confirmed the specs for the handset that we've heard before – lashings of ROM and RAM, all the WiFi and 3G connectivity you could hope for – and are showing off the latest tweaks to TouchFLO 3D.  This is a real pocket-dominator, but we can't help looking forward to its arrival.