HTC Ignite Revealed, Not Nexus Device as Previously Rumored UPDATE: WP7 Instead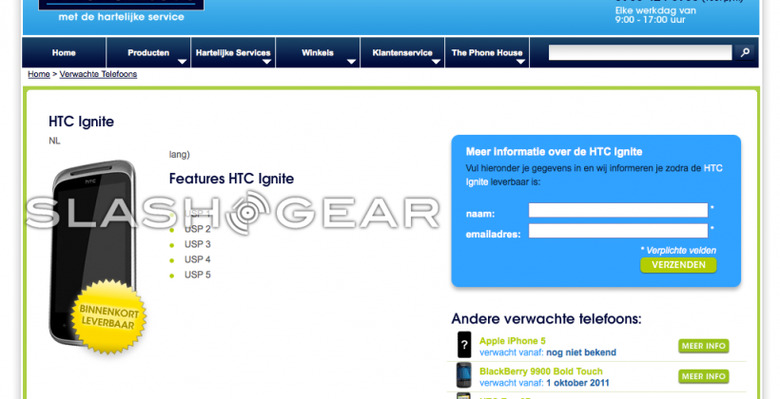 Before you even ask, Binnenkort Leverbaar means COMING SOON in Dutch. And what is coming soon, you might ask? Why, the HTC Ignite, of course! In an email from a source at a European retailer we've been assured that the rumors that the next HTC handset would be the Nexus-branded device to come after the legendary Nexus S and be the hero device for Android 4.0 Ice Cream Sandwich, are untrue, and that instead HTC would be releasing the phone you see in the screen grab below. Furthermore, similar to what's been occurring with HTC devices for some time now, this device will be released in Europe before the United States.
From the looks of it, this device appears to be very similar to our good friend the HTC Sensation. Of course the HTC Sensation, carried at the moment by T-Mobile in the USA, has a dual-core Snapdragon MSM8660 1.2GHz processor, this making us feel like a dual-core processor of at least that size being standard in this HTC Ignite device. The Ignite has a very similar look to the Sensation in that it appears that the entire back panel will be able to be removed to work with the battery, SIM card, and microSD card, though the two notches at the bottom of the device are no longer present, making us feel like this device's back will be one solid piece instead of the stylized swoop present in the HTC Sensation.
You can see two reviews of the HTC Sensation, a device whose code-name is HTC Pyramid, in it's European iteration and in its T-Mobile iteration in the USA. Also we've got an HTC Sensation giveaway in the UK mix as well.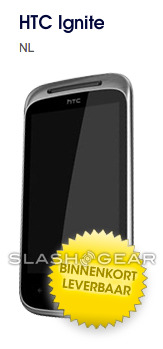 Also present is a single light dot in the lower right of the device where the Android HOME button would normally be. This could mean several things. One, that the touchscreen buttons below the display could be set by the user. Two, that this device will take some cues from Honeycomb and run Ice Cream Sandwich with Android Menu buttons that look like dots until they're activated, in which case they turn into the Home, Back, and etcetera buttons – if this is true, it's still possible for this device to be Google's Android 4.0 Ice Cream Sandwich hero device – wouldn't you agree? Three, the Home button is just too small to show up in a recognizable way in this photo/mockup.
So rejoice, and be glad, all you fans of the HTC Sensation, HTC's next effort is going to be quite similar, the next device on the candy bar road to Android glory.
UPDATE: This device is, in fact, a Windows Phone 7 device, as revealed by XDA.cn in the image below. Shucks! Good news for WP7 fans on the other hand.