HTC Holiday Prototype Revealed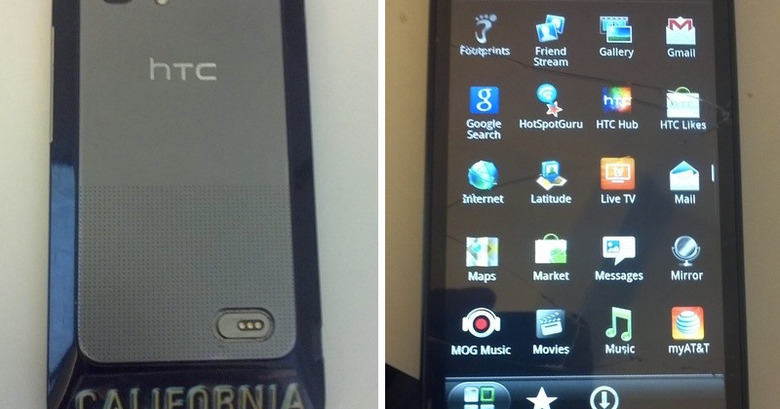 In a series of photos taken by a member of XDA Developers forums, we're here able to see what may well be the upcoming Android device by the name of HTC Holiday. What we can see here is that the smartphone has a massive "CALIFORNIA" sticker or case on the back, this leading us to believe that either the phone will be released with different cases in different regions of the USA OR someone slapped a nasty ol' sticker on the thing. In addition to this, we're seeing a rather thin device with a dual-core 1.2GHz processor, a 4.5-inch qHD display at 960 x 540 pixel resolution and a very possible AT&T release.
We've not heard just a whole heck of a lot of information on this device since back this May when we heard that the 1.2GHz MSM8660 processor was proposed to be the same as we're currently seeing in the HTC Sensation and the HTC Sensation 4G from T-Mobile. This device, if we can believe that same leak back earlier this year, will also have 1GB of RAM, an 8 megapixel camera on the back and a 1.3 megapixel camera on the front.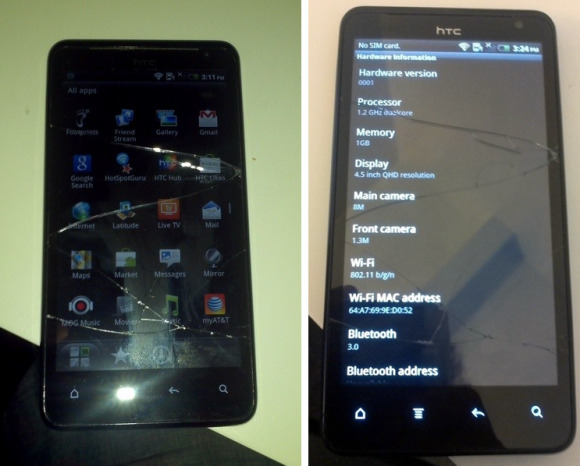 What's most interesting here, besides the fact that the display appears to be smashed beyond repair, is that the back has a conductive charge port sort of deal on it – we can assume by taking a peek at this that this device will come with a charger that'll be able to plug into the wall and sit on your desk where you'll be able to simply place the smartphone and let it charge (as opposed to having to plug the device in itself.) Sounds kinda neat, yes?
This device would be only the second 4.5-inch screen toting smartphone on the market, the first being the lovely Samsung Infuse 4G. This look like a device you'd be interested in working with? I sure as heck can tell you I'd use it all day long.
[via XDA Developers]