HTC HD2 video unboxing & first-impressions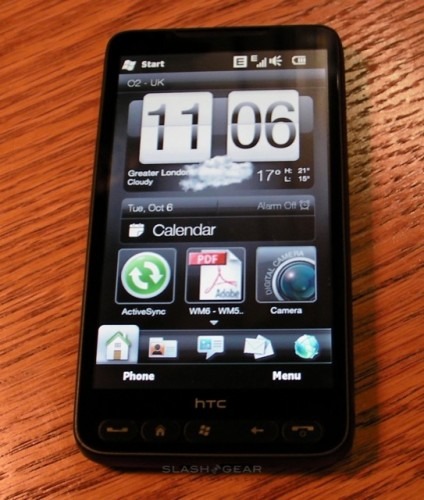 It's fair to say that the last time we saw excitement to this degree about a Windows Phone it centered on the HTC Touch HD, and so it seems only right that it's the company's successor to that handset, the HTC HD2, that is prompting such interest in 2009. Announced last month after copious rumors, what makes the HD2 special is its 4.3-inch capacitive touchscreen, HTC Sense UI and 1GHz Qualcomm Snapdragon chipset. It's taken a while, but the HTC HD2 has finally dropped onto the SlashGear test bench, so check out our first impressions and an unboxing video after the cut.
Updated with first-boot video demo after the cut
Inside the box it's the usual HTC array of accessories, including an AC adapter (with interchangeable plug), USB to microUSB cable and a wired stereo headset. The HD2 differs from previous HTC devices in that it doesn't use an ExtUSB connector, which has helped them keep the Windows Phone thin. What we don't have – and we hear won't be available until December – is the HTC Car Kit for the HD2, which adds a powered windscreen/dashboard mount, new docking battery cover for the phone itself, and automatically kicks it into navigation mode whenever it's clicked into place.
Switching on, and there are setup wizards for ActiveSync Exchange, Facebook, Twitter and YouTube integration. Like the HTC Hero, the HD2 integrates Facebook friends with entries in your contacts and comes with the company's own Twitter client, Peep, which gets its own tab on the shortcut bar along the bottom of the homescreen. It's hard to describe how easy typing on the huge 4.3-inch touchscreen is; in portrait orientation, when on-screen QWERTY keyboards can be cramped in width, the combination of large buttons and decent auto-correction makes for error-free typing. As for flipping the HD2 into landscape mode – screen rotations are practically instantaneous – the keyboard is ideal for two-thumb typing. Even in the short time we've had the HD2, we're already faster at typing on it in this way than we are with most hardware keyboards on smartphones.
The touchscreen is equally good in the browser, which is Opera Mobile 9.7 as standard. HTC have added multitouch support, which works as you'd expect; alternatively you can double-tap on blocks of text or images and the screen automatically zooms and reflows to fit. Thanks to the Snapdragon processor this happens incredibly quickly, and we're wondering just how much of a MID-crossover the HD2 might be.
First-impressions, then, are excellent, and we reckon the HD2 is a legitimately exciting Windows Phone. We'll be putting it through its paces for the full SlashGear review, so if you've any questions you'd like to see answered then leave them in the comments and we'll do our best to address them!
HTC HD2 unboxing video:
[vms 40c570a322f1b0b65909]
First-boot demo of HTC HD2:
[vms 3c9111e6526ea173a7c8]