HTC HD2 Windows Phone gets official: Hands-on Video
After weeks of rumor, HTC have confirmed the existence of their latest flagship Windows Phone, the HTC HD2 (aka the HTC Leo).  As expected, the HD2 runs Windows Mobile 6.5 on a 1GHz Qualcomm Snapdragon processor, with a 4.3-inch WVGA capacitive touchscreen and 5-megapixel autofocus camera; it's also the first Windows Phone to support both multitouch and HTC Sense.  Perhaps best of all, HTC CEO Peter Chou has confirmed that HTC will be offering a US 3G version of the HD2 in Q1 2010.  SlashGear sat down with Chou earlier on today to get a preview of the HD2 and find out more about HTC's focus moving forward.Video hands-on with the HTC HD2 after the cut
The HD2 manages to pack in a display half an inch bigger than that of the Touch HD but with only a minimal increase in size – it measures 120.5 x 67 x 11 mm and weighs 157g with the 1,230mAh battery – thanks to the dramatically thin bezel.  Chou described HTC's intention with the new smartphone as to add some excitement back to Windows Mobile, and the HD2 certainly is an impressively solid and well-built handset.  The 4.3-inch display is bright, crisp and vivid, and HTC have made good use of the real-estate on offer.  HTC Sense – particularly the social network integration with contacts – has been introduced from the Hero, but there are new widgets and status bars rather than merely stretching the old ones.  HTC Peep – the company's home-grown Twitter client – now gets its own tab on the homescreen.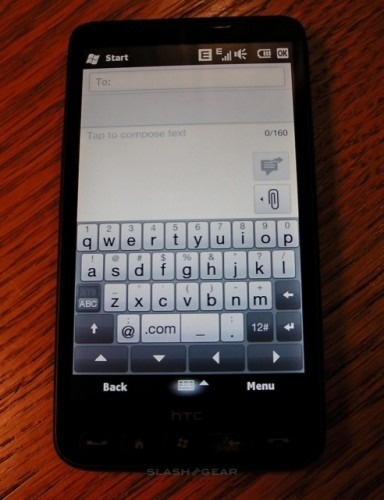 A bigger display means that the on-screen QWERTY can be larger, and in fact the keys are significantly bigger than any portrait-orientation hardware keyboard smartphone we've played with.  The same clever auto-correction has been implemented, and – though our typing experience was brief – we found it to be very straightforward to use.  Full-screen browsing, using Opera Mobile (since Internet Explorer Mobile doesn't support multitouch), is a slick revelation, with the speedy Snapdragon processor making for rapid zooming – whether by double-tap or multitouch pinch-zoom – and instantaneous text resizing and reflowing.  There's no pause or delay to wait for jagged images to be rescaled, or half-chopped paragraphs to shuffle onto the screen.  The capacitive touchscreen itself is swift and smooth, and has instantly left resistive Windows Phones in the shade.
Full specifications of the HTC HD2 are in the gallery below, but in brief the Windows Phone offers HSPA/WCDMA (900/2100) and quadband GSM, WiFi b/g and Bluetooth 2.1+EDR.  There's also a 3.5mm headphones socket and microUSB port (again, a first for an HTC WinMo device), accelerometer, proximity sensor and ambient light sensor.  As well as shutting off the display when you hold the HD2 to your ear mid-call, those sensors also turn it back when you move it away, reduce ringtone volume if you pick the ringing phone up from your desk, and mute the ringer if you flip the HD2 screen-down.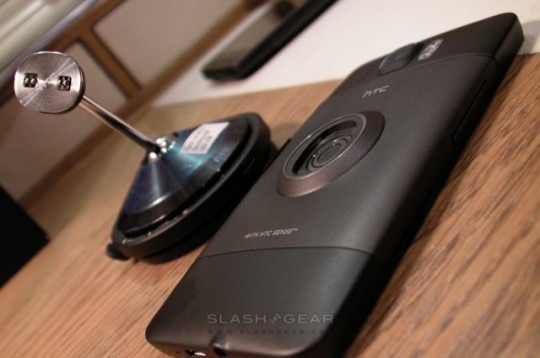 HTC have also developed a car-kit, to work in tandem with the HD2's GPS and digital compass.  The kit includes an in-car dock which grips tenaciously to the dashboard and a replacement battery cover with a special docking connector; that port recharges the HD2, as well as triggering HTC's NaviPanel of PND-style functionality for easy use while driving.
Runtime estimates from the standard 1,230mAh battery are up to 320 minutes WCDMA talktime or 390 hours standby; alternatively you can watch up to 8hrs of video or listen to up to 12hrs of music.  Chou claims that the standard pack is good enough for a full day's typical use, but HTC will also offer an extended battery complete with a replacement cover plate that has an integrated kick-stand for comfortable video viewing.
While we only had a relatively short period of time with the HD2, we did spot some neat features.  HTC's well-known weather animations have now spread to take advantage of the whole display, and when you unlock the HD2 there are animated clouds, sun rings, or even lightning interacting with the Sense homescreen.  Meanwhile – prompted, perhaps, by the rising popularity of the MiFi – they've also brought their connection sharing app to the fore and made it more straightforward to share the HD2's 3G connection with a WiFi-tethered notebook, netbook or other device.
We also had a chance to talk to Chou about how HTC are preparing for social-networking overload.  With more mobile devices attempting to pull in Facebook, Twitter, MySpace and other data from various networks and funnel them into a single handset, heavy users are facing a potentially overwhelming amount of data in which the essentials get lost.  While Chou couldn't reveal anything currently on the HTC roadmap, he did concede that the company's software engineers are looking at ways to prioritize, organize and manage that content, and that they recognize it is a growing issue.

Given its large display size, we also highlighted the possible overlap between the HD2 and the MID segment.  Chou described MIDs as still searching for their market appeal, though he did reveal that HTC are looking into the feasibility of a larger, tablet- or MID-style device.  He wouldn't be drawn on whether he sees Windows Mobile or Android as the way forward with that, however, and we don't expect to see anything new in that form-factor anytime soon from the company.  Instead, they seem more keen to streamline the user experience with intelligent software on devices – like smartphones – that are more likely to find their way into users' pockets.
The HTC HD2 Windows Phone will see its UK and European launch later this month, with broader availability in Asia during the rest of the year.  Meanwhile Peter Chou confirmed to us that HTC are working on a US-spec version of the device, which will cross the Atlantic in time for Q1 2010.  No word on pricing as yet.
Hands-on with HTC HD2:
[vms d13df5083790d64c4d5d]
Press Release:
HTC UNVEILS FIRST WINDOWS® PHONE WITH HTC SENSE, THE HTC HD2

HTC HD2 delivers unprecedented Windows® phone experience with a high-resolution, 4.3-inch capacitive touch display

TAIWAN – October 6, 2009 – HTC Corporation, today unveiled the HTC HD2, the first Windows phone with HTC Sense, a customer experience focused on putting people at the centre by making their phones work in a more simple, natural and personal way. With its industry leading, high-resolution, 4.3-inch capacitive touch display, the ultra thin HTC HD2 delivers more visible content in a sharper, brighter and richer way.

"At HTC we believe that the best things in life should be experienced, not explained. HTC Sense is based on this principle by making the phone more simple and natural to use and by enabling people to personalise their mobile experience in their own unique way," said Peter Chou, CEO of HTC Corporation. With HTC Sense, the HTC HD2 melds the power and flexibility of the Windows platform with the most advanced phone we've ever created."

"HTC has a long history of innovation with Windows Mobile, shipping millions of devices over the years in a wide range of designs," said Andy Lees, senior vice president, Mobile Communication Business, Microsoft Corp. "The HTC HD2 Windows phone breaks new ground with its responsive, touch screen."

The HD2 uses the first capacitive touch display on a Windows phone to make viewing, zooming and resizing websites, Microsoft® Office files, PDF documents and pictures easier with just a pinch of your fingers. The large display also enables faster, more efficient and accurate typing using the onscreen keyboard. Utilizing Qualcomm's new 1Ghz Snapdragon mobile processor, the HTC HD2 offers enhanced performance that improves the speed of applications, videos, games and more.

Developed with a passion for enhancing people's lives through innovation, design and ease of use, HTC Sense is rooted in three fundamental principles of Make it Mine, Stay Close and Discover the Unexpected.

Make It Mine

The HD2 continues HTC's drive for personalization by reflecting not only what you want on your phone, but also where you are. Using its large 4.3-inch window-like display, HTC has brought a new dimension to weather with a localized, animated weather experience that utilizes HD2's entire display without being invasive to your important content and information. The HD2 can also be further enhanced to reflect your needs and style by downloading a wealth of applications at the new Windows® Marketplace for Mobile.

Stay Close

The HD2 helps you stay close to the important friends and colleagues in your life with HTC's people-centric communication approach that provides a single contact view that displays individual communication snapshots of your conversations with the people in your life regardless of whether a call, text, Facebook status update or email were used. While in the midst of email exchange with someone you can easily transition to a call by pressing the call button. HTC has also included a new Windows-based version of its Twitter application, HTC Peep. The pictures you take with the 5MP camera can also be quickly shared via Facebook or Twitter.

Discover the Unexpected

With the HTC Sense experience, the HTC HD2 includes a variety of enhancements that expand and improve the overall phone experience. The HD2 includes a variety of sensors including a proximity sensor that is used to prevent false screen touches when the phone is picked up to answer or make a call. A light sensor automatically adjusts the brightness of the display. Leveraging its 3G broadband connectivity, the HTC HD2 also offers personal Wi-Fi anywhere for your computer or other devices.

Also available for the HTC HD2 is the optional car kit that automatically transforms HD2's user interface into a finger friendly in-car navigation experience for driving.

Windows phone

As a new Windows phone, the HTC HD2 showcases the powerful messaging, browsing and productivity capabilities delivered by Windows Mobile® 6.5. Offering a best in class e-mail experience complete with the ability to synchronize with Microsoft Exchange, you have the ability to check and manage multiple email accounts. Microsoft's new My Phone service enables you to automatically back up and synch photos, music, contacts and text messages for free from the HD2 to the web.

Availability

The HTC HD2 will be available later this month with selected operators across Europe, before rolling out to other regions in the coming months.