HTC HD2 confirmed for T-Mobile USA?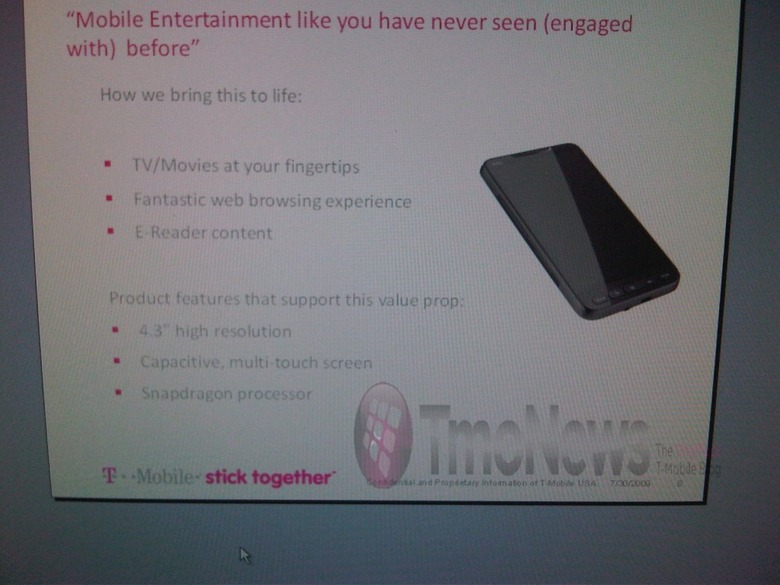 Our pre-emptive love for the HTC HD2 knows few bounds, and Peter Chou exclusively confirming to us that the Snapdragon-based Windows Phone would be hitting the US in Q1 2010 only helped in that.  What was unclear, until now, was which carrier might be getting the HD2, but a leaked image acquired by TmoNews seemingly confirms that the Windows Mobile 6.5 smartphone will be arriving on T-Mobile USA.
The image doesn't actually refer to the device by name, but it's pretty clear from the image and the specifications that they're talking about the HTC HD2.  That means T-Mobile USA customers will get a 4.3-inch capacitive touchscreen supporting multitouch, a 1GHz processor, WiFi, GPS and Bluetooth, together with T-Mo-friendly 3G.
If you can hear a hissing in the background then that's probably the AT&T subscribers who were hoping HTC might squeeze 3G bands support for their network into the HD2.  It's still too early to say anything conclusive – after all, there may be more than one US HD2 version, and a CDMA model is certainly possible too – but Q1 2010 just got a whole more interesting.
[vms d13df5083790d64c4d5d]