HTC HD2 (aka Leo) benchmarks trounce Touch HD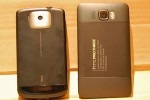 Windows Mobile 6.5 may not be provoking all that much interest compared to rival platforms, but one device which is certainly perking up attention is the HTC Leo, aka the HTC HD2.  Tipped to arrive in October, the 4.3-inch flagship smartphone's prize is its 1GHz Qualcomm Snapdragon processor; now one beta tester has released some benchmarking for the handset, and it's looking to be a real stormer.  The HD2 ousted HTC's Touch HD in 3D graphics performance by around 300-percent.
Meanwhile basic CPU performance is also much improved, with the HD2 showing three times the crunching power of the Touch HD's chipset.  That goes some way to showing the power of Snapdragon, since the Touch HD's clock-speed is actually only around half of that of the HD2.
Considering our first experience with a Snapdragon-based handset – the Toshiba TG01 – left us seriously disappointed at the seeming lack of speed, this is all welcome news.  One final tidbit – and a welcome one at that – is that while the HD2 may not support multitouch in Internet Explorer Mobile, it does in the Opera browser which apparently will be preinstalled when the handset ships.
[via CoolSmartphone]