HTC Flyer WiFi Review
Let's take a look for a bit at the United States' first look at HTC's Flyer tablet. As you may well know by now, there's another version of this device out there by the name of EVO View 4G – have a look at our hands-on with that version of the device from back at CTIA 2011. The device we're looking at here and now is the Best Buy-sold version of the device being here a WiFi-only piece of hardware. This device has a nice silver metal and white plastic chassis, Gorilla Glass front over a 7-inch 1024 x 700 pixel resolution capacitive touchscreen working with a 1GHz single-core processor and Android 2.3.3 with HTC Sense 2.1 for Tablets. And it's got a pen. Is this the writer for you?
This device totes what they're calling the Scribe Pen. This device works much like a pen touching a touchscreen normally would, but because it's working with Android, much more than you've ever had before is in store. The reason a person would purchase this device is its size, it's ability to use the pen, and/or because they love HTC Sense. The form of the device is beautiful, based heavily on HTC's popular line of smartphone handsets from this past year, sized up and formed into a very nice tablet form factor. You must decide if all this is worth what basically amounts to the same amount of money you'd be spending on most other Android tablets these days and just about $100 less than an iPad 2. Furthermore, the choice is yours whether you're going to want this WiFi-only version or if you're going to want to go 3G for constant connection. Keep all this in mind as you read the following!
[vms 81bb43b39c62553b2970]
Hands-On and Unboxing of the HTC Flyer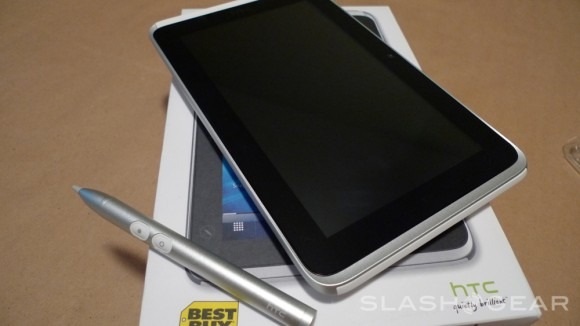 Hardware
The HTC Flyer we're looking at here is sized at 7.7 x 4.8 x 0.52 inches (195.4 x 122 x 13.2 mm) and weighs in at 420 grams (14.82oz). It has a touchscreen up front, a 1.3-megapixel camera in the top-center of the front when held landscape mode, and there's a Scribe Pen that works specifically with the display's special setup. On the back there's a couple of speakers that are OK, the top panel (portrait mode) pops off to reveal a micro-SD card slot, and the camera on the back is 5-megapixels. A lovely raised HTC sits in the center. There's a 12-pin micro-USB 2.0 jack sitting at the bottom of the device, a headphone jack at the top, and a volume dongle on the side.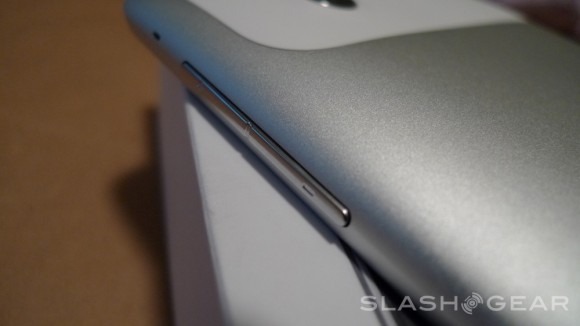 What you're dealing with here is a tablet that you'll easily be able to hand on to with a single hand while your other hand is tapping the display or holding the special pen for you to be writing with, circling with, doodling with. This device can slide into an average bluejeans pocket, it's got a gorgeous look to it, and while its neither the thinnest nor the lightest tablet device on the market, it still seems small enough to carry around with you.
The cameras are not generous, but they do take photos and videos, I assure you. See below for examples of both from both the front and the back cameras.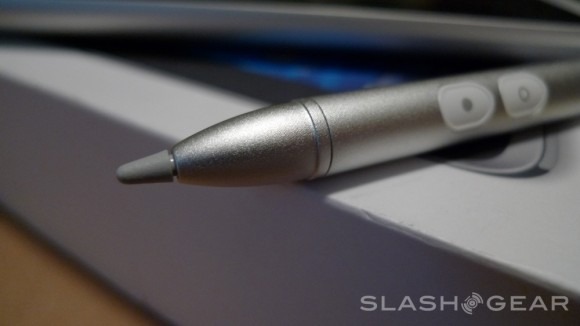 Scribe Pen
This device is made to work with this pen. This pen does not come standard with the Best Buy version of this tablet, instead you'll be paying a cool $80 USD for it. You don't NEED to have it, but not having it with this tablet would just be silly. There's a little green button lighting up your world in the lower right hand corner of your tablet, (regardless of if you've got it in portrait or landscape, it comes along for the ride,) that's just begging to work with the pen.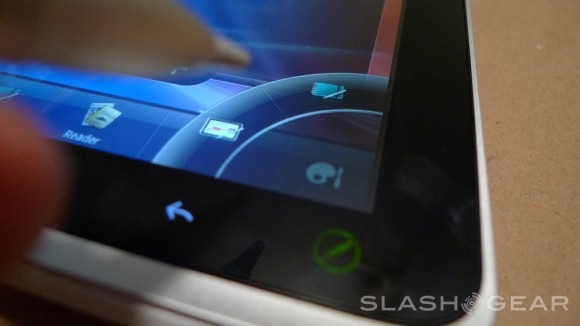 The pen itself is about the size of a large golf pencil or coloring crayon. It uses N-Trig's active digitizer technology to create a smooth experience for you that relies not just on the touch of the pen to the screen, but the pressure with which you press. Once you start using the pen you'll find that this sensitivity will come in handy, especially once you become proficient in the many varieties of brushes and pens and colors and weights.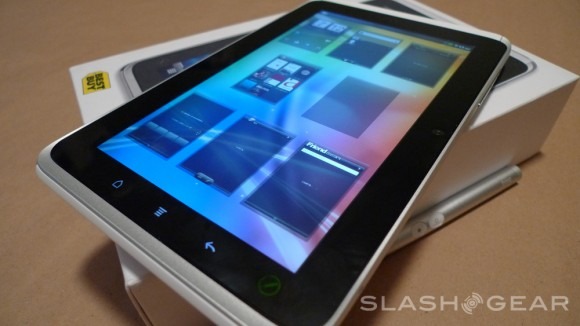 Software
What you'll be using here is the newest version of Android not specifically created for a tablet environment, Android 2.3.3 Gingerbread. That may turn some folks off, as Android does have a tablet-centric version by the name of Android 3.0 Honeycomb, but it certainly seems as though it won't be much of a change for the device once it is upgraded to Honeycomb down the line as it's run with HTC's Sense user interface version 2.1 for Tablets. If you do not know, most manufacturers of Android devices have their own slightly unique user interface overlay for their devices. HTC's version is called Sense and this is the first place they've created a version with tablets in mind.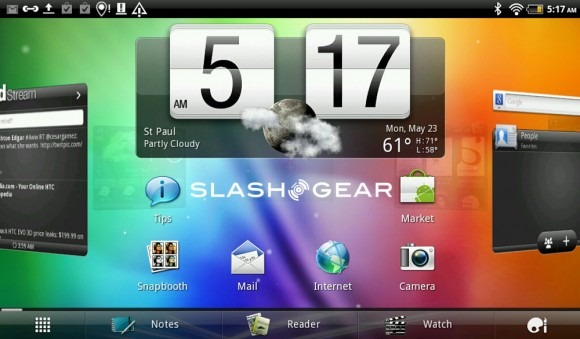 Is it good? Is HTC Sense 2.1 for Tablets good? Sure it's good, silly, it's a nice little system with multiple large screens in mind, widgets that fill full homescreens and show you things like small Weather, People + Google Search, Watch (movies you can download via HTC's Video store – a feature you can use even if you don't want to watch full videos by selecting your video of choice and watching a full trailer – fun!), My Shelf (containing books from Kobo, run by Adobe), big Weather, Mail, and Friend Stream.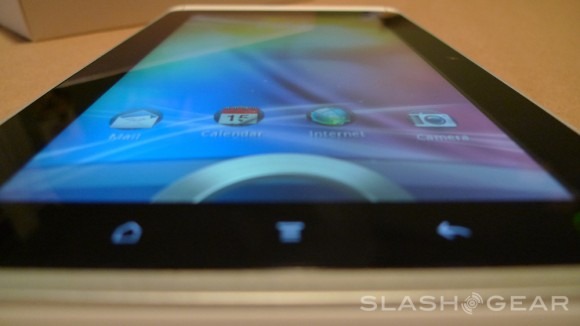 Your dock is unique as well. In it out of the box you'll be seeing Notes, Reader, and Watch. Watch is again connected to a video store where you can purchase full-length videos to watch on your devices, Reader is connected to Kobo for e-reading of e-books, and Notes (aka HTC Notes) is the place where you'll be using your Scribe Pen the most. In your apps drawer you'll find 32 apps pre-installed. Most of these apps you'll recognize as Google standard, while a few are specific to this tablet including the new Reader, the new Notes, and the new Watch. Plus there's a child-oriented app called Zoodles which we'll get into briefly below as well.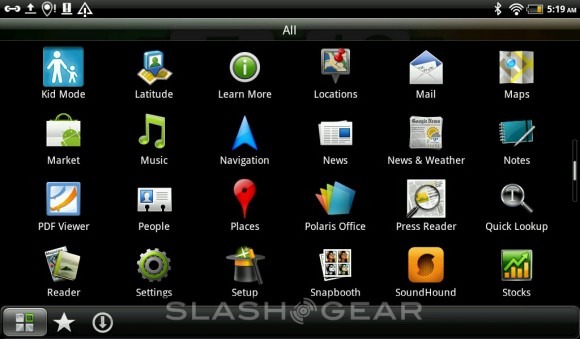 HTC Notes
Notes is a new application made specifically for this tablet and its many ways of collecting media, including sound, video, photos, and scribbles, notes, and drawings via the Scribe pen. You may also type via the on-screen keyboard. The greatest part about this app is that it's connected to Evernote. This system is one that saves notes and writings of yours from any number of devices in the cloud for later reading. It's not of the biggest names in note-taking and HTC's been very smart to work with them on this device. Well played!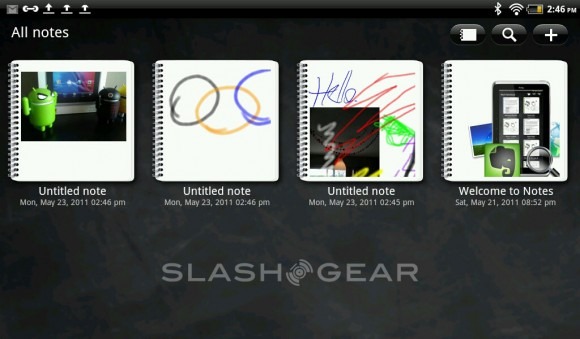 Is this note-taking system good enough to use during a lecture? Perhaps, but depending on what the lecture requires you to take down, you may well be better just using a laptop. Are you going to many locations in a day and need to take a few specific notes with additional photos for each during the day? This may well be your dream tablet, a tablet of dreams!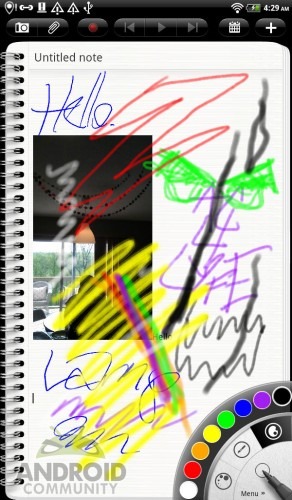 HTC Reader
This e-reader app is made by Adobe and works with Kobo for purchasing texts. It's a rather simple app that allows you to simply read books you've purchased. The greatest element here is, again, your ability to use it in collaboration with your Scribe Pen. What you're able to do is write in your books, underline things, draw, scribble, and highlight. Once you've done all this, the app saves your place in the book automatically so you don't have to go flipping each time.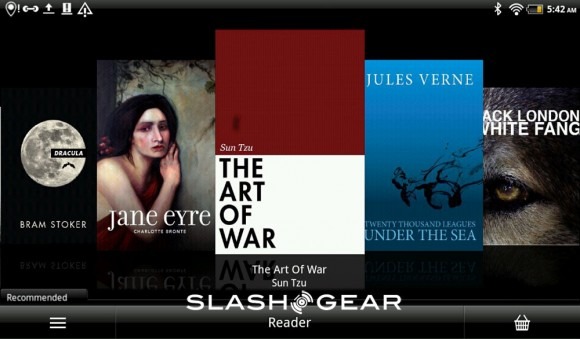 Zoodles
This sort of app should be much more prevalent than it is because its brilliant. This is Zoodles, an oddly named shining star leading us into the future of computers for humans of all ages. It's made specifically for kids and teaches them lessons, letters, numbers, sign language, all sorts of stuff in a fun and simple to use environment. With this app your child, (or little brother or sister, or whatever kind of young person you've got with you,) will both be occupied with learning and fun, they'll have a great time knowing that they're using the big, tough, and now not-so-intimidating technology to get it done!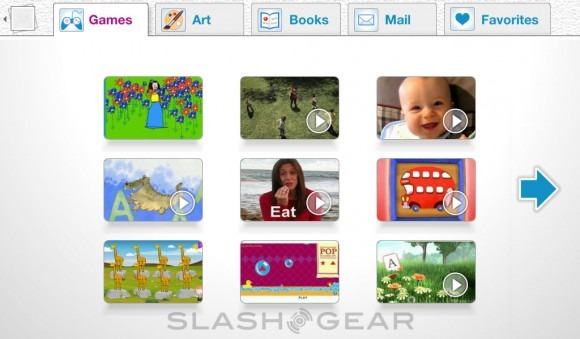 Camera
This camera is really not the selling point of this device. As Chris Davies says in his review of the 3G Euro version of this device, "The Flyer's main camera may pack 5-megapixels, but we can't help but suspect some of them have flown the coop." Take a look below to see the performance of both cameras on their highest settings for a good look at what you'll be dealing with.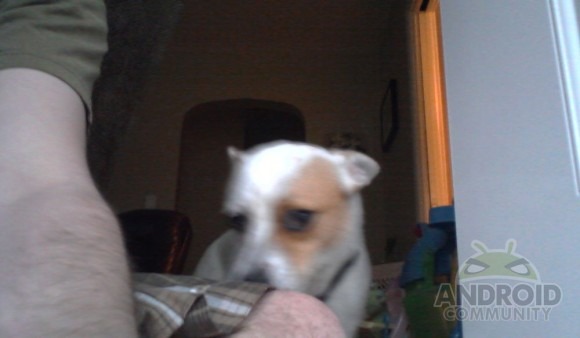 Front-Facing 1.3-megapixel Photo
Front-Facing Video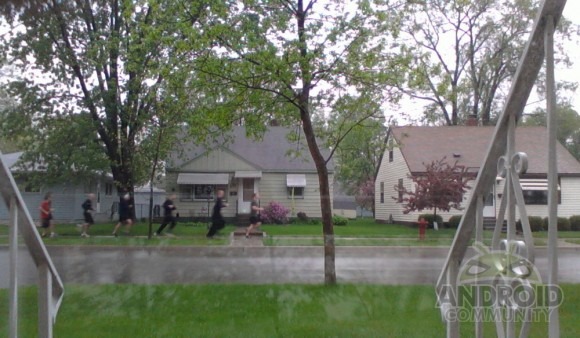 Back-Facing 5-megapixel Photo
Back-Facing 1280 x 720 [720p] Video
Performance
If you've never used an Android device before, you'll be happy with how fast this one flies. If you've used a dual-core Android device before, you might see a slow moment here or there whilst using the Flyer. If you're one of those people who takes two tablets and runs the same stuff on both of them and makes final judgements that lead to the ultimate demise of one or the other, you might end up burning the Flyer. However, with a 1.5Ghz processor in this Android 2.3.3 and HTC Sense 2.1 for Tablets running hand-held device right here, you'll be happy with the real-world effectiveness of all the processes – flipping back and forth and entering and exiting and all that.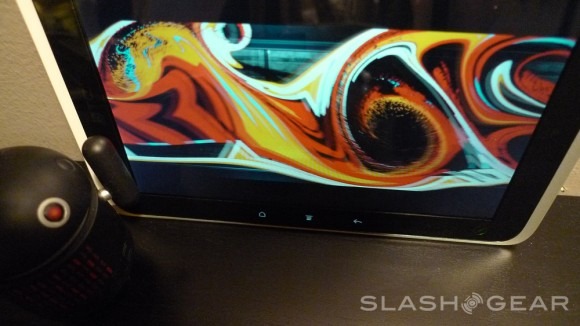 That said, don't expect to be beating the heavy hitters out there unless you really crank up the engine behind the scenes. We've not done so as we've gotta keep this device completely non-hacked, thusly the real-world benchmarks are below: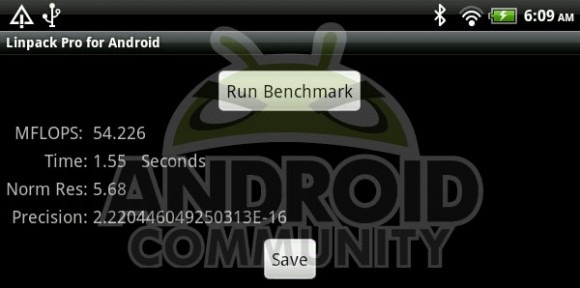 Linpack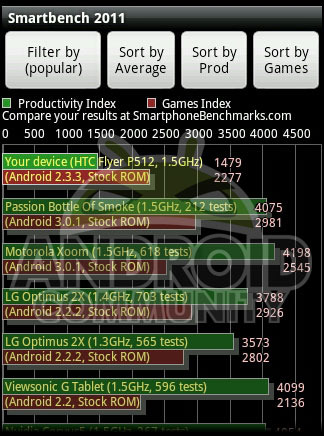 Smartbench 2011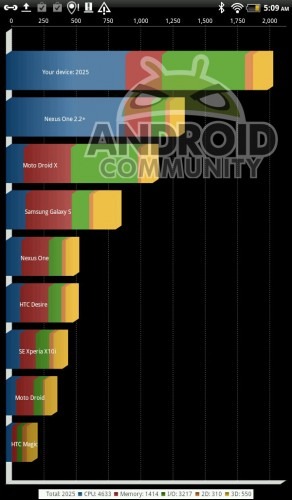 Quadrant Advanced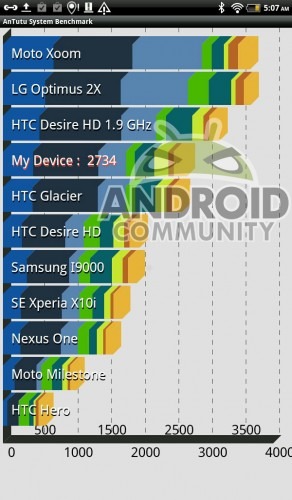 AnTutu
Battery
The battery on this device is a fairly impressive 4,000 mAh non-user-replaceable battery. HTC says that this battery should be lasting up to four hours of video playback or between 820 and 1470 hours on standby. So far we've been using it for several days directly out of the box without having to charge it, using it a medium amount at very spread-out intervals. Real world use is giving us several days use for real. Charging overnight encouraged, but not required!
Wrap-Up
This device will be running you $499.99 at Best Buy and, if you're lucky, you can go in your local store and ask and it might be there right now. Online at the moment I publish this they're still stuck on pre-orders. Other prices include English gems such as £599.99 for the 32GB 3G version, and £479.99 for the 16GB WiFi-only model. The 3G version hasn't revealed its price in the USA quite yet, but we're guessing an extra $100 wouldn't be out of the question.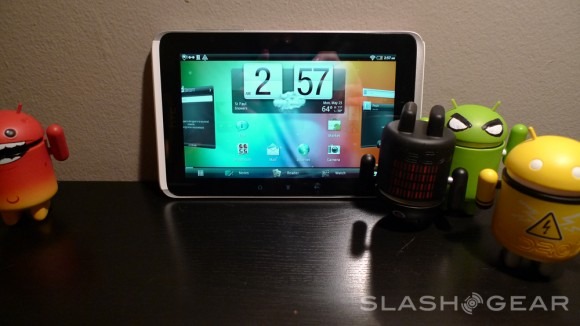 Is it worth it? We're getting reports in that worker groups are choosing this device over the iPad 2 because of its size and the fact that it's got a pen that works with it. Such simple reasons are certainly points HTC were gunning for when creating such a unique set of form factors in the Flyer. Of course then there's the new version of Sense that's just the loveliest iteration yet, and the apps working together with the pen aren't bad either.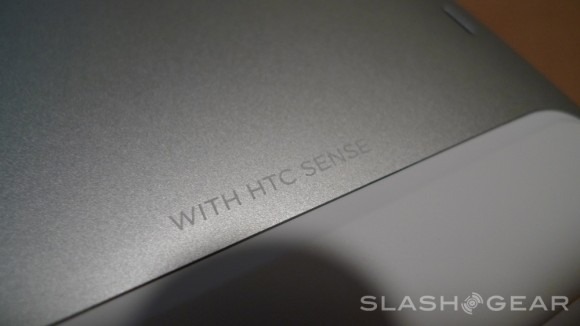 When I first saw this tablet I thought it was just beautiful enough to win people over with its looks alone. Now I feel like there's a bit more to it, but its strongest feature remains its physical form. I'd love to get this new version of Sense on older HTC handsets, but then again there's the Sensation's version of it, and we're still wondering if Sense 2.1 will change with the introduction of Honeycomb to this tablet.
Have a look below and above at the close-up photos, feel the love in the hands-on videos from both yours truly and Chris Davies from his review of the 3G Euro edition. If you've still got any questions about this tablet, feel free to ask them below and I'll do my best to answer them/ run some tests for you. Further coverage of this device will be happening over on Android Community for at least another week or two before we get a slightly different version, if you know what I mean.
BONUS : here's Chris Davies' hands-on with the 3G Euro edition:
[vms 39b5002a3f8909ecb88f]