HTC Flyer, Pyramid, Desire 2, Wildfire S and LG Star Tab name-checked in purported inventory leak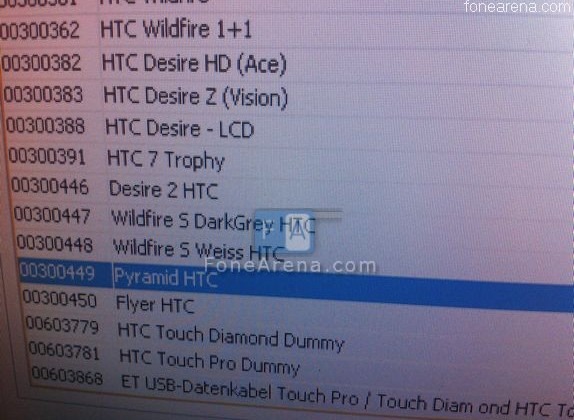 Inventory leaks can be tricky things; it's all too easy to slap a few codenamed products in a database, snap a shot or two and then call it confirmation. That said, FoneArena seems pretty confident in their unnamed inventory source which has supplied a few images apparently confirming the incoming HTC Pyramid, HTC Desire 2 and HTC Wildfire S, along with the HTC Flyer tablet and the LG Star Tab. Check out how the rumors stack up with what we've been hearing from the mobile grapevine after the cut.
The HTC Flyer is already believed to be a lock-in for MWC 2011 in a little over a week's time, one of what SlashGear is hearing will be two HTC slates for the Barcelona show (the other doesn't get a mention in this particular inventory). As for the Desire 2 – which we've been told by other sources will actually be the HTC Desire S – that would replace the year-old Desire smartphone announced at MWC 2010. The HTC Wildfire S would, similarly, be a replacement to the existing entry-level Android Wildfire.
As for the LG Star Tab, that certainly sounds like a tablet but it's not clear how – or if – it will differ from the LG Optimus Tab (aka the European version of the LG G-Tablet) which the company has already confirmed will be officially launched at the show. It's possible that it could be an early codename; the Optimus 2X launched in Korea as the LG Star, for example.
It's the HTC Pyramid reference that has us uncertain, though; the dual-core smartphone was only leaked on Thursday last week and, from what SlashGear sources have been telling us, won't be making its official debut at Mobile World Congress. Instead we're expecting it around the middle of the year. So, over-enthusiastic database management or something else: we'll find out at MWC very shortly.