HTC EVO 3D Video Recording and Playback at Uplinq 2011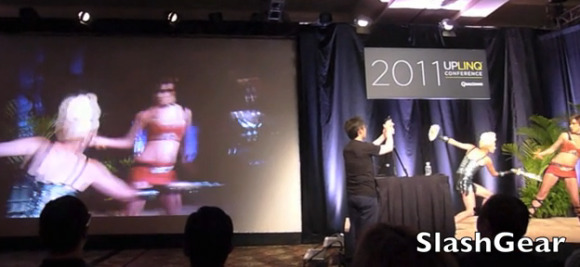 The first portion of this video you'll recognize from the post posted earlier the same day as this post you're looking at now. It's a piece of Qualcomm Demo Zero Shutter Lag Multi-Burst Photo Capture at Uplinq. In that video, same as this one, you'll see three gladiator warrior women walking towards the stage at an event entitled "Technical Super Session: What Your Apps Can Do When You Target Snapdragon." These women act as models for several demonstrations of the photo capabilities of some Qualcomm Snapdragon-powered devices.
What this particular demo entails is an HTC EVO 3D recording some 3D action in a show put on by the ladies with the swords. This is a device that will be coming out SOON, soon as in within a few months sitting on your desk soon.
HTC EVO 3D Video Recording and Playback
For all the info you could possibly want on the HTC EVO 3D, head back to our demonstration and hands-on with the device back in March at CTIA. It's one of the first smartphones in the world to come out with 3D viewing without the aid of glasses – beaten only by the LG Optimus 3D which you can get a peek at over in the full review Android Community has up. Now without further ado, have a look at this magnificence:
[vms 864533ec05b321ae1f9d]
At the time of this post, we're still running around like mad here at Uplinq 2011, a Qualcomm superfest to be sure! Be sure to stick with us here on SlashGear via our bigtime Qualcomm Uplinq 2011 portal. Everything you need to know it all!