HTC Desire 530 brings its "micro splash" design to the US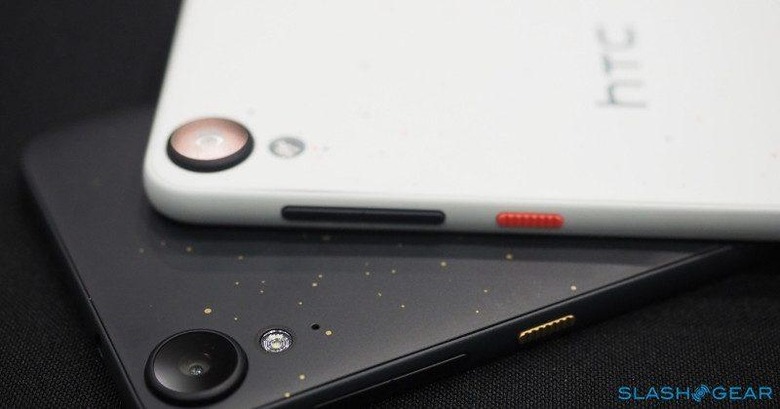 Even as the HTC 10 flagship tries to leave a mark in the US smartphone market, HTC is bringing yet another high-profile Android smartphone to the country. By "high-profile" we don't exactly mean "high end", because the HTC Desire 530 is anything but. We mean something more along the lines of "flamboyant", with the smartphone's odd but unique "micro splash" coating that will make you take a second look at its back, where its second supposed biggest feature, its camera, also resides.
They say beauty is in the eye of the beholder, and the Desire 530 will definitely put that to the test. On the one hand, the micro splash finish that HTC so loves to talk about looks like the end result of letting loose an artist on a blank canvas. On the other hand, it might look to some like a child with a brush of point let loose on a blank canvas. Either way, it isn't simply a fancy (some might say ugly) coating of paint but a specially crafted polycarbonate shell custom made for this smartphone.
Spec-wise, the Desire 530 might not be as striking as its facade. There's an unnamed 1.1 GHz quad-core Qualcomm processor, paired with 1.5 GB of RAM and 16 GB of internal storage. The 5-inch display goes only up to 720p resolution. It at least runs the soon to be not so latest Android 6.0 Marshmallow out of the box.
For an entry-level smartphone, HTC is quite proud of the Desire 530's camera. It's a humble 8 megapixel shooter with an f/2.4 lens, but HTC seems unfazed by those numbers. Features like burst shot and sweep panoram, plus the camera's built-in BSI sensor try to make up for the lack in raw power. On the front, the 5 megapixel shooter is assisted by Auto Selfie and Voice Selfie features to make taking selfies a snap.
Although announced back in February at MWC 2016, HTC is only now bringing the Desire 530 to the US. The full range of available sprinkled colors include Blue Lagoon, Sprinkle White, and Stratus White, but each carrier, namely T-Mobile and Verizon, will have their own colors and availability details. HTC itself will carry a Sprinkle White model that will be available for $179 later this month.
Take a peek at our hands-on to see more splashy photos of the HTC Desire 530.