HTC Desire 300 plays on entry-level wants and needs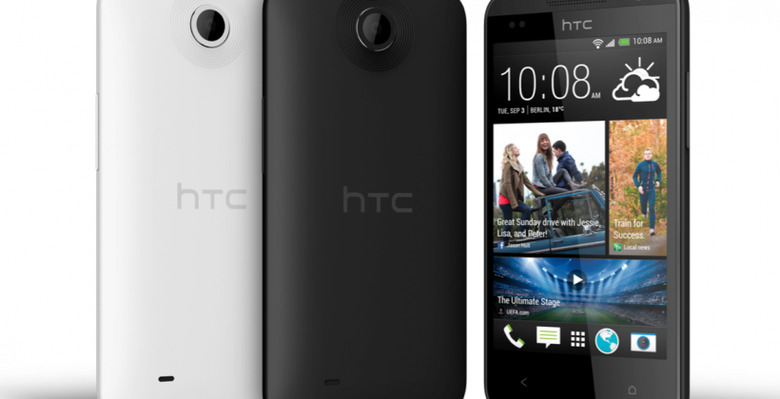 The team at HTC are bringing a collection of smart devices to IFA 2013 this week, the lowest-end of the bunch coming in as the HTC Desire 300. This device brings on some of the features included with the hero device HTC One including HTC BlinkFeed – an element of the user interface formerly called HTC Sense (though not quite so readily titled as such these days). This device is not meant to be a low-level replacement for the HTC One, rather it's here to present the most minimalistic vision of the ideal smartphone HTC is able to create.
This device works with a Qualcomm Snapdragon S4 dual-core 1GHz processor – not the highest-powered Snapdragon on the market by a long shot, but certainly nothing to scoff at. With a Snapdragon S4 at 1GHz, this device's SoC is quite similar to that of the Snapdragon S4 found in a wide variety of top-tier smartphones throughout 2012.
Devices like the Samsung Galaxy S3 and the HTC One S carried a very similar processor build as hero products for their respective brand – as did the HTC One X in its first iteration in the USA last year. One year later and the S4 dual-core SoC is considered "entry-level" – how about that?
The device is being delivered with a 4.3-inch display at WVGA resolution with "full lamination", aiming for easy reading and media viewing on the fly. This device works with a 5 megapixel back-facing camera with autofocus and a front-facing VGA camera ready for video chat. HTC CEO Peter Chou spoke up about this device and the HTC Desire 601 this week amid IFA 2013 announcements.
"We're not only changing the way people view the mid-range and entry-level market but setting the bar even higher when it comes to our premium devices and capabilities.

We are committed to offering the most innovative portfolio of products on the market. Our Desire family has become synonymous with affordable quality. Offering some of the most advanced capabilities of any smartphone, these phones truly represent premium quality in a more affordable price bracket." – HTC CEO Peter Chou
The HTC Desire 300 is being prepared to roll out in black and white – two different color models to select markets starting in October of 2013. Pricing for this device is not yet known, nor is specific information on where – exactly – the smartphone will actually end up being released. You can however expect Europe to see the device first if the release notes on the Desire 601 are any indicator!