HTC defends One A9 design, will roll out to M, Desire lines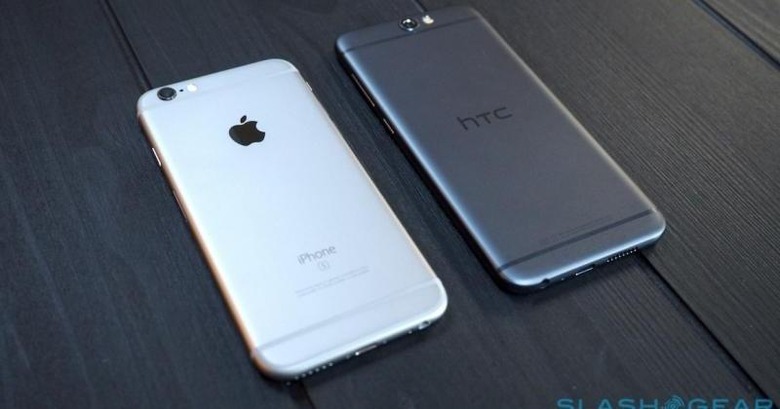 The HTC One A9, which the Taiwanese OEM just unveiled Tuesday, is technically an OK, if not great, Android smartphone. Sadly, all its strengths, and even its weaknesses, will be drowned out by its one glaring feature, or misfeature, depending on who you ask. To almost everyone except HTC, the One A9 looks too eerily similar to Apple's new design that debuted on the iPhone 6. Of course, HTC is denying that accusation by doing perhaps what it should not: calling Apple the actual copycat instead.
HTC says that it has been doing uni-body, metal smartphones since 2013, when it revealed the One (M7) to a captive market. Admittedly, while Apple's iPhones prior to the iPhone 6 did use metal generously, it was only with the latest models did it apply a uni-body structure. HTC adds even more fuel by claiming that its Apple that actually copied its antenna design on the back instead of the other way around. HTC claims that it has pioneered the way for such antennas to work in a metal-clad smartphone shell, something that other manufacturers are only recently catching up with.
It doesn't, however, make any noise about how the rear camera bump looks also similar despite being located in the middle instead of a corner.
HTC is today being accused by some corners of blatantly ripping off Apple's design and then dangling a cheaper price tag just to curb its steep fall, especially in the US. There are some, however who do express the opinion that the One A9 should have been the iPhone 6 that Apple made. Whether or not that is a complement is something left to the reader to decide.
Inside, of course, the two smarpthones couldn't be any more different. The HTC One A9 runs on a mid-tier octa-core Qualcomm Snapdragon 615 with 2 or 3 GB of RAM and 16 or 32 GB of expandable storage. On top is a 5-inch AMOLED screen still living in a 1080p world. The protruding camera at the back has a 13 megapixel sensor and f/2.0 aperture that promises to be better than the disappointing performance of the One M9's shooter. Definitely your standard Android spec list instead of Apple's.
As if trying to be even more obstinate, HTC declared that this new design will flow through its entire smartphone line, both the premium One M family as well as the budget-friendly Desire portfolio, hinting that even the low to mid range smartphones might get a taste of metal. That is, of course, unless Apple has something to say about it. And if the lawsuits concerning the earliest Samsung Galaxy S models show, it might have a lot.
SOURCE: WCT, Focus Taiwan