HTC declares war on Samsung: GALAXY S 4 is "more of the same"

This week the Samsung release of the GALAXY S 4 saw HTC summoning up their best set of retaliation words to go into direct battle with the hero phone, saying the HTC One should, by all means, eat its competition's lunch. A comment has come through today from no less than HTC's chief marketing officer Benjamin Ho regarding the GALAXY S 4, the HTC One, and consumer's decision between the two. It should be clear at this point that HTC isn't afraid to claim their 2013 hero is ready to beat down even the loftiest of releases – Broadway dances and singing and all.
If you'll have a peek at our hands-on with the Samsung GALAXY S 4 and our review of the HTC One, you'll be able to see how the build quality may, at first, appear to be lacking in the Samsung presentation. HTC is going to have a relatively easy time claiming the idea that a whole heck of a lot more metal in their casing will prove a more premium experience for all. Per HTC's Marketing officer, the following is true:
"With a continuation of a plastic body and a larger screen being the most obvious physical change, Samsung's new Galaxy pales in comparison to the all-aluminium unibody HTC One. This is more of the same.

HTC remains the best option for those people looking for the best technology wrapped in premium design. Our customers want something different from the mainstream, who appear to be the target for the Galaxy. Our customers want original cutting-edge technology, mouth-watering design and a premium feel from their mobiles, which is why we created the HTC One." – Benjamin Ho, HTC's Chief Marketing Officer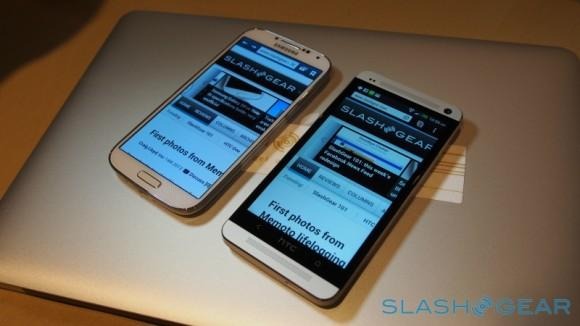 Feel free to take a peek at our article on the Samsung GALAXY S 4 vs the HTC One as well. Specifications on both devices are extremely similar, while the software experience is a whole different story from one to the next. We'll also have a review of the Samsung GALAXY S 4 sooner than later too – just you wait!