HTC Click video demo: entry-level Android Donut in wild [Updated]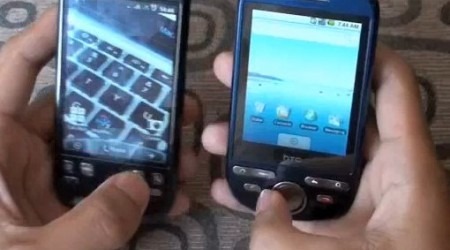 Remember the HTC Click?  The company's entry-level Android smartphone is tipped to arrive in September or October this year, but until we have any official confirmation we've got leaked hands-on footage from Tinh Te.  Check out the HTC Click – running Android OS Donut – cavorting with the HTC Magic after the cut.Video demo after the cut; Update: Plus new live gallery – thanks dt0306!
As you can see in the video, the Click is roughly the same thickness as the Magic, but a little shorter and a little broader.  It also has a smaller LCD touchscreen display, something that wasn't clear from the standalone leaked images we saw last time, and a 3.5mm headphones socket.
In terms of software, the Click reports that it's running Android OS Donut, though it's unclear what changes that implies.  Something conspicuous by its absence is HTC Sense, indicating that the Click is likely to be a "with Google" branded device; it also looks set to hit GSM rather than CDMA carriers, as it flashes up an obvious "no SIM" warning on startup.
Update: New images from Tinh Te forums below.