HTC Click spotted in wild: entry-level Android for later in 2009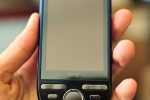 Two sightings of the HTC Click, believed to be the company's mainstream consumer Android smartphone, have been reported.  The leaks also coincide with rumors from DigiTimes that HTC are planing to increase their use of Android in 2010 until there is a fifty-fifty split across their range between the Google OS and Microsoft's Windows Mobile.
The shot above, from Tinhte [via DT0306], is joined by two further Click images from PointGPhone which you can see in the gallery below.  They show an HTC-branded touchscreen handset with a button layout similar to that of the HTC Magic, although using the joined "rocker key" arrangement as seen on the newer HTC Hero.  Meanwhile the trackball, a feature of all three of HTC's Android devices to date, has been replaced with a D-pad.
According to DigiTimes' sources in Taiwan, the Click may use Qualcomm's Brew Mobile Platform (BMP) and have the HTC Sense UI.  They also suggest it will arrive in September or October.
[via