HTC ChaCha and HTC Salsa hands-on [Video]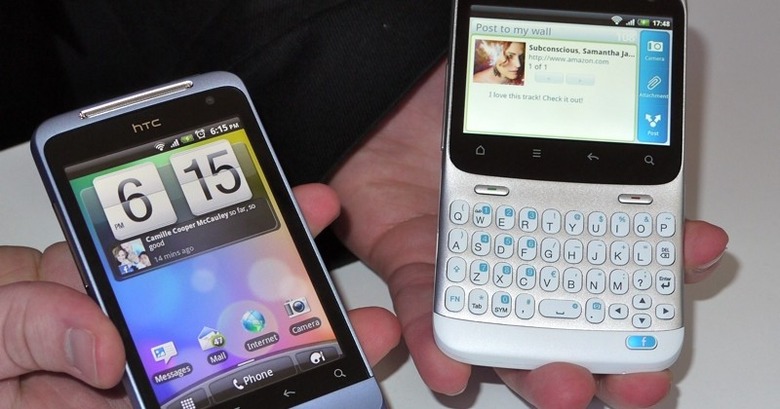 Looks like we spoke too soon on the HTC ChaCha and HTC Salsa; while the company first told us they only had a couple of devices at MWC 2011, locked up in a cabinet not even Mark Zuckerberg could penetrate, we later managed to grab some proper hands-on time with a pair of prototypes. Check out our hands-on impressions after the cut.Video demo after the cut
Of the two, the ChaCha makes the best hardware impression. HTC may be envisaging it as a relatively affordable handset, but the matte white and silver casing feels solid and high quality, and the keyboard has decent finger feedback despite the pre-production status. The screen, too, may only be HVGA resolution, but because all those pixels are squeezed down into a 2.6-inch panel, it looks great. The bend in the chassis lets the ChaCha sit nicely in your hands as you thumb out messages.
The Salsa is a little less inspiring, though the bigger screen is likely to be eye-catching in stores. As we initially suspected, it feels very much like the Legend, if somewhat less weighty and premium in its build. The Facebook buttons on both devices light up when you're looking at something you can share online.
HTC ChaCha and HTC Salsa hands-on:
[vms b776e3143e8a1a057788]
As for software, neither prototype had final software present; in fact the Salsa seemed to be showing a screenshot rather than anything else. You can see it bounce across when we accidentally thumb the display in the video above. That will have to wait until production units are ready for review, and that won't be until sometime in Q2 2011.