HTC Bliss And Runnymede Specs Leaked In Full

The full specs for the European versions of the HTC Bliss and the HTC Runnymede have leaked, confirming much of the rumors surrounding the two Android handsets. The leak comes just a week ahead of HTC's major press event scheduled for September 20, where it's expected that the company will unveil the two devices.
The specs confirm that the HTC Bliss will sport a 3.7-inch Super LCD display with 800 x 480 resolution, a VGA front-facing camera, and a 5-megapixel rear-facing auto-focus camera capable of 720p HD video capture. Additionally, it will have Bluetooth 3.0, WiFi, and tri-band 14.4Mbps HSPA support.
The HTC Bliss has long been rumored to be a female-targeted phone with a pale green exterior, feminine wall papers, and even a light-up charm. And the specs do confirm that the Bliss will indeed sport the much rumored charm indicator, which is said to light up to signal incoming calls. It will be interesting to see how this little accoutrement looks.
The HTC Runnymede, of which we saw the first press shot yesterday, is confirmed to have a massive 4.7-inch display similar to the one on the HTC Titan for Windows Phone 7. The display, however, is only WVGA and the handset is powered by a single-core 1.5 Qualcomm MSM8255 processor. It will have an 8-megapixel rear-facing camera capable of 720p video capture and dual-LED flash.
But what's neat about the Runnymede is that it will come in multiple SKUs with some packaged with Beats headsets in the box. It is expected to be one of the first handsets from HTC to sport the audio technology following the company's $300 million exclusive partnership with Beats Audio.
Update: new press shot of the HTC Runnymede now available. The handset appears to be all white with some silver on the backside and measures 9.9mm thin.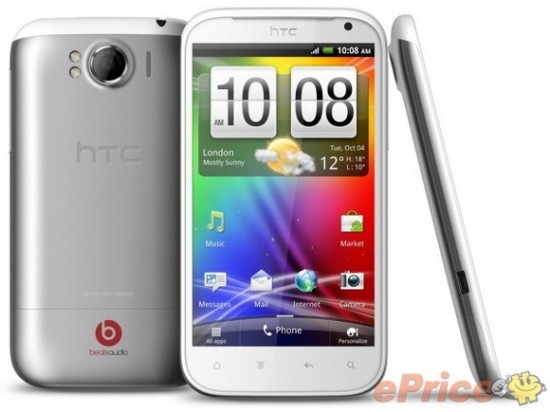 [via Thisismynext]