HTC Android Wear "Halfbeak" smartwatch poses for the camera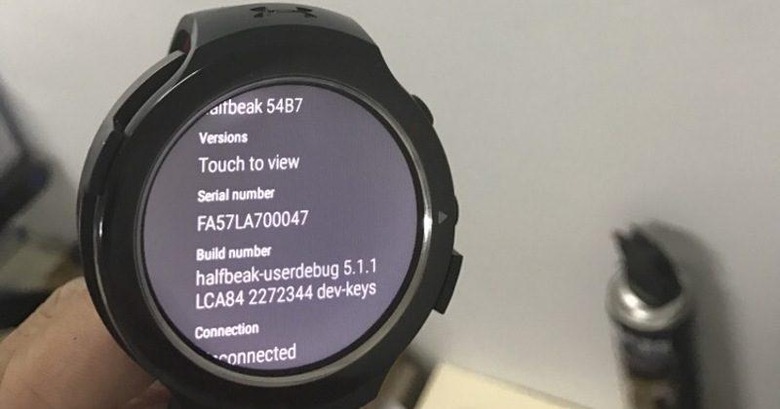 You may criticize HTC for a lot of things, but one thing you can't fault it is for being stubborn and never giving up. Sometimes, that works to its favor, like the HTC Vive and, still to be proven, the Google Pixel and Pixel XL. Yet another example might soon be in the smartwatch category. Yes, HTC's much delayed smartwatch is apparently closer to launch than we think. And unlike the growing number of dissidents, HTC's "Halfbeak" smartwatch will still be running Android Wear.
It's been more than two years since HTC was first speculated to have a smartwatch to "take on the Apple Watch". Delay after embarrassing delay has made many believe it would never come. HTC, however, might be ready to prove them wrong, if these leaked photos are to be given credence.
Like most smartwatches these days, except the Apple Watch, this "Halfbeak" device has a round face, believed to sport a 360x360 resolution, one of the highest we'll see on a wearable. There are three buttons with a somewhat odd design: two round ones top and middle, and a rectangular one at the bottom, all on the right side.
What's interesting, however, is the Under Armor on the underside of the watch. Early 2015, HTC and Under Armor inked a partnership that was believed to produce a fitness-oriented smartwatch. Again, because of delays, that was eventually scrapped. Instead, the two created a "smart health box" in the meantime. It seems, however, that the original plan is still a go.
What features the HTC "Halfbeak", hopefully not its final name, will flaunt, we can only imagine. There seems to be a heart rate sensor, at least, but beyond that is anyone's guess. But considering Huawei's and Samsung's complaints about the smartwatch platform, it probably won't deviate too much from the standard Android Wear feature set.
VIA: Techtastic