HTC 7 Pro and HTC Gratia hit UK in February 2011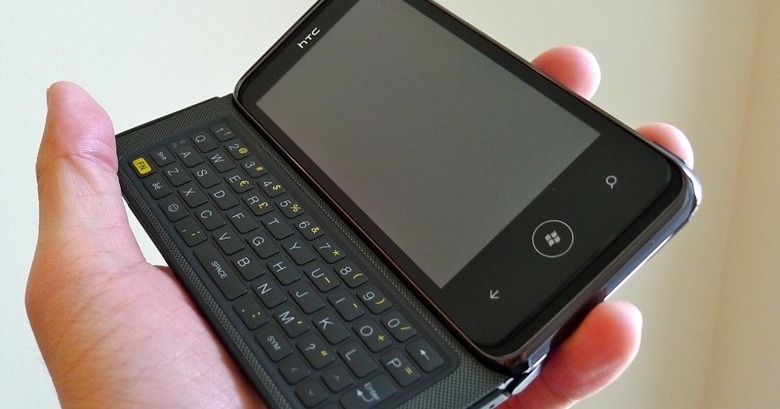 HTC has announced that the HTC 7 Pro Windows Phone 7 smartphone and the Android-powered HTC Gratia will arrive in the UK come February 2011. The 7Pro has a 3.6-inch sliding, tilting touchscreen complete with a QWERTY keyboard, and supports Dolby Mobile and SRS WOW HD audio as well as all the usual Hubs and Live Tiles of Microsoft's smartphone platform.
As for the HTC Gratia, the Android 2.2 handset gets HTC Sense, a 5-megapixel camera, dualband 900/2100 HSPA/WCDMA and WiFi b/g. There's also a 3.2-inch HVGA touchscreen and 600MHz Qualcomm processor, all in a Pearl White chassis measuring just over 4-inches long and weighing 4.06oz.
More on the HTC 7 Pro in our hands-on report, complete with a video demo of the smartphone. Pricing for each handset is yet to be confirmed.
Press Release:
HTC 7 PRO AND HTC GRATIA TO COME TO THE UK IN FEBRUARY

LONDON, UK – January 20, 2011 – HTC Corporation, a global designer of smartphones, today announces the

launch of HTC 7 Pro and HTC Gratia in the UK from February 2011.

"We are proud to be able to add two new phones to our already diverse UK product portfolio," said Jon French, executive director, HTC UK, Ireland and South Africa. "Both phones offer the stand-out design and innovation for which HTC has become renowned. With the fresh and exciting mobile experience of the Windows Phone 7 platform, HTC 7 Pro is for users who want to combine the ultimate in business efficiency with the ability to take full advantage of their leisure time. The elegant HTC Gratia is designed for those people looking for a compact yet powerful Android smartphone."

HTC 7 Pro

HTC 7 Pro combines powerful business features with multimedia performance and flexibility that make it the ideal phone both during and outside of work hours. The screen slides open and tilts to reveal a full QWERTY keyboard for fast, comfortable typing, while productivity features such as the ability to sort, scan and manage Outlook email, open and edit the latest Office documents and keep track of the markets with HTC's stocks application, offer new ways to get more out of the business day.

With a tilting 3.6" screen, the power of a 1Ghz processor and cutting edge technology such as Dolby MobileTM and SRS WOW HDTM, the HTC 7 Pro delivers a rich multimedia experience. The integratration of many popular Microsoft services such as Xbox LIVE, Windows Live, Bing and Zune makes this handset the ideal companion for business users who want to take their entertainment with them wherever they go.

The unique Hub and Tile interface of Windows Phone 7 makes information quick and easy to access by grouping it into Hubs such as People, Pictures, Games, Music & Video, Office and Marketplace content and displaying the most up-to-date information on the homescreen Tile. Users will also be able to access exclusive applications and utilities through the HTC Hub. These include a weather and stocks application and a photo enhancer that enables special effects to be applied before sharing photos with friends.

HTC Gratia

Available in Pearl White, the HTC Gratia is sleek and lightweight – measuring just over four inches in length, weighing 4.06 ounces and featuring a seamless, rubberised and beveled back cover that opens to show a vibrant yellow inner chassis.

This user-friendly and powerful smartphone runs Android 2.2 and the acclaimed HTC SenseTM – offering an experience that makes your phone work in a more personal and natural way. HTC Sense offers a number of unexpected features designed to bring a smile to your face, such as making the phone ring louder if it is in your bag or your pocket, but automatically decreasing the ringer volume when you pick it up to answer a call.

HTC Gratia also comes with Friend Stream – an application that helps you keep in touch with friends and family by bringing all of your Facebook, Twitter and Flickr updates into one single, organised flow of updates.

Availability

From February 2011 the HTC 7 Pro will be available in the UK through HTC's distribution partner Brightpoint GB and Brightstar with HTC Gratia available through Brightstar only.