HTC 7 Mozart Review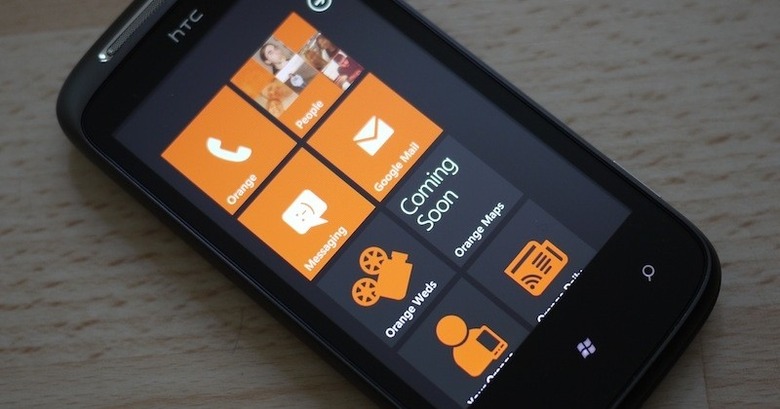 Out of all of Microsoft's hardware launch partners for Windows Phone 7, HTC has probably invested the most in supporting the new OS. The company's Windows Phone 7 team is the second largest around, lagging only Microsoft itself, and with four handsets in the first wave and a fifth to follow before the end of the year, there's a fair chance that most newcomers to the platform will have an HTC device. The HTC 7 Mozart is an Orange and T-Mobile exclusive in the UK, ironically the company's smallest in terms of display but packing the highest-spec camera. Check out the full SlashGear review after the cut.Hardware
It's fair to say that a lot of the launch line-up looks like Windows Phone 7 by numbers; Microsoft's dramatic shift from the "almost anything goes" Windows Mobile to the tight hardware and software restrictions of the new platform will certainly ensure early-adopters (and reviewers) have a consistent experience, but it doesn't make for an especially dramatic range. Instead, we have minor differentiators in a sea of identical specs.
The HTC 7 Mozart, then, takes its core 1GHz Qualcomm Snapdragon QSD8250 processor, and pairs it with 8GB of flash storage (there's no microSD card slot, remember), 512MB of RAM and 576MB of ROM, a 3.7-inch WVGA LCD TFT capacitive touchscreen and 900/2100 dual-band UMTS/HSPA. HTC are positioning the Mozart as their audio-centric device, among the HD7 and the 7 Trophy, but in actual fact it's the photography-biased model. On the back is an 8-megapixel autofocus camera with a Xenon flash, as opposed to the 5-megapixels and LED flashes of its counterparts.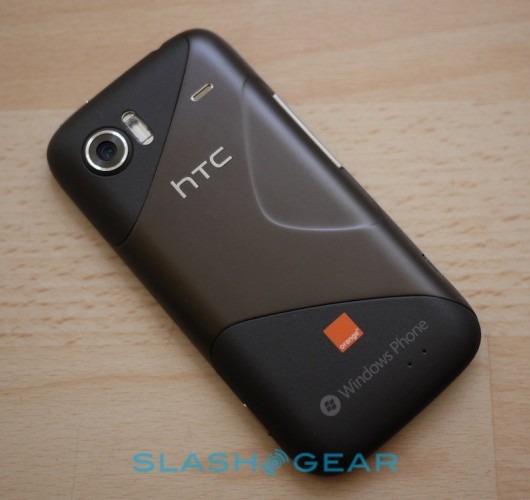 It's a solid piece of hardware, benefiting from HTC's unibody-style manufacturing process that gave us the Android-powered Legend. The brushed aluminum bezel continues around the back of the phone, with two soft-touch triangular plastic inserts for the camera and the battery cover. The latter is used as the antenna, as with the Legend, snapping off to reveal the SIM card slot and, held in with a plastic bar, the battery. Microsoft dictate what buttons a Windows Phone 7 device must have, so the HTC 7 Mozart gets a volume rocker on the left-hand side (above a microUSB port), power/standby button on the top (next to a 3.5mm headphones socket), and a two-stage camera shortcut on the lower right-hand side. Underneath the display are touch-sensitive, backlit back, Start and search keys, while a multicolor status light is hidden behind the earpiece mesh.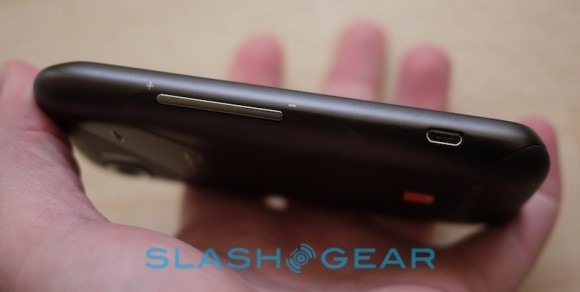 It all adds up to a solid, if a little thick-feeling device, measuring in at 4.69 x 2.37 x 0.47 inches and weighing 4.59oz. Turn on, and after the short setup wizard – which allows you to optionally register or sign-in with an email, Facebook and Live ID account – there's plenty of orange, given the fact that this is the Orange UK version of the smartphone.
Software
We've covered Windows Phone 7's core functionality at depth in our Technical Preview, so won't retread too much old ground; we'd recommend reading that for a better understanding of the Microsoft OS as a software experience. We've also reviewed the AT&T Samsung Focus and the AT&T HTC Surround, and we'd recommend reading those reviews for other Windows Phone 7 details.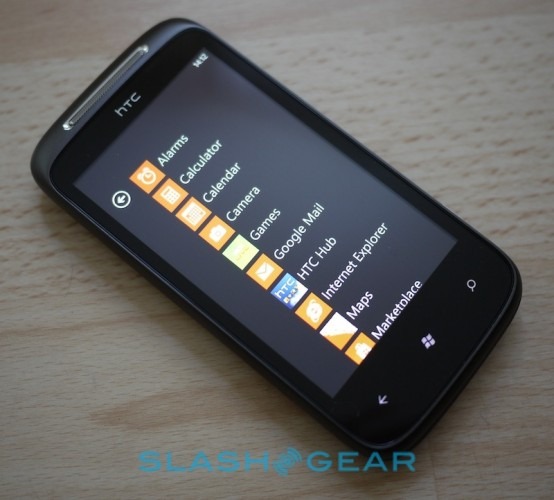 In short, though, the combination of well-tuned software and speedy hardware makes for an enjoyably swift device. The homescreen, with its distinctive tiles, can be as straightforward or as flexible as you want it to be, and the animations – the tiles tilting slightly as you tap them, lists and menus bunching up as you reach their limits, different screens pivoting into place as you move between them – never feel as though they're holding up the core functionality in the name of visual gloss. Although we like HTC's Sense enhancements on Android, WP7 feels more consistent with the suite of customizations corralled neatly into the HTC Hub.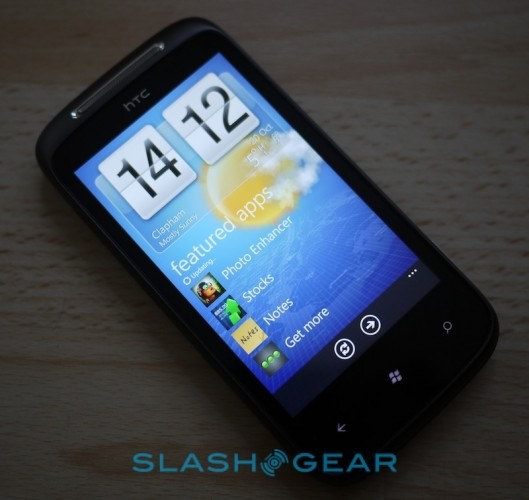 The Hub consists of a suite of mini-apps that more closely resemble the company's Sense experience on Android devices. Loaded via a dedicated tile on the homescreen, it's packed with HTC's favorite weather animations and a selection of mini-apps including a flashlight, basic photo editor, stocks app, notes app (in which the notes visibly age the older they are), a sound equalizer and a converter app. HTC has also said it will be releasing further apps for the Hub for users of its devices. While they all work, the overall theme sits uncomfortably with the regular Windows Phone 7 UI, and Microsoft's decision to prevent OEM modification of the core visuals of the OS means it's easy to forget HTC's extras.
HTC 7 Trophy hands-on:
[vms f6c699b223c61b1b5ab8]
Microsoft were mocked some for their advertizing campaign, which suggested Windows Phone 7 would let you focus on the real-world rather than pawing at your smartphone screen. While telling would-be users that you don't want them to spend time with your product might seem counter-intuitive, the end result has been a more intelligent presentation of what you might need to see at any one time. All through the system there are neat touches, from the status bar at the top of the display – which only shows battery and network status when you tap it, leaving room for discrete messages – to the email app which tells you how up-to-date its synchronization is.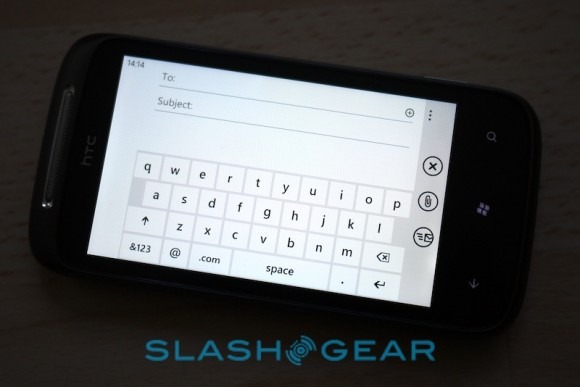 Windows Phone Marketplace is Microsoft's equivalent of the iPhone App Store, and it unsurprisingly lacks the scope of Apple's longer-running platform. Microsoft tells us the company is focusing on known-developers and best-of-breed titles for the first batch of applications, again in an attempt to manage first-impressions of Windows Phone 7. Apps can be trialled first, and the Marketplace has plenty of screenshots and a comments feedback system. One frustration is the apparent absence of data caching; we tried third-party Twitter app Seesmic, which insists on downloading the entire recent timeline every time it's opened, rather than just the most recent messages.
The following two videos give a broad overview of the various applications and features preloaded and available through the Windows Phone Marketplace. While they show the Samsung Focus, the core phone experience is basically identical. In them, you can see the Seesmic Twitter app, browsing on the IE7/IE8 based WebKit browser, the calendar (which supports day, month and agenda views, but no week view) and more.
Windows Phone 7 Walkthrough part one:
[vms 50b25b4114e93a98f1eb]
Windows Phone 7 Walkthrough part two:
[vms 8b187f7182f1b9ce7a6a]
Camera
The HTC 7 Mozart's crowning glory is meant to be its camera, obviously, though we've learned to be wary about relying too much on megapixel counts. Settings include multiple shooting modes – Auto, Portrait, Landscape, Sports, Beach, Backlight, Candlelight and Macro – together with various effects – Grayscale, Negative, Sepia and Solarize – plus flicker adjustment, a choice of metering – center, average or spot – and flash on/off/auto. No optical zoom, unsurprisingly, just a digital one with several jerky levels. As with a regular camera, you half-press the button to lock focus and then completely press to take the photo; unfortunately the focus lock itself is a relatively slow affair. There's also no on-screen button to take a shot, which some users find helps steady the camera rather than a physical key.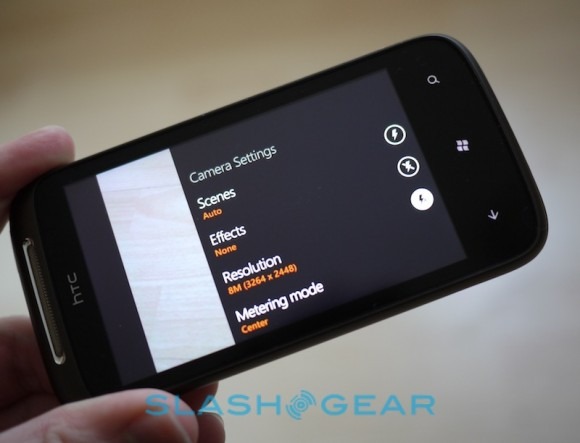 The final stills look great on the HTC 7 Mozart's screen but aren't quite so strong when transferred over to a computer and viewed full-size. There's noticeable fringing around edges, but colors are generally nicely balanced. It's not a terrible cellphone camera, by any means, but neither is it the photography powerhouse we'd hoped it might be. Sharing photos, at least, is straightforward; rather than show you a preview of the last frame, then bundle it away to the gallery, you can swipe across and see a photo reel of the last images taken, tap the three-dot shortcut in the corner of the screen, and from there add it to your favorites, delete it, upload it to SkyDrive (if you're logged in with a Live ID), share it via MMS or email, or set it as wallpaper. There are full-resolution sample shots in the gallery at the bottom of the page.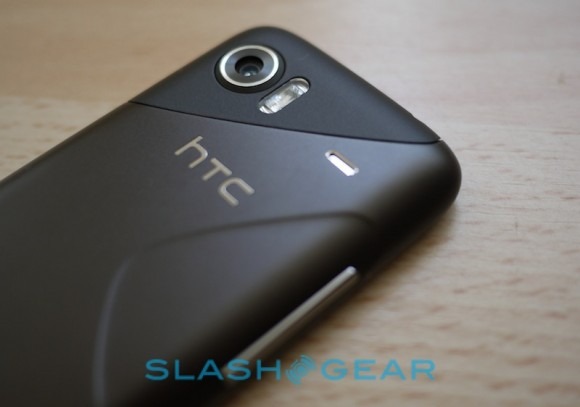 720p HD video recording is also supported, and that's more successful. The Mozart's refresh rate is reasonable, and there's not too much jerkiness or blurring. Fast movement can lead to wobbly edges, as we've seen on other phones, but in general the quality of the footage is good. It's worth noting that there's no HDMI output, however, nor DLNA streaming as we've seen on recent Android smartphones. In fact there's no way to wirelessly offload video from Windows Phone 7, you can only transfer it via the desktop manager app.
HTC 7 Mozart 720p HD video sample:
[vms 70fe748e6982b3439ad3]
Battery and Phone
Battery life is rated at up to 330 minutes WCDMA talktime (405 minutes GSM) or 435 hours standby (360 hours GSM) from the 1,300mAh battery. We managed to get through a full day on a full charge with push email turned on and using 3G and WiFi, though especially heavy use of browsing, Bluetooth and voice calls did see the Mozart needing a top-up in the evening. Still, regular users shouldn't have a problem making it through the day.
Call quality, meanwhile, was strong, with a clear earpiece and callers reporting no problems with interference or background hiss. The speakerphone is on the quiet side, though loud enough for impromptu conference calls around a small table; we'd want to use a car-kit or Bluetooth headset, however, for in-car use. Windows Phone 7 supports the A2DP stereo Bluetooth profile as well, and we were able to pair the 7 Mozart with a stereo headset and use its buttons to control media playback.
Wrap-Up
There's a lot to like about Windows Phone 7, and indeed about the HTC 7 Mozart. With its 3.7-inch display it's one of the more pocketable devices, yet without giving up too much in the way of usability. It's camera, meanwhile, can be coaxed into producing reasonable stills and video, and we prefer the Xenon flash for still photography than the less-powerful LED alternative. Microsoft's new OS is obviously coming to a market made up of well-established rivals; it would have been easier, perhaps, for the company to rehash Windows Mobile and rely on its considerably back-catalog of apps as a much-needed sales point.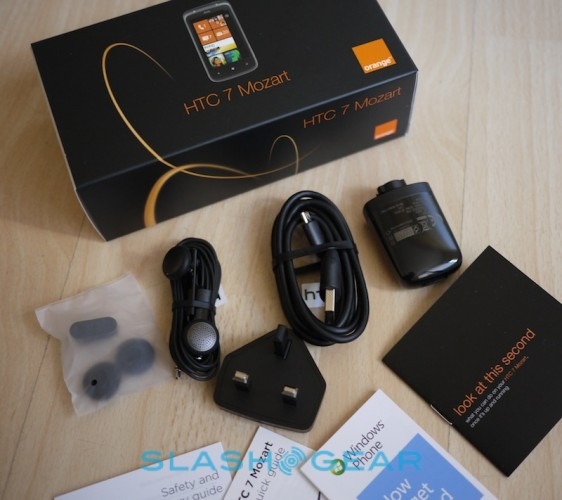 Instead, Microsoft recognised what reviewers and users alike have been telling them for months, perhaps even years: that a hard reboot is required. Their new platform is as far away from Windows Mobile as you would hope it would be; slick, fast, distinctive and studded with pleasure-points that will only mature with time. Where the old OS was fussy, over-dressed and frustrating, Windows Phone 7 takes a few core elements – live tiles, Hubs, the text-centric UI – and makes them consistent across the platform. Yes, manufacturers have had to take a step back with their own customization attempts, but let's not forget the initial motivation of those refinements: to take an underwhelming OS and try to squeeze a little more usability out of it.
The HTC 7 Mozart may not be the best Windows Phone 7 device on the market; in fact, we could forgive you for finding the whole handset line-up relatively uninspiring when compared to the surfeit of form-factors on offer in Android devices, for instance. Microsoft's conceit – that it can tightly control first impressions of the platform by severely limiting room for manufacturer flourish – is an understandable one; it buys them time, time with positive feedback, for Windows Phone 7 to develop and bed down. Make no mistake, too, this is a very strong play by Microsoft, and there's a whole lot to like about Windows Phone 7. The second wave of devices – which will include alternative form-factors, such as physical QWERTY keyboards – should be more interesting from a hardware perspective, but the user experience of the HTC 7 Mozart is very good indeed.