HTC 2009 Windows Mobile specs leak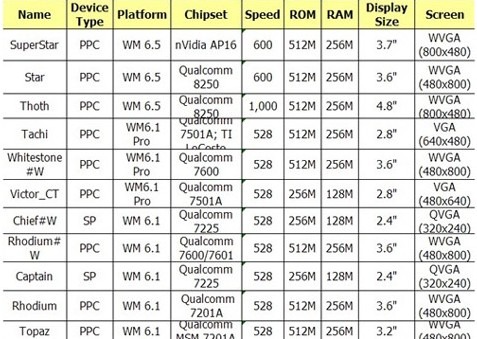 Further details of HTC's 2009 range of Windows Mobile smartphones and mobile devices have leaked, including which platforms the handsets will use, what processors and memory they will be fitted with, their chipsets and display specifications.  The news follows on from the January leak of what's believed to be HTC's entire 2009 portfolio.
The new document fleshes out eleven HTC devices, a full nine of which are Windows Mobile Pro touchscreen handsets.  More than half have WVGA 480 x 800 displays, measuring from 3.2-inches all the way up to the huge 4.8-inch display on the HTC Thoth. 
Only the Thoth, Star and SuperStar are listed as using Windows Mobile 6.5, which suggests that they will launch toward the end of the year.  Of particular interest is the HTC SuperStar, which uses a 600MHz NVIDIA AP16 chipset as opposed to the more common Qualcomm chips, paired with a 3.7-inch 480 x 800 touchscreen.