HP Z230 SFF Workstation Review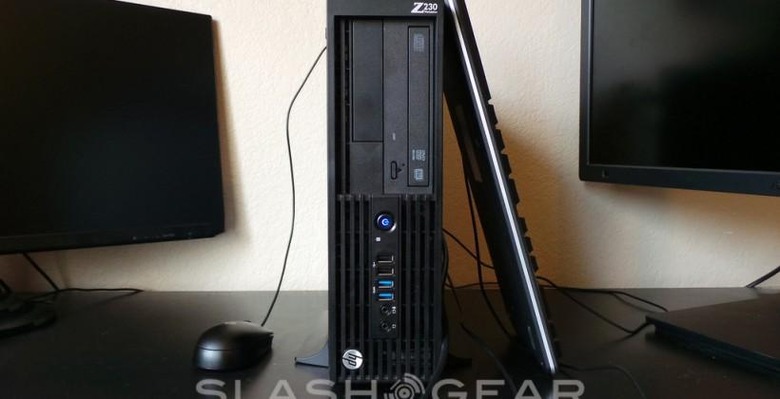 The newest wave of workstations presented by HP carry with them the promise of industry-leading quality and high upgradability – and with the HP Z230 SFF, an especially small form-factor as well. What you're getting here is a beast of a computer that'll sit under a desk and be completely out of the way as it provides the best in power a single-processor workstation can bring – and there are one whole heck of a lot of options for build right out of the box, too. What we've found here is what's easily one of the finest small form factor workstations on the market today.
Hardware
The HP Z230 SFF works with an extremely low-profile case with easy to work with and remove – and replace – parts from top to bottom. The front grille works with a single disk drive and the first glimpses of expandability with a removable black panel. You'll also find a single physical power button with activity indicator LED light, two USB 2.0 ports, and two USB 3.0 ports.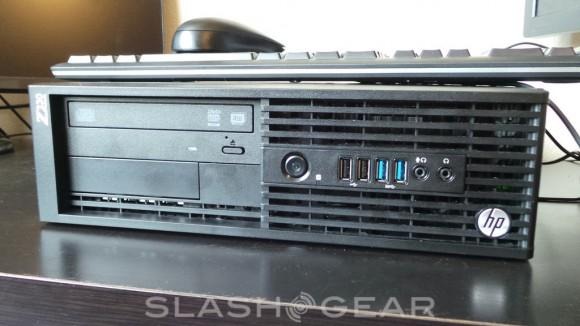 Up front you'll also find two headphone jacks, one of them also acting as a dual-jack for microphone/headset usage as well. The back of this unit has a single DVI out and three DisplayPorts out, a couple of PS/2 ports for older peripherals, and a total of four more USB 2.0 ports. Also appearing here is a couple more USB 3.0 ports. You'll also be connecting to the web with a single Ethernet port down near the bottom of this unit (if it's sitting vertically, that is).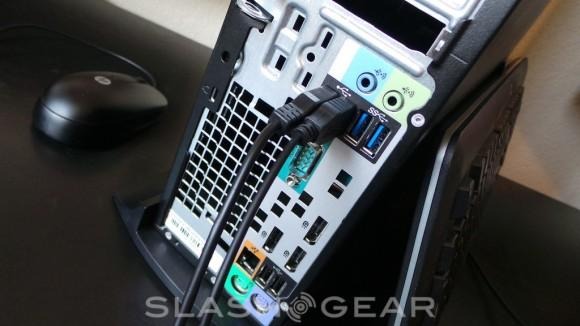 While the real interesting bits about this unit are on the inside, you'll also be glad to hear that you do get a basic stand with this machine so you can have it sitting upright or down flat. When the unit is flat – or horizontal – rubbery bumpers are here to keep the machine in place.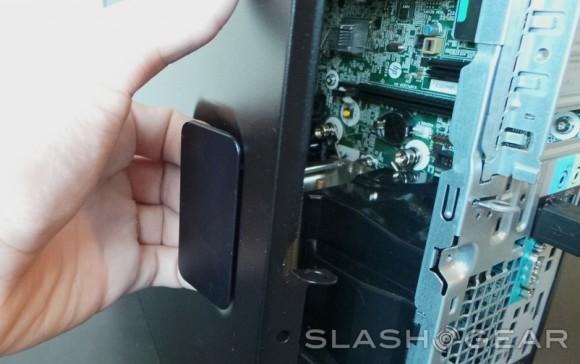 Getting inside this machine is made simple with a single knuckle-sized latch. Pulling off this side panel shows off HP's notoriously easy-to-modify system in place, complete with green-tagged buttons, clamps, and levers that are pushed, pulled, or otherwise moved with ease when you want to change something up in the hardware department. We saw this system demonstrated on a variety of workstations all the way back at our HP Elite tour back in 2011, and HP is still going strong with all of their workstations like this one today.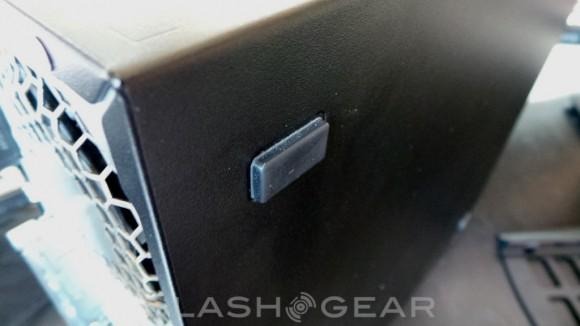 Our uniquely configured model here is sporting an Intel Xeon E3-1245v3 with i-graphics enabled, 4 x 4 16GB RAM, and it has the option of working with an NVIDIA Quadro K600 graphics card as a 2nd graphics option. We've also got a basic DVD/RW optical drive here and we're running 64-bit Windows 8 as an operating system.
Performance
This machine is not meant to be the biggest, baddest work beast around. Instead its meant to be a great balance of size and power – and for that, you're going to see some relatively decent results (considering this unit's size). First you're going to see some of this small form factor desktop machine's internals in an automated readout.
[sgbenchmark id=217 show=system]
Then you're going to see the power inside this machine. Here is where the Intel Xeon processor really struts its stuff. Just for kicks, have a peek back at our review from 2012 of the HP Z420 workstation. You'll see a considerably larger score here in a much, much smaller case – a lot can happen in a year's time, that's for sure.
[sgbenchmark id=217 show=score]
Inside a mere 3.95 x 13.3 x 15.1 inches of box, this machine is certainly ready to roll for most standard single-processor workstation needs. With room to spare, this fully upgradable system from HP is ready to compete with any other similar build on the market today, without a doubt.
Wrap-up
As workstations go, HP does not skip a beat. Have a peek at the images directly above and below for a set of internal views on the HP Z230 SFF Workstation and see what you make of its simplicity – plenty of room for growth, with a basic build that's more than ready to be your at-work partner for years to come. You'll want to check out the full range of options via HP as well – lots of different configurations are available straight from the manufacturer right out of the box.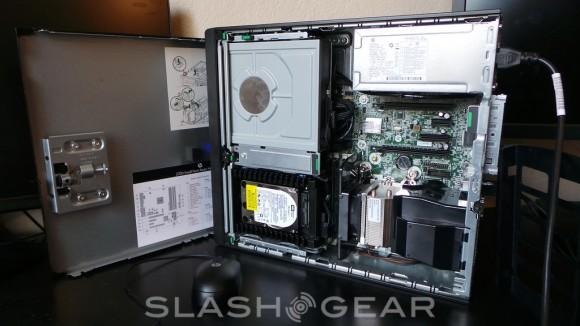 As this configuration stands today, you'll be seeing a price at $2,033 USD. If you'd like to start with a base Z230 SFF with an Intel Core i3-4130 dual-core processor instead, you'll be beginning at $869 USD. Have a run at it and let us know what you think!