HP TouchPad appears on TigerDirect for $150 after rebate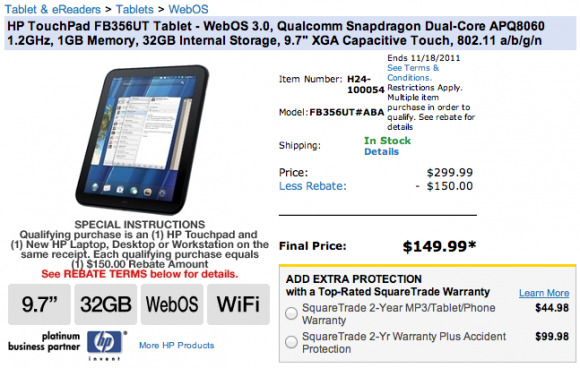 Even though you've been told over and over again that there are absolutely and positively no more HP TouchPad devices out there on the market, you can always trust a group like TigerDirect to wrangle up the rest of the stragglers, this week selling the infamous tablets out for $149.99 after a $150 rebate. Of course you'll have to lie down $299.99 to get the tablet, then will get the rebate cash back eventually, but look! It's a TouchPad and you can buy it!
This tablet, for those of you that don't know, became rather undeniably well priced once HP decided it would no longer produce it or any other webOS mobile operating system devices earlier in the year (note that they're still considering the sale of webOS as recently as November 8th). Once the announcement was made, HP quickly reduced the price down to $150 and promptly sold the devices like they were giving them away. The situation quickly escalated once it was shown to be possible to load Android onto the tablets, and now they're downright hard to find for a good price unless you're an official webOS developer.
So here we go, the last of the TouchPads, maybe. You never know when more might show up, of course, and there's always the possibility that HP has some more hidden up their sleeves, but a 10-inch dual-core Wi-fi tablet for $150 is hard to find no matter how you bend it, and there's certainly not enough wrong with it to deny that this is a good deal. Have at it over at TigerDirect and have a look at our original review of the device if you dare as well:
[vms 134ca204bf6b2481fec4]