HP TouchPad 4G gets $700 Amazon listing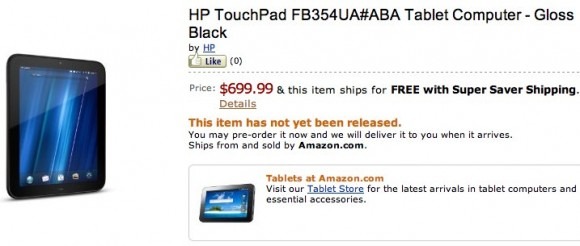 We may receive a commission on purchases made from links.
It's been a TouchPad-tastic few days, what with HP's heavy discounting of the webOS slate, and now there's pricing confirmation for the next iteration set to hit the market. The HP TouchPad 4G – complete with AT&T HSPA+ – has been listed on Amazon for $699.99.
While the 4G connectivity is the headline feature here, it's also worth noting that the new version will also pack a faster processor. Rather than running at 1.2GHz, as in the existing TouchPad, the TouchPad 4G will churn along at 1.5GHz. It'll also – in this particular configuration, anyway – have 32GB of onboard storage.
What Amazon doesn't confirm is the release date, and all AT&T will say is that the new variant is expected in time for the back-to-school shopping season. You'll need a separate data agreement to get online via the HSPA+ network, too.
[Thanks to everyone who sent this in!]