The HP Spectre x360 is, if you're brave enough to play Devil's Advocate, the Windows notebook you create when you channel Apple levels of obsessive-compulsion. Latest in HP's high-end ultraportable family, the new Spectre isn't just a capable aluminum laptop but a turning point in involvement between an OEM and Microsoft: a never-before-seen investment in time, energy, and Very Clever People. In fact, you could well argue that the Spectre x360 is the Surface Laptop that Microsoft refuses to make. I caught up with both companies to get my hands on their collaborative aluminum slab, and find out what makes it really special.
There's a long-standing school of thought among many that Macs are more cohesive because Apple controls both the software and the hardware. Windows PCs, in contrast, have an OS developed by Microsoft and hardware decisions made by OEMs like HP and Lenovo and, so the argument goes, that disconnect means the experience is never quite as polished.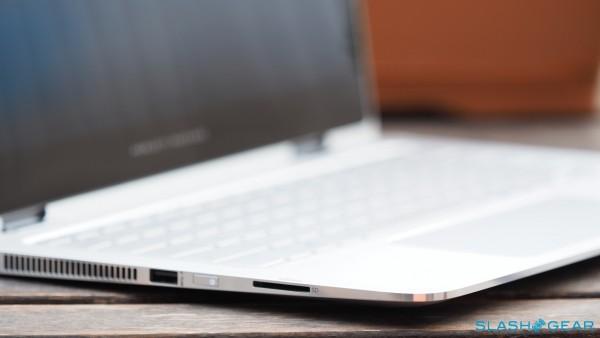 I've not real desire to get into a platform argument, but all the same, as execs from HP and Microsoft sat together telling me about how they collaborated – in a team so well blended, at times it was difficult to tell who was signing the paycheck of each member – on the Spectre x360, the Apple comparison gradually came to the forefront of my mind.
OS wars aside, it's certainly about time that Windows users had a notebook truly created with a top-tier, holistic experience in mind.
I can't argue with HP's guiding principles with the x360. Because people are used to their tablets, they expect laptops to be under 4lbs, HP's Mike Nash explained; similarly, because they're used to all-day battery life from their phones, they now demand the same from their computers. It's something HP has seen around thickness and resume speed, too: exposure to phones and tablets has led to more ambitions from PCs.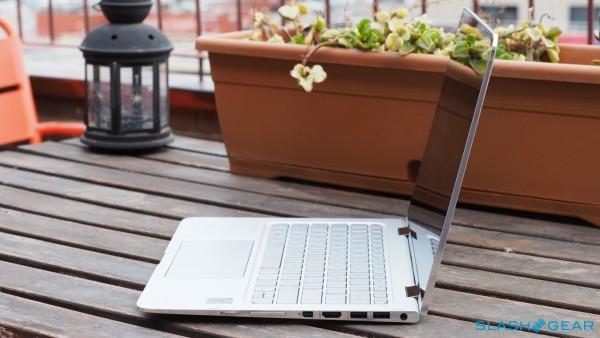 The result is the HP Spectre x360, a 13.3-inch ultraportable that's 15.9mm thick and has a full 360-degree hinge so that it can be twisted from notebook to tablet, with "presentation" mode along the way. Core i5 and Core i7 processors are on offer – not Intel's lower-powered Core M chips – with up to 8 GB of memory, between 128 GB and 512 GB of solid-state storage, and up to 12.5 hours of battery life.
Two screen resolutions will be up for grabs: initially, there'll be a Full HD model with a 1920 x 1080 touchscreen, but April will see a Quad HD version drop, too. That'll actually be a little lighter than the 3.26 lb Full HD version, coming in at 3.17 lb.
Either way, you get a full-sized backlit keyboard, a full-sized HDMI output, mini Display Port, and three USB 3.0, all with Sleep & Charge support.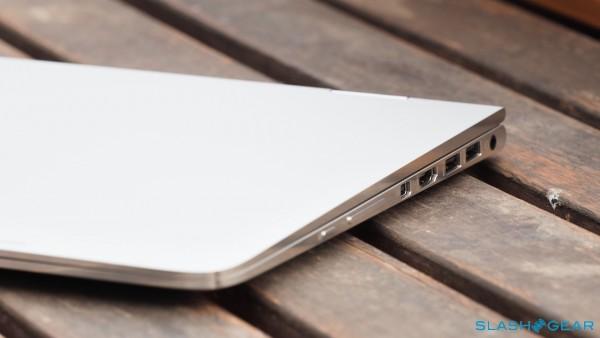 They're good specs, certainly given the $899 starting price, but that's not the real story. What's interesting about the Spectre x360 is quite how closely Microsoft and HP worked together on it, and the benefits that brought.
Microsoft isn't hands-off with Windows and its OEMs. In fact, the software giant has been offering its assistance in optimization for around seven years, since the end of Vista, when it realized that users were demanding more integrated systems. OEMs can send in prototypes and software builds to be run through Microsoft's own benchmarks and testings, and get advice in return on how they could improve.
Problem is, as HP premium products manager John McCarthy points out, "it takes more of a level of engagement than just showing up at a meeting" to actually get something worthwhile from that process. Manage it poorly and it can introduce delays, especially if Microsoft's involvement isn't sought early enough into the development pathway.
Wary of just those pitfalls, HP took a more involved approach. The first conversations about the Spectre x360 began around CES 2014, with the two companies working in parallel. HP supplied prototype hardware and a direct line to its Taipei engineers, while the difference in timezones actually ended up a net-benefit as different builds could be developed and tested as teams worked and slept in different locations.
"What HP has done is really gone all-in," Microsoft's Gabe Aul told me, "and in this case worked in a much more open and collaborative way than anyone else to-date."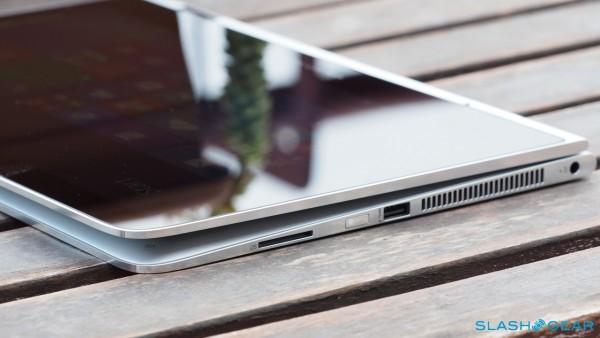 For the consumer, the advantages range from the obvious to the obsessively-minute. The keyboard, for instance, has 1.5 mm travel despite the x360's slender form, with HP paying particular attention to ensuring the feel of the key when pressed, when traveling down, bottoming out, and then traveling back up again was consistent. The trackpad is extra-wide, HP enlisting the help of Synaptics to improve the palm-rejection technology since you're more likely to rest your wrist on it while typing.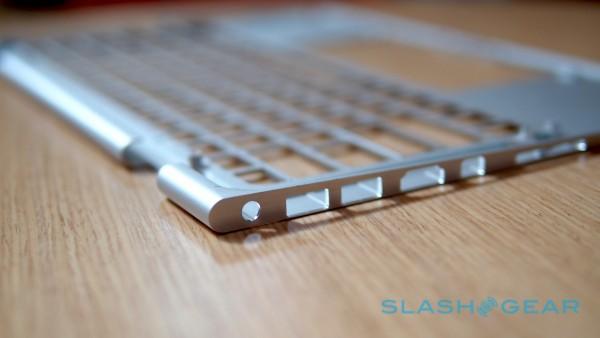 By using a complex CNC cutting machine, the casing not only lacks cutlines and doesn't need any post-polishing, but allows for precise notches for the WiFi antenna to be carved in place on the lid, improving wireless throughput and range. The dual-rotating design of each hinge has a special cam sandwiched in-between, adjusting rigidity at each position to suit whether it's being used in laptop, tablet, or presentation orientation, as well as ensuring that the hinges themselves don't protrude but instead stay flush to the notebook.
As for the display, by using optical bonding there's less backlighting required, which saves on power. Similarly, using an IZGO-like system dubbed PSR, pixels that haven't changed don't need to be refreshed. The fan throttling was subtly tuned, to get the maximum cooling without needlessly wasting power, and even the disk activity LED was ditched to save the scraps of juice it required to flash.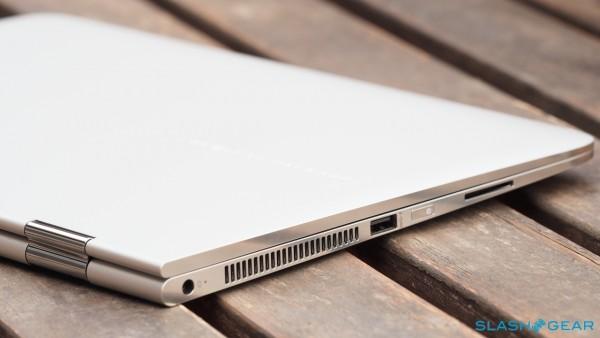 On the software side, the two companies juggled and tuned the BIOS and drivers, including optimizing the boot/resume path so as to make it as efficient as possible. It paid dividends, too. The initial Spectre x360 would boot in 13 seconds and resume from standby in 6: by the final design, those numbers had been cut to 8 seconds and 3.3 seconds respectively.
They weren't the only improvements. Idle time with the screen on rose from 11hrs on the initial prototypes, to 16hrs on the final design. Streaming in the Windows 8.1 Netflix app jumped from 8.3hrs to 10.2hrs, while local video playback claimed to 11hrs, almost double the initial 6.4hrs of the early designs.
With a Spectre x360 on my desk – or, more accurately, in my bag here at Mobile World Congress – I'll be putting those performance claims to the test in the real-world. Still, even an early play shows the HP to be a beautifully constructed machine. Sure, there are some elements which are a little MacBook Air-like – the bottom panel, for instance, and the front notch in the lid – but overall the combination of brushed and polished aluminum, the consistently-even keyboard, and the excellent IPS display with broad viewing angles give it a distinct look and feel of its own.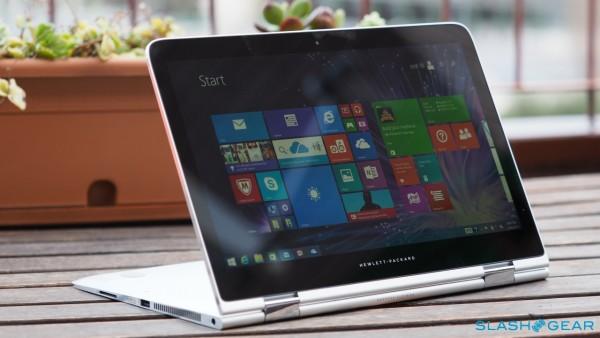 Maybe most impressive is the price. The entry-level model, with a Core i5 processor, 4GB of memory, 128GB of storage, and the Full HD display, will be $899 – HP's initial target was $999, incidentally – when it goes on sale online today. $999 doubles the RAM and the storage (that'll be the configuration Best Buy offers in-store from around March 15th), while $1,149 then upgrades to a Core i7 processor.
Finally, there'll be the $1,399 top-spec version in early April, with a Core i7 processor, 512GB of storage, 8GB of memory, and the Quad HD display. Optional across the board will be a leather sleeve – a neoprene carry-case is included in the box as standard, but the leather case feels a lot sturdier – and HP's Pro Tablet Active Pen.
HP is confident its made the best notebook it could. My first impressions are certainly positive; expect my full review to say whether or not the new Spectre actually delivers. More important, though, is the change in working style and how that's resolutely centered on making a better experience for the end-user.
"The things we're doing here are not based on some crazy, weird lab thing," HP's Nash concluded, "they're based on the real world."